Hosting a dinner party at home is a fun way to tap into your creative side. When you plan a gathering, you have the opportunity to highlight your cooking and decorating skills to everyone you invite.
How To Host a Lavish Dinner at Home
When hosting a lavish dinner party, there are a few steps to add to your to-do list. For example, an important part of planning a party is deciding on the menu. No function is complete without food, and a tasty menu can make your party the talk of the town for days or even weeks following.
To plan a delicious party menu, you should select a theme. From a farm-to-table garden party to a French bistro soirée, options are endless for planning the perfect menu.
Another part of preparing for a party involves creating a guest list. Are you planning a sophisticated dinner with work colleagues or an intimate meal with your closest friends? Consider who you want to invite, then send invites at least a week in advance to give your guests enough time to RSVP.
As far as setting the table, you can let your inner designer shine. Place a unique centerpiece on the table to set the mood and start conversations. This is also the time to break out your finest china to add a refined touch to your dinner table. And don't forget the lighting! Choose candles or dimmable lamps to create a warm and inviting atmosphere that your guests never forget.
What You Need To Host a Lavish Dinner Party at Home
Hosting a dinner party at home is a great way to spend time with the people you care about. Whether you plan to commemorate a milestone or simply want to show your appreciation for your loved ones, celebrating each other with food and fun is the perfect way to do it. To kickstart your party, here are seven things you need to host a lavish dinner party at home.
1
Willsberger 9-Oz. Champagne Glasses
Add an elegant touch to your dinner party with this set of four Willsberger champagne flutes. Each flute was handcrafted from premium non-leaded crystal glass. And its beautiful angular shape makes sipping your bubbly that much more enjoyable.
Whether you use them for toasting or gift them to a loved one, this set of flutes is a great complement for any gathering.
2
Oven to Table Serving Bowl
Serve your dishes in style with this fancy Oven to Table Serving Bowl. This modern and simple bowl helps you present your meals in the most sophisticated way. It comes with a beautiful wooden trivet to place your bowl on to prevent it from getting dirty. And its bright, white finish can easily match the rest of your decor.
3
Heirloom Quilted Table Runner
Kick your decor up a notch with this beautiful table runner made from premium cotton material. This clean and modern table runner includes a simple yet elegant quilted design. It's also reversible so you can easily flip it over for another use.
4
Oval Felt Placemats
Tap into your creative side with this set of Oval Felt Placemats. These modern and minimalist placemats are made from quality polyester felt material that resists heat and staining. Plus, they come in multiple colors so you can mix and match them according to the rest of your decor.
5
Colonnade Stoneware 16-Piece Dinnerware Set
This 16-piece dinnerware set is the perfect way to add a rustic touch to your dining space. Made from black clay, this set is both attractive and functional. It's strong and durable enough for lasting use. Plus, it's free from phthalate, BPA, lead, and latex, making it safe for every day use.
6
Buchanan Carafe
Made from blown glass, this carafe makes for a gorgeous addition to your tablescape. It features a widened base to enhance the flavor of your wine. And its expertly crafted design adds the perfect touch of luxury to any gathering.
7
Wüsthof ® Gourmet In-Drawer Steak Knife Set
This set of knives made from tempered and hardened steel is capable of cutting even the toughest meats. It includes a beautiful hardwood knock block for convenient presentation and storage. Plus, its triple-riveted handles make using them safe and easy to do.
Our editors love finding you the best products and offers! If you purchase something by clicking on one of the affiliate links on our website, we may earn a commission at no extra cost to you.
---
---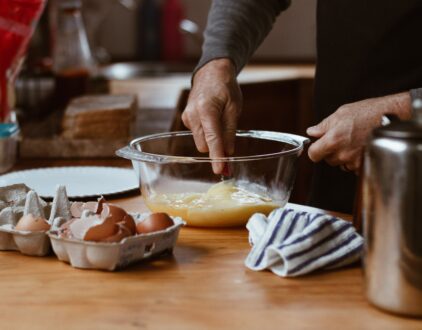 ---
Spaces
Whether it's luxury or ease, every area of your home should be as fabulous and unique as you.
FOLLOW ALONG ON INSTAGRAM
Find us on social for more home inspiration where culture, personal style, and sophisticated shopping intersect to help you create a home where you love to live.