Afternoon tea started in early 19th century Britain but later became popular in the States as well. For foodies, it is a charming way to mingle with loved ones as you sample a tantalizing selection of treats and teas.
Afternoon tea is a popular pastime for people of all ages. Whether you plan to host a themed baby shower or celebrate a birthday party, having a tea party at home can be a delightful affair you and your guests are sure to enjoy.
How To Host Afternoon Tea
Hosting afternoon tea can be an exciting experience. You can create a welcoming atmosphere where you and your guests can enjoy fun memories together. Even better, you can do it from the comfort of your home. To get started, here are six ways to host afternoon tea at home:
Set the Mood
To make your afternoon tea party more inviting, curate the mood with appropriate decor. For example, you can use a floral tablecloth, glass tea cups and saucers, and dainty flower arrangements as centerpieces. For a touch of nostalgia, try adding vintage teapots or antique porcelain plates to your tablescape.
Select a Tea Menu
Create a diverse tea menu by having a wide selection of teas for varying tastes. Black, green, and herbal teas are especially popular. And incorporating teas with fruity or spicy flavors can make your menu pop even more.
Serve Savories and Finger Sandwiches
No afternoon tea is complete without small bites! Whip up a batch of finger sandwiches with multiple filling options such as cucumber and cream cheese, egg salad, ham and swiss, or smoked salmon. You can also include other savory foods like quiches, mini tarts, or savory scones.
Provide Pastries and Accompaniments
Pastries such as scones, macarons, tea cakes, petit fours, and shortbread cookies are a quintessential part of afternoon tea. Serve them up with clotted cream, lemon curd, and a selection of jams.
Remember to also include lemon slices, sugar cubes, honey, and milk or cream to accompany the tea.
Add a Personal Touch
To make your afternoon tea super special, add a few personal touches that reflect your style. This could include choosing to implement a theme, such as a quirky Mad Hatter event, a flowery garden party, or a dainty Victorian experience.
You can also celebrate your guests by serving your homemade tea blend or providing adult goodie bags filled with tea bags, honey sticks, sweets, or small trinkets for them to enjoy at home.
---
---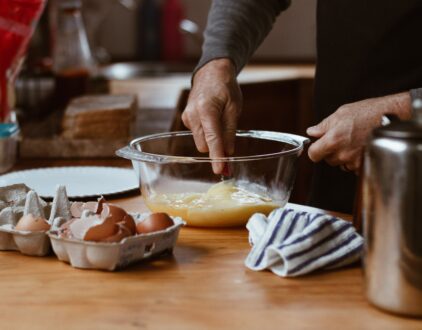 ---
Spaces
Whether it's luxury or ease, every area of your home should be as fabulous and unique as you.
FOLLOW ALONG ON INSTAGRAM
Find us on social for more home inspiration where culture, personal style, and sophisticated shopping intersect to help you create a home where you love to live.