You don't need a designated guest room to offer a fantastic experience when hosting friends and family overnight. With a bit of creativity, planning, and attention to detail, you can turn almost any space in your home into a cozy retreat that gives off the feeling of a boutique hotel. From multifunctional furniture to luxe amenities, there are tons of ways to make your guests feel welcome.
Here's how you can elevate your hosting game, no guest room necessary.
Convert Your Living Room
Invest in a high-quality sofa bed or daybed to easily convert your living room into a space perfect for guests getting a good night's sleep. A sofa bed can be used for seating during the day and transformed into a sleeping area at night. For a luxe experience, add premium linens and plush pillows. Opt for a coffee table with hidden storage, where you can store bedding and toiletries.
Multi-Functional Furniture
Furniture that serves multiple purposes is ideal when hosting guests. For example, a sleek ottoman that can be used as a coffee table while also being able to store extra linens or serve as an additional seat or makeshift bedside table is an excellent investment.
Privacy Screens
While you may not have a designated separate room for your guests, you can still provide a sense of privacy. By using folding screens or curtains, you can partition off a private area for sleeping. This takes up minimal space and is aesthetically pleasing.
Luxe Amenities
Your guests may not have a private room, but that doesn't mean they can't feel pampered. Curate a guest basket filled with spa-quality toiletries, slippers, and a mini bottle of wine or champagne for a luxe touch. Make your guests feel like they're staying at a luxe hotel by adding a stylish eye mask and earplugs.
Optimize Space
To make the most of your space, opt for a roll-away kitchen cart that can double as a coffee or breakfast station for your guests. Stock the cart with coffee, a French press, and a selection of fresh fruit and pastries. Your guests will wake up to delicious morning treats without needing to tip-toe to the kitchen.
The Personal Touch
Add a small welcome note, a stack of magazines, or freshly cut flowers to make your guests feel at home.
---
---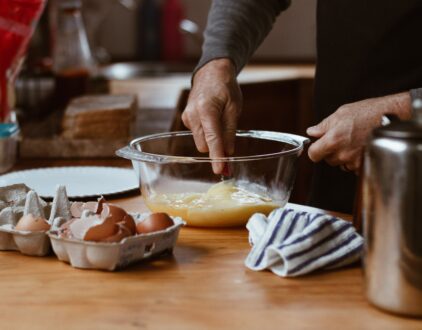 ---
Spaces
Whether it's luxury or ease, every area of your home should be as fabulous and unique as you.
FOLLOW ALONG ON INSTAGRAM
Find us on social for more home inspiration where culture, personal style, and sophisticated shopping intersect to help you create a home where you love to live.