Designing a home is such an immense task that we sometimes overlook areas that don't get much of our attention. Styling your porch ceiling, for example, is a great way to show off more of your personality in your yard and can truly transform the look of your outdoor space.
Consider These Materials
Wood
Vinyl
Glass
Metal
Beadboard
Shiplap
Bamboo
You also might want to paint your porch ceiling. The best strategy is to decide what kind of look you want for your entire exterior, and then design your porch ceiling according to your styling choices.
The color of your ceiling, for example, depends on your personal aesthetics. Do you want to add more depth with a vibrant ceiling? Or are you going the minimalist route with a neutral and understated finish? If you're in between choices, try using color psychology. Color psychology is the study of how hues affect human behavior, so it can help you make an informed decision during the design process.
Add the Finishing Touches
Once you pick the material for your porch ceiling, install the panels and paint, you might think your job is finished. However, for an expert look, add decorations and objects to make your outdoor ceiling more visually appealing. These include lights, fans, and hangings. For anyone with a green thumb, porch ceilings are great homes for hanging plants as well.
Another way to transform your ceiling is by combining and layering decor. An example is mixing an array of string lights with faux flowers to transform your porch into a romantic garden oasis.
Home & Texture researched inexpensive porch ceiling ideas to help you find inspiration for your home project. Keep reading for items that will make your outdoor space feel beautifully curated and expertly designed.
Pacifica Outdoor Pendant
This beautiful wicker sun globe pendant is perfect for both the maximalist and minimalist! Handmade with powder-coated steel for all-weather protection, no two of these light fixtures are alike. Add a pendant in the center area in your outdoor space or go for extravagance by adding multiple. Equipped with a dimmer, you can change the brightness of your sun globes to match your mood. Though on the pricier side, these sun globes come in three sizes and two colors to fit any style.
Benally Iron Hanging Planter Set
The Benally Iron Hanging Planter Set will add glamour and elegance to any home. With three color options in black, gold, and nickel, these planters are the sparkle of texture your outdoor space needs! The round shape draws attention while the suspended chain gives a touch of industrial flair. Made from solid iron, these planters have a polished metallic finish. The set includes two planters and is resistant to rust. You can also use them indoors.
Obabala Ceiling Fans with Lights and Remote
Sitting on your porch enjoying a nice cold drink in the heat is great for cooling off. Having an outdoor fan is even better! That's why you need this remote-controlled fan for your space. In three different models, this 52-inch fan is ideal for rustic and farmhouse styles. However, the rich deep color options are simplistic enough to match any decor. It's also much cheaper than other contemporary fans at a current price of $109.99.
Silk Hanging Wisteria Stem (Set of 24)
Transform your outdoor area into a garden wonderland with this set of Silk Hanging Wisteria Stems. Featuring soft petals for a natural look, these faux flowers are a classic white and can blend with any space. Full and rich, you can easily install these to your porch ceiling for an upscale and relaxing ambiance. The flowers are washable as well, so they can stand the wear and tear of outdoor use.
Globe Outdoor String Lights & Holder Posts
String lights are THE patio addition of the past few years. While you can hang them anywhere, draping string lights across your porch ceiling dazzles your outdoor space with sophistication. In black and white color options, you can mix and match or stick with a solid color for a monochromatic look. If you want to call more attention to your interior design skills, cross the strings lights in a pattern for expert visual appeal.
Our editors love finding you the best products and offers! If you purchase something by clicking on one of the affiliate links on our website, we may earn a commission at no extra cost to you.
---
---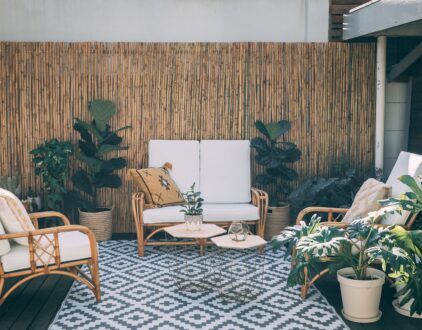 ---
Spaces
Whether it's luxury or ease, every area of your home should be as fabulous and unique as you.
FOLLOW ALONG ON INSTAGRAM
Find us on social for more home inspiration where culture, personal style, and sophisticated shopping intersect to help you create a home where you love to live.