Reinforcing a sense of simplicity, calmness, and serenity, the Japandi bedroom style provides a calming oasis for home and apartment owners everywhere. No matter what style bedroom you may have (whether it's on the larger or smaller spectrum), Japandi bedrooms are the perfect dose of tranquility that invoke a sense of inner and outer peace this summer and all the rest. Think beige accents paired with minimalistic aesthetics, Japandi bedrooms lend themselves to minimalist home lovers and are typically styled with Japanese and Scandinavian accents. Making this particular aesthetic one to watch if you're looking for a bedroom revamp, Japandi bedrooms offer room for adaptability, allowing you to play with complementary colors such as beiges, taupes, whites, and creams while mixing and matching different textures and patterns. With a variety of ways to incorporate this clean aesthetic into your home, Japandi bedrooms are a must when looking to revamp your space. Below is everything you need to about why they're versatile, how they can significantly reduce stress and anxiety, and so much more.
What is a Japandi Bedroom?
Serving as a mix between Japanese and Scandinavian accents, Japandi bedrooms are nature-inspired, simple, and minimalistic. With a focus on sustainability, Japandi bedrooms usually have very little furniture, making them appear less cluttered and more organized. If you have ever seen the Netflix series "Beef," then you're most certainly familiar with Amy Lau, aka Ali Wong, who played an angry business owner with elevated interior design skills. Lau's home in the show is the perfect representation of Japandi aesthetics showing a mix between minimalism, simple craftsmanship, and sustainability.
Japandi bedrooms are simple yet versatile
What makes Japandi bedrooms so aesthetically pleasing is their simple yet versatile way of mixing and matching textures within similar and complementary color palettes. Think neutral colors paired with wood and woven accents; Japandi bedrooms have a very earthy vibe, making this particular bedroom theme a must for minimalists and those wanting to refresh their space. When tying a Japandi aesthetic together, simplicity is at the forefront of its overall theme.
Japandi bedrooms help with sleep and stress reduction
Believe it or not, Japandi bedrooms aid with sleep and melatonin production, allowing you to ease the stress, worry, and anxiety from the day. When your environment is calm, collected, and organized, it helps take off the burden of having to delegate yourself to home tasks such as organization. Because of their spacious nature, these bedrooms tend to invoke a sense of rest and restoration for homeowners. Feng Shui principles such as symmetry, balance, and flow can also help to ease the pressure of organization as everything is already set in its natural place.
How to Create a Japandi Bedroom
As previously mentioned, there are a variety of ways to make this aesthetic yours by seeing what colors, patterns, and textures work and which do not. By honing in on the below factors, rest assured that you can achieve this minimalistic vibe in no time.
Think minimal
The less furniture and clutter in your space, the better. Japandi bedrooms are extremely minimal with as little furniture and color as possible. Start off with neutral colors such as white, beige, taupe, and cream. From there, try working your way to textures such as linens for the bed, woven baskets for storage, and wood accents for decoration.
Declutter and rearrange your space
Decluttering and rearranging your space is one of the best ways to achieve a Japandi aesthetic. Remember, the theme is based on sustainability and minimalism, therefore requiring the least amount of bedroom items and the least amount of furniture as possible. By only including functional and meaningful items that coincide with each other, it will make the process of incorporating the aesthetic easier and a better fit for your room.
Rid yourself of popular trends
It's easy to fall into the trap of seeing potential room inspiration on our social feeds and wanting to make it our own. However, when incorporating Japandi techniques into your home it's important to keep in mind the idea of remaining as minimal as possible. Yes, a gallery wall with all sorts of prints, colors, and designs is cute, but try asking yourself this when wanting to achieve the Japandi aesthetic, "Is it adding or taking away from a sustainable approach?"
Embrace open space
Japandi is all about open space, so if you tend to lean on the side where "more is more," the aesthetic may not necessarily be the right fit for you. Japandi bedrooms are often shown with as much open space as possible, essentially evoking a sense of airiness. All in all,  there are many ways to utilize open space that may not necessarily require more furniture and home decor such as picking the right bed, an accent chair, and a few art pieces to match.
Choose natural-looking furniture and decor
This is probably the most important step yet, as Japandi bedrooms have a focus on highlighting natural materials. Choosing furniture along the lines of wood, bamboo and natural fibers such as reeds, grasses and oak for woven pieces is the perfect way to tap into a Japandi-inspired bedroom.
Japandi Bedroom Oasis
Japandi bedrooms serve as a gateway into the arms of relaxation. If you're a hard worker or are simply seeking a form of refuge from the external world, this minimally pleasing aesthetic can certainly refresh your space while providing you with an ample amount of scenic restoration.
---
---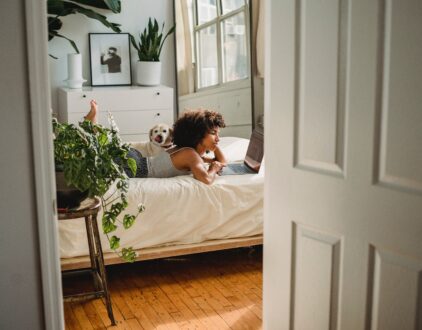 ---
Spaces
Whether it's luxury or ease, every area of your home should be as fabulous and unique as you.
FOLLOW ALONG ON INSTAGRAM
Find us on social for more home inspiration where culture, personal style, and sophisticated shopping intersect to help you create a home where you love to live.