Laminate or vinyl? This is a common question many homeowners face, and both are popular options for those looking to renovate their flooring. While they can be similar in many ways—such as being strong alternatives to hardwood flooring and helping homeowners save money in the long run—they are also very different in a number of ways. So, which should you choose when considering what type of flooring to have in your home? Let's break it down.
Why You Should Consider Laminate or Vinyl Flooring
There are a number of reasons why homeowners should consider installing laminate or vinyl flooring in their homes. For example, they are affordable, which is a plus for homeowners on a budget. They are also strong and can withstand heavy foot traffic, scratches, and stains.
Plus, they come in many designs for homeowners to choose from. Placing them is also an easy task due to their advanced systems that make installation a breeze.
Additionally, laminate and vinyl flooring require very little maintenance, which can save homeowners time and energy. Due to this, they are not only attractive but practical options for homeowners when it comes to their flooring needs.
What To Consider Before Choosing
When debating laminate vs. vinyl flooring, there are a number of factors to think about. From composition to maintenance, the type of flooring you choose can have a significant impact on your home and how you live in it. To learn more about the two common types of flooring, take a look at four key differences between laminate vs. vinyl flooring:
Composition
Laminate flooring contains multiple layers, including a fiberboard core, a photographic layer that resembles wood or stone, and a protective wear layer. The fiberboard core provides stability and protection against impacts, while the photographic layer provides the desired appearance for the laminate.
Vinyl flooring is different from hardwood flooring because it is made from synthetic materials like PVC, fiberglass, and plasticizers. There are two main types of vinyl flooring available on the market: Sheet vinyl comes in large rolls, while luxury vinyl planks or tiles resemble hardwood or tile.
Installation
The most common way to install laminate flooring is as a "floating floor." This means that it is not affixed directly to the subfloor, but instead, the planks or tiles are interlocked via a tongue-and-groove system, which rests on a foam underlayment. This installation process makes it easier for removal and replacement if it becomes necessary.
There are a number of ways to install vinyl flooring. Sheet vinyl is stuck directly onto the subfloor to create a smooth surface. Luxury vinyl tiles or planks are installed using different methods such as glue-down, loose-lay, or click-lock systems. But even though glue-down installation provides a robust attachment, loose lay and click-lock provide more convenient removal and replacement options.
Aesthetic
Laminate and vinyl flooring are great options for different interior design styles. Laminate flooring does a great job of mimicking wood or stone, thanks to its photographic layer that captures natural textures and patterns. However, the repeated patterns can appear less realistic when examined closely.
Thanks to modern advancements, vinyl flooring also appears to resemble natural materials. Luxury vinyl planks and tiles come with embossed textures and realistic finishes, making them even more convincing, and thus, more attractive. Plus, with vinyl flooring, you can have more design options than before, including special patterns, colors, and textures.
Maintenance
Maintaining both laminate and vinyl flooring is easy, but their care requirements can differ. The laminate flooring fiberboard core makes it more prone to water damage, which can cause swelling or disfiguring of the planks. For this reason, homeowners should take caution to clean spills and refrain from wet mopping.
Vinyl flooring, on the other hand, can tolerate more moisture, allowing for damp mopping with mild cleaning solutions. Vinyl flooring also tends to be more resistant to stains compared to laminate flooring.
Ultimately, the decision between vinyl and laminate depends on your specific needs, budget, and aesthetic preferences. Consider factors such as durability, moisture resistance, maintenance requirements, and installation methods to make an informed choice that best suits your lifestyle and design goals.
---
---
Decorate
Access design inspiration that infuses personality and culture into your spaces.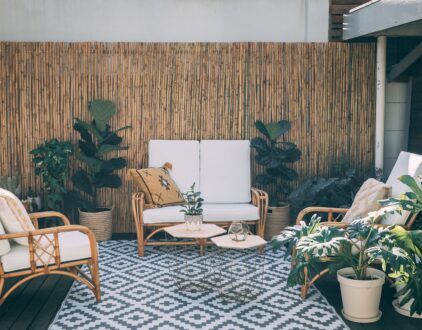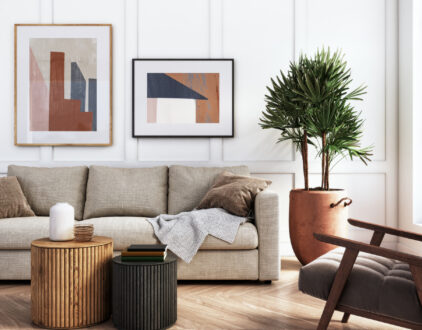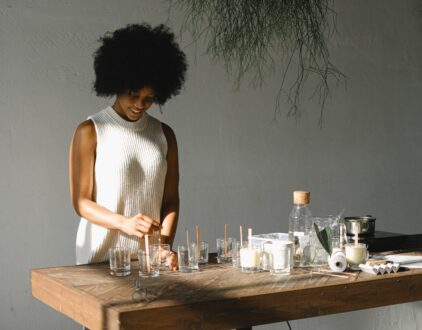 ---
Spaces
Whether it's luxury or ease, every area of your home should be as fabulous and unique as you.
FOLLOW ALONG ON INSTAGRAM
Find us on social for more home inspiration where culture, personal style, and sophisticated shopping intersect to help you create a home where you love to live.