Having beautiful landscaping can elevate the appearance of your home. Landscape design is the art of creating a functional and aesthetically pleasing outdoor space that works well with the natural environment. Whether you have a small backyard or a large garden, knowing the basics of landscape design will help you curate and design a beautiful and functional outdoor space.
Here are essential landscape design basics you should know:
Plan Beforehand
Envision how you want to utilize your outdoor space. Take into consideration your lifestyle, the activities you enjoy, and the purpose of each area. Identify the focal points of your outdoor space, such as pathways, seating areas, and garden beds. Define boundaries and create a flow in our outdoor space with fences, hedges, and natural elements to have distinct areas and create visual interest.
Climate and Maintenance
Climate and maintenance requirements are super important factors when designing your landscape. Choose plants that are suitable for the climate you live in. You should consider factors like soil conditions, sunlight exposure, and water availability. Native or drought-tolerant plants are great for reducing water usage. Use materials and features that can withstand your local climate and that are low maintenance. This will ensure that your landscape remains beautiful all year.
Proportion
Balance and proportion in landscape design are essential. You can achieve balance by having an equal distribution of visual weight in a space, whether symmetrical or asymmetrical. Proportion is the relationship between different elements such as size, shape, and scale. You should aim for a harmonious balance between your hardscape elements (patios, pathways) and softscape elements (plants, trees). Plants should be appropriately sized for your outdoor space to create a well-proportioned landscape.
Depth and Visual Interest
Create depth and visual interest in your landscape design by adding layers of plants in varying heights, colors, and textures. You can also include focal points like water features, sculptures, or architectural elements to create a captivating ambiance. Guide visitors through your outdoor space with diagonal or curving pathways that create a sense of movement and direction.
Color and Texture
Play with different colors and textures to create an outdoor space you can be proud of. Plants, flowers, and foliage are a great way to add color and texture to your landscape. Use a mix of evergreen and seasonal plants to maintain visual harmony throughout the year. Add depth by incorporating glossy leaves, rough bark, or feathery foliage.
---
---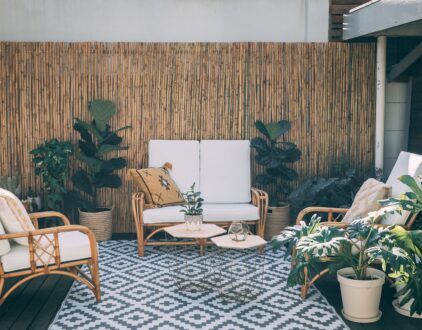 ---
Spaces
Whether it's luxury or ease, every area of your home should be as fabulous and unique as you.
FOLLOW ALONG ON INSTAGRAM
Find us on social for more home inspiration where culture, personal style, and sophisticated shopping intersect to help you create a home where you love to live.