As the official start of summer approaches, chances are you'll be spending a significant amount of time in your outdoor space. Decorating your patio and outdoor area is a must when hosting friends and family for summer soirees. If you're looking for ways to update your outdoor space this season, consider decorating your outdoor walls. Often overlooked, decorating outdoor walls transforms the look and feel of your outdoor spaces and adds personality and visual interest.
Whether you have a balcony, garden, or patio, here are some tips for decorating your outdoor walls:
Vertical Gardens
Utilize your outdoor walls to create a lush and vibrant vertical garden display. You can do so by using wall-mounted planters and hanging baskets to grow a variety of flowers or plants. When curating your vertical garden, choose a mix of colorful blooms, vines, and greenery to add texture and depth. Vertical gardens are also great for improving air quality in your outdoor space and creating a calming ambiance.
Outdoor Art
Add a touch of personality and creativity to your outdoor space by adding artwork or sculptures. Select pieces that are weather-resistant and suitable for the outdoors. Ceramic tiles, metal sculptures, or waterproof canvas prints are great choices for outdoor art.
Mirrors
Mirrors are great for creating the illusion of space and reflecting light. They have the ability to make smaller outdoor areas appear larger and brighter. Choose mirrors specifically made for outdoor use and to withstand the elements of nature. Place them in areas that will capture and reflect the surrounding greenery, enhancing the overall ambiance of your space.
Lighting
Outdoor wall lights and sconces are great for adding function and decor to your outdoor walls. Choose light fixtures that are designed for outdoor use. LED lights are great for minimizing energy consumption. Well-placed lighting can create a welcoming vibe when hosting guests.
Wall Murals
Add an artsy touch to your outdoor wall with a mural. This makes a bold statement and can be a fun DIY project. You can hand-paint a mural or use weather-resistant decals or stencils. Choose a design that works well with your outdoor aesthetic. Murals create a focal point and add a personal touch to your outdoor space.
Natural Materials
Natural materials like brick, wood, and stone are great for creating an earthy and rustic aesthetic. Use these materials to create an accent wall or decorative pattern. Natural materials are great for adding texture and warmth to your outdoor space.
Wall-mounted Water Feature
Create a tranquil outdoor space by adding a wall-mounted fountain or waterfall. The soothing sound of water creates a relaxing vibe you won't want to leave. Choose a fountain or waterfall that fits the style and size of your outdoor space.
---
---
Decorate
Access design inspiration that infuses personality and culture into your spaces.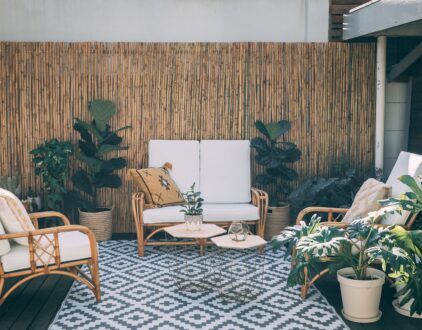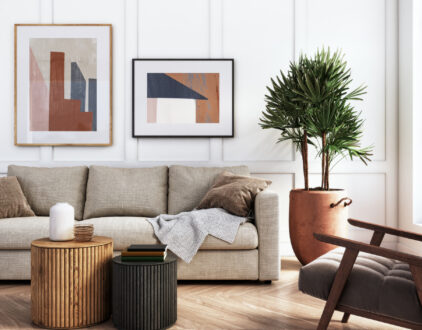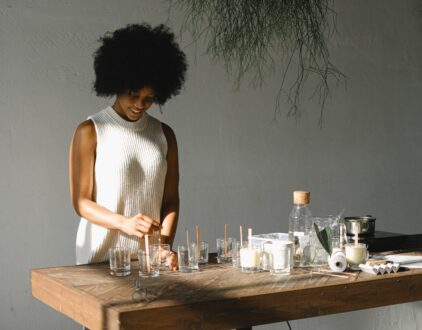 ---
Spaces
Whether it's luxury or ease, every area of your home should be as fabulous and unique as you.
FOLLOW ALONG ON INSTAGRAM
Find us on social for more home inspiration where culture, personal style, and sophisticated shopping intersect to help you create a home where you love to live.