A makeup vanity is a must-have for any person who loves all things beauty, organization, and the glamour lifestyle. It's a dressing table designed to store products of your choice and offers a space to prepare for your day. Vanity desks are commonly used for storing and organizing makeup products, but they can also be used for much more. You can use it as a writing desk, an extra seat, or extra storage. Adding a vanity desk immediately adds a touch of femininity and a luxurious feel to your space, and they're available in all shapes, sizes, and styles. Now, it's easier than ever to find the right vanity for you.
4 Reasons Why You Need a Vanity
Extra Seating
A key rule to home design is maximizing your space. So, whether you have a small apartment or even a large home, a vanity desk can help you do just that. Vanities provide extra seating, especially in small spaces. Use the stool to sit and relax and do your makeup or skin care. Then, push it underneath the table to open up the space and move around it.
Handy Organization
Without a designated area to get ready for the day, your products are likely to be spread out in multiple places. This results in clutter and questioning where you last placed your makeup brushes. Luckily, vanities are designed with multiple drawers and shelves to help store all of your makeup and skincare products. Having your belongings in one space gives you a good overview of everything and allows you to make the most of them. Plus, you can display some of your favorite items and the pretty packaging they come in.
Adds a Luxe Look
Adding lights to your makeup vanity will really give your space a sophisticated and luxurious look. Overall, it elevates your bedroom and displays your taste in home decor.
Multifunctional Use
Don't limit the use of your vanity table. Of course, it's great for applying makeup and feeling like a Hollywood star, but this elegant piece of furniture comes with other uses, too. Make the most of your table and use it to write, as an area to work on your on laptop, or any other reason to use a desk surface. To make it easier, consider a vanity that has a flip-top mirror. That way, when you're ready to tone things down and write or get work done, you won't be distracted by the lights or the mirror.
Different Styles of Vanity Table Ideas for Your Bedroom
As mentioned before, vanity tables are available in every size and color, allowing you to find the right one. Take a look at these vanity tables for inspiration on your next purchase.
Hollywood Style Lighted Vanity
Lights, camera, action! Opting for a vanity desk with a lighted mirror screams luxury and Hollywood glamour. This will add the ultimate touch to your bedroom and make your morning routines feel that much better.
Small Wooden Vanity
Finding the right makeup vanity means finding one that fits perfectly in your space. Take the natural wooden route and make your space feel more traditional and cozy. This style is homey and will be a minimal addition that doesn't overshadow anything else.
Floating Vanity
If you're really low on space but want a designated area for certain activities, build your own vanity by using the mounting technique. It's an easy DIY project that gives you creative control over your vanity. Mount a shelf and mirror on the wall, and add a stool or chair. Investing in a floating shelf will free up even more space since you don't have to worry about the legs or base of a desk. While this won't offer much storage space, that issue can be solved with the easy purchase of a rolling organizing cart.
Minimal and Modern Vanity With Storage
Stick with an up-to-date style and go modern. A minimalistic vanity can go a long way, and if you have more products than storage, think about a vanity with extra drawers or shelves.
---
---
Decorate
Access design inspiration that infuses personality and culture into your spaces.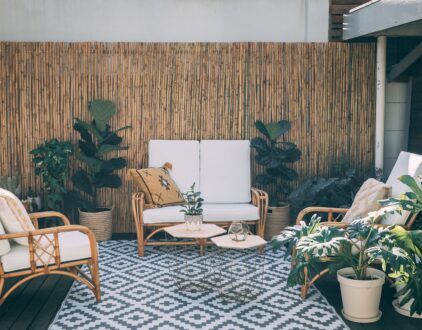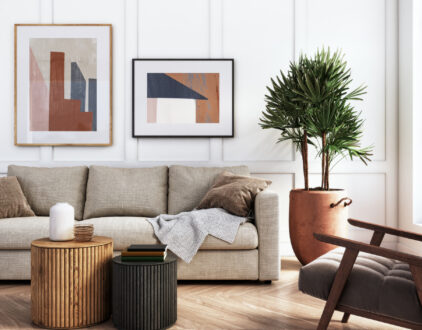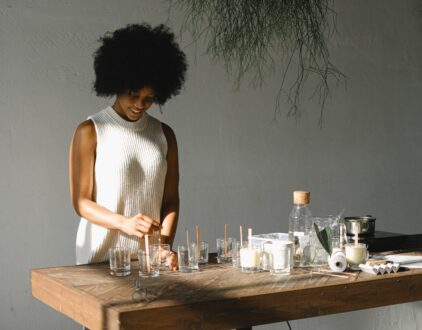 ---
Spaces
Whether it's luxury or ease, every area of your home should be as fabulous and unique as you.
FOLLOW ALONG ON INSTAGRAM
Find us on social for more home inspiration where culture, personal style, and sophisticated shopping intersect to help you create a home where you love to live.