Vanity rooms — a.k.a dressing rooms or glam rooms — have become a popular addition to the home, offering a dedicated space for anyone seeking a moment of self-care and relaxation. Whether you're a lover of fashion, an MUA, or passionate about self-care, a vanity room can add a lot of sophistication to your home.
What To Consider When Creating a Vanity Room
A vanity room acts as a space for tapping into your glam side. There, you have everything you need and more to apply makeup, style your hair, select outfits, and store your accessories. Because of this, its ambiance should not only evoke a sense of grandeur, but serenity as well.
No matter if you have an extra large room or a small corner, you can create a place to pamper yourself. If you want to add a vanity room to your space, here is what you should consider:
Space
Before starting, determine where should be located. Consider factors such as available space, whether an area has enough natural lighting, and how much privacy the room would allow.
Layout and Organization
Consider the layout of your vanity room by factoring in where the storage units, mirrors, seating, and lighting fixtures are to be located. Remember to take into consideration whether your space is big enough to accommodate storing your beauty products, clothing, and accessories.
Lighting
When planning a vanity room, ensuring the area has appropriate lighting is very important. Not every space has ample natural lighting, so you can use artificial lighting to supplement it as well. Invest in vanity mirrors that include stylistic lighting for even better functionality.
Mirrors
When it comes to shopping for mirrors, they should be both visually appealing and functional. For example, full-length mirrors are necessary to see your appearance from head to toe, whereas smaller, magnifying mirrors can be helpful for detailed makeup application.
Seating
Shop for seating options that are attractive, comfortable, and match the aesthetic of the room. Try adding a plush, velvet armchair or a modern vanity stool for sitting to apply your makeup or prepare for going out.
Décor and Ambiance
Get creative when decorating your vanity room by considering the color scheme, artwork, furniture, and more. The goal is to create an atmosphere where you can feel safe, relaxed, and inspired.
Privacy and Soundproofing
Dial up the privacy factor by incorporating curtains, blinds, or frosted glass on your windows. You can also try adding soundproofing measures to reduce distractions from other areas of the house.
Accessibility
Plan the room in a way that makes it readily accessible and customized just for you. Take into account your height when determining the heights of countertops, storage units, and mirrors.
---
---
Spaces
Whether it's luxury or ease, every area of your home should be as fabulous and unique as you.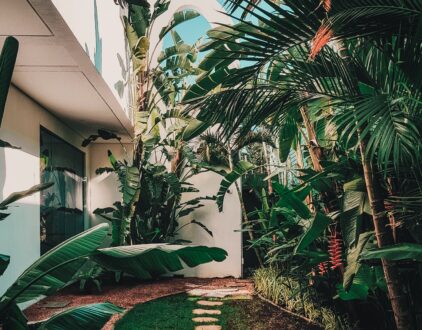 ---
Spaces
Whether it's luxury or ease, every area of your home should be as fabulous and unique as you.
FOLLOW ALONG ON INSTAGRAM
Find us on social for more home inspiration where culture, personal style, and sophisticated shopping intersect to help you create a home where you love to live.