If you follow interior designers and home influencers online, then you've probably seen a lot of DIY kitchen accent walls on your feed. Kitchen accent walls are all the rave now, and lots of homeowners are doing them by themselves. If you've been thinking about upgrading your kitchen, you can learn how to create a kitchen accent wall, too.
Now if you're wondering what the purpose of a kitchen accent wall is, you're not alone. An accent wall, especially for your cooking area, brings attention to an area that is typically empty or barely decorated. It gives homeowners complete creative freedom by adding unsuspecting colors, design, and texture to one wall.
Why the Kitchen Is The Perfect Place for an Accent Wall
View this post on Instagram
Kitchen accent walls are so appealing because there are so many ways you can design them. Accent walls in the kitchen can also serve a purpose besides being aesthetically pleasing, too. An accent wall also can reframe the lighting in your kitchen, which can help set the mood for cooking.
Oftentimes, kitchen walls tend to go neglected. Most homeowners focus on other kitchen decor items like cookware and matching towels, but there is so much you can do to a wall that can blend your kitchen theme together cohesively. A good focal point in the kitchen is typically behind the sink or the stove because you want to focus on the part of the kitchen where the eye doesn't naturally draw to. Once you determine where you want to start designing, your dream kitchen will become a reality in no time.
Be Creative When You Create Your Kitchen Accent Wall
Before you decide on colors, think about textures first. If your kitchen is mostly woodwall, consider adding a brick accent wall. Mixing textures offers you the most dramatic makeover look because it's such an eye-catching contrast. You don't have to build any bricks or wood paneling to make your accent wall either. You can use 3D wallpaper or self-adhesive tiles to make your accent wall.
If you don't want to add any wallpaper or tiles to the wall, you can make an accent wall out of your culinary cookware, too. A wall with cutting boards and large cookware can be both decorative and functional.
You can also opt for something more non-traditional and make your accent wall on your ceiling. It would be an unsuspecting surprise to see a ceiling with a different texture than the rest of the kitchen.
Lastly, you can play with colors by painting the shape of an arch on your wall. A nice, bold contrast of color will give the illusion of space and organization, making it the perfect addition to the kitchen area.
Current Kitchen Accent Wall Trends
This year, influencers and designers gave a lot of design inspiration and a heads-up on trends. While there are endless possibilities for making your kitchen accent walls charming, there are a few trends that everyone can't seem to get enough of:
Chalkboard Walls
Chalkboard walls are especially cute because it feels as if it's made for a family with children. You can write daily tasks on it, recipes, and notes for everyone in your home. Everyone is going to want to write on the walls, and the best thing is, nobody will get in trouble for it.
Map Walls
Whether it's the infamous Game of Thrones map or a map of your favorite locations to travel to, using a map as an accent wall is gaining popularity. Maps made out of wood add a nice textured richness to the kitchen.
Wine Bottles
If you're a wine lover, you can create an accent wall out of your wine bottles. It will make your wall look uber-chic and posh. All you have to do is add some shelves and place them in an order that makes sense to you.
Terrazo Walls
Terrazzo walls are being embraced by home designers and home decor enthusiasts all across social media. Because terrazzo walls come in many colors, it makes for a great option for your kitchen. If you've been itching to add some bold, bright color to your kitchen, then this might be just the thing for you. If you're feeling really adventurous, you can even mix and match different terrazzo patterns, colors, and tiles to create a unique but unforgettable look.
---
---
Decorate
Access design inspiration that infuses personality and culture into your spaces.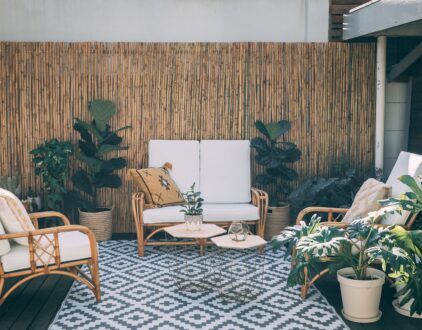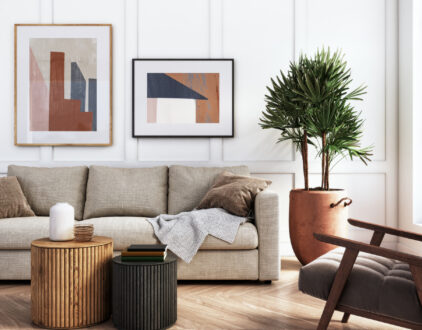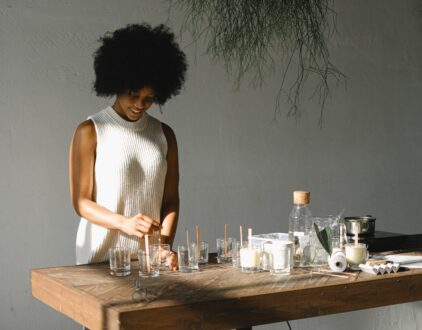 ---
Spaces
Whether it's luxury or ease, every area of your home should be as fabulous and unique as you.
FOLLOW ALONG ON INSTAGRAM
Find us on social for more home inspiration where culture, personal style, and sophisticated shopping intersect to help you create a home where you love to live.