If you're indecisive, picking a paint color might be a daunting task. Flipping through paint swatches to find the perfect color to match your home is not the easiest task. Not only do you have to think about how looking at this color every day will make you feel, but you also have to factor in your room decorations, bedding and furniture depending on this color. Because a bedroom is such a personal space, you want to choose a color that reflects your personality, and comfort, and is functional in the space that you'll be sleeping in and spending a lot of time in.
During the COVID-19 pandemic, many homeowners and even those in apartments without certain restrictions took it upon themselves to revamp their bedrooms, which for many meant painting them a new color. Knowing that they would spend most of the day in their rooms working from home, people wanted a fresh start and a new look to their spaces. New colors on the walls helped to achieve this.
While certain colors like white and beige represent a clean look, colors like blue and lavender have calming effects, while orange and green have more of a nature-like feel. Bright colors like light pink, yellow and pastel shades have a more fun tone to them.
For a little inspiration, here are 10 of the best paint colors for bedrooms.
Light Blue for That Inner Peace
Embrace a calm oasis by using a light blue shade on your wall. The color blue is known to have calming effects and will relax you before bed. The perfect hue of blue that looks like the sky creates the perfect atmosphere to help you calm down, sleep or do activities such as yoga.
Pretty in Pink To Honor Barbie
This year is the year of Barbie-core and what better way to showcase your love of pink than with a light pink shade to add to your room? This beautiful shade of light pink isn't just a gender-reveal color, but pink is a statement. This color associated with Barbie, Y2k fashion, "Legally Blonde's" Elle Woods and other famous forms of media. Pink is a very soft color and really adds to the warmth of a room.
Sage Green Helps Keep Nature Close
Another color to add to the list of the best paint colors for bedrooms is sage green. This shade of green has an earthy tone to it, a gentle reminder of nature. A leafy color that reminds you of the forest, sage green is typically paired with white or rustic orange furniture and is often used as a backdrop for plant lovers. This color is not only perfect for those who love green but those who are in touch with nature will love the calming ability this color has to soothe you to sleep.
Lavender for Your Inner Prince
For purple lovers, lavender is one of the best paint colors for bedrooms. This floral color pairs well with pastel colors and white furniture and is the perfect oasis for spring. Lavender exudes a calm and happy energy and is the perfect color for those who will be spending a lot of time in their bedroom.
Plain White for a Classic Look
There's nothing more calm and plain than the perfect shade of white. Plain white, while an extremely common shade, is perfect for minimalists who will only have a few decorations in their room or maximalists who don't want the wall color to take away from the room decor. The best thing about plain white is that any color of furniture goes with this shade, making it the most versatile paint color.
Soft Gray Brings Things Together
Another one of the best paint colors for bedrooms is a soft gray. This color is another basic color that pairs well with multiple furniture and decoration colors. Painting the room a soft gray helps everything look more cohesive. Adding white or beige furniture with gold lighting will make the soft gray color pop.
Peach for a Sunny Feel
If your bedroom gets a lot of sunlight, one of the best paint colors for bedrooms is peach. This light-colored blend of orange and pink gives off a serene vibe and nice sunny glow to the room. The best part about this color is that it pairs well with other pastel colors, shades of blue, white and beige, so you can essentially use decorations in a variety of colors.
Dim Pastel Yellow for a Warm and Fuzzy Feel
A faint pastel yellow color brings a slightly different contrast to the room. A color similar to sunshine, the dim pastel yellow color brings a warm and sunny feeling when the sunshine hits the bedroom wall. This color pairs best with soft white lighting and white, yellow, pastel green or light pink colors.
Burnt Orange for That Rustic Look
When thinking of the best paint colors for bedrooms, burnt orange may not hit the top of the radar, but this rustic color is perfect for those whose favorite season is fall. Matching the color of fall leaves, burnt orange pairs well with fall decor and colors like white, sage green and black.
Turquoise for the Beach Life
Last, but not least on the list of the best paint colors for bedrooms is turquoise. This shade of blue, common in beach houses, is the perfect color for beach-themed rooms, or for those who want a calm shade to blue to help them fall asleep. There are so many paint colors for bedrooms to choose from. We recommend using home improvement stores such as Lowes to view paint swatches and keeping this list in mind to think about unique colors that fit your aesthetic and personality.
---
---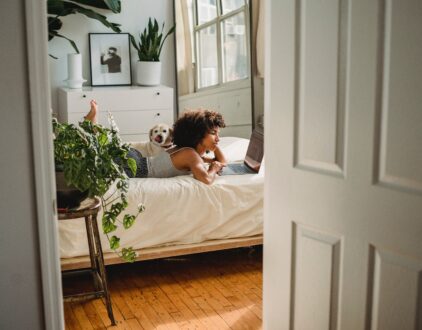 ---
Spaces
Whether it's luxury or ease, every area of your home should be as fabulous and unique as you.
FOLLOW ALONG ON INSTAGRAM
Find us on social for more home inspiration where culture, personal style, and sophisticated shopping intersect to help you create a home where you love to live.