A classic housewarming gift, being a plant parent is like a right of passage as a new homeowner. Whether your plants make it through the first few weeks in your new home relies on your gardening skills. Eventually, if you have a green thumb or learn to nurture them well, your plants could overgrow your spaces. So, what to do when plants begin taking over your house? The obvious answer is to cut them or, better yet, create a design scheme that incorporates your luscious greenery and won't be disturbed by the stems and leaves as they grow.
Plants are living things. Some people even talk to them to promote their well-being. When your Bird of Paradise is healthy, deep in color, and 6 feet tall, snipping it outside the occasional trim is a last resort. Understandably, you may become attached to your indoor plants and be proud of their colossal size. Or maybe your plants aren't growing high and wild, but you just love the outdoors and want your home to highlight that.
These ten plant-themed rooms flaunt botanicals while elevating appearance and ambiance.
Plant-Themed Spaces
Photo Credit: Julie Aagaard
1. A Moody Bedroom
A comforting retreat with lots of candles and a warm industrial globe lamp, this bedroom features plant prints, a potted floor plant, and a succulent sitting on the open shelves built into the headboard. Secondly, the deep green wall matches well with the large prints, and the white space creates a gorgeous contrast that ties everything together.
Photo Credit: Thanos Pal
2. A Lush and Leafy Lobby
Complemented by vibrant green chairs, the soft-hued botanical wallpaper in this space doesn't need plants surrounding it to make a statement. However, adding potted floor plants could increase the wow factor of the room.
Photo Credit: corey oconnell
3. A Cozy Reading Nook
Plants surround this cozy little nook. Perhaps the homeowner uses it for reading or playing the guitar on the wall. Either way, the greenery in this corner makes you want to sit down, relax, and breathe in the fresh air.
Photo Credit: Lisa Monyeur
4. A Tropical Bathroom
This bathtub belongs at a resort, which is why it's perfect for your home if you love to unwind with a soak. Similarly, the plants around the perimeter and along the walls underneath the skylights are like a private greenhouse. This bathroom probably smells like sitting outside on a beautiful spring day.
Photo Credit: Jonathan Borba
5. A Boho Enclosed Patio
Another example of a quiet, cozy sanctuary, you can't really tell if the patio is indoors or outdoors until you glance at the windows. When it comes to filling your home with plants, that's just what you want. While this space could feature even more greenery, adding more plants might feel cluttered and overcrowded.
Photo Credit: Kate Darmody
6. A Lively Living Room
Plants line the walls and ceilings of this picturesque living room. Placing the plants in two central areas is likely a functional choice so they can get the most sunlight. Nonetheless, it serves the design here.
Photo Credit: Teona Swift
7. A Jungalow-Inspired Entryway
In this cute entryway, there are so many vases and pots near this bench that you might not sit on it as much as you admire it. Occasionally, decor's arranged in a way that the space appears less lived in, but that's not the case with this example. From dropping keys in the catchall to throwing a jacket over the side, you can see that this bench sits in a high-traffic area of the home.
Photo Credit: Karolina Grabowska
8. A Plant-Filled Living Room
The plants in this living room rest on the sidelines, but make no mistake, they are the moment. One of the best design choices in this space is picking potters that match the hue of the leather sofa. Moreover, accent colors, like the single dark gray and black floor potter, contribute to the visual intrigue.
Photo Credit: Spacejoy
9. A Simple, Serene Bedroom
Talk about plant-themed! The only part of this bedroom that doesn't have plant accents is the bed itself. From the walls to the ceiling to the floor to the bedside tables, there are plants everywhere. Not too much or too little, this design is the sweet spot of plant decor.
Photo Credit: Lydia Mailloux
10. An Organic Modern Dining Area
The plants in this dining area are guests at the table, literally. This space incorporates plants in every corner, starting with the shelf and progressing to the coffee table. While the space in front of the window's crowded with plants, there are fewer plants as you move into the open area — perfect placement for common areas.
---
---
Spaces
Whether it's luxury or ease, every area of your home should be as fabulous and unique as you.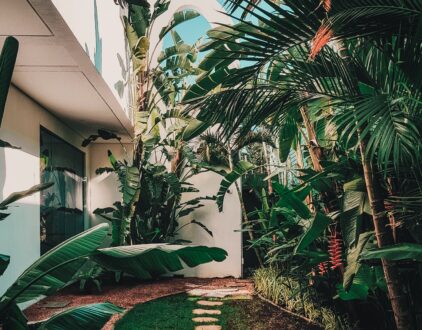 ---
Spaces
Whether it's luxury or ease, every area of your home should be as fabulous and unique as you.
FOLLOW ALONG ON INSTAGRAM
Find us on social for more home inspiration where culture, personal style, and sophisticated shopping intersect to help you create a home where you love to live.