For Amazon Prime Day, it's time to stock up on bedroom sheets. It's no secret that bedding can be expensive, but this year, you can plan to shop smartly and start making your wish list now so the items you're after don't sell out. With Amazon's biggest shopping day approaching, start "window shopping" for what you want and need to cut down on possible overspending.
Amazon Prime Day this year will be from July 11-12, and it's exclusively for Amazon Prime members. According to Amazon's website, "Members will get exclusive access to Amazon's lowest prices so far this year on select products from a variety of brands like Bose, Hey Dude, and Theragun. This Prime Day, members in the U.S. can also shop more deals on small business products than ever before."
Prime Day Bedroom Sheets
You can start setting up your alerts now either through your Alexa devices or by going into your Amazon app and setting up your invite-only deals. Prime members can start requesting invitations to score discounts on some of their favorite must-have items.
Amazon is expected to have a lot of bed sheets that will be available for sale, so now is the time to start selecting sheets for every room in your home. You can score great deals on all bed sizes, so don't let the window of opportunity pass you by.
Additionally, if you've been wanting to try some luxury linen, especially bamboo sheets, here is your chance. If you find that you get uncomfortably warm at night, you may want to look for linen that's breathable and light. You can also experiment with some new color schemes or seasonal linens that can carry you over in-between weather changes.
Ready to shop? If so, here are a few must-have bedroom sheets to add to your home for Amazon Prime Day.
Coldest Bedding Sheets
Being hot and bothered at night is not a comfortable feeling. Neither is it cute to wake up to wet sheets from perspiration all night. Now, you can have a better night's sleep and still get the look and feel of luxury with the Coldest Bedding Sheet Set for Amazon Prime Day. This sheet set comes in a cool, solid gray which will add a nice neutral balance to your bedroom. Made with 100% Real Organic Viscose from bamboo material, your skin will feel like it's dipped in luxury every time you get in bed. You will love always feeling the cool side of the bed at night with these sheets.
Amazon Basics Cotton Jersey 4 Piece Bed Sheet Set
Looking to stock up on breathable bed sheets that will keep you comfortable all night? The Amazon Basics Cotton Jersey 4 Piece Bed Sheet Set comes in 10 additional colors ranging from black to dark green to sky blue. These sheets are suitable for every season, making them a great option for regular usage. On top of maximum comfortability, these sheets are easy to clean and they have enough stretch to keep them on the bed when you are having restless nights. At this price point, these sheets will easily be your favorite. If you are an eco-friendly shopper, you'll be glad to know that these sheets are Made In Green by OEKO-TEX.
SouthShore Fine Living Vilano 4-Piece Bed Sheets
We spend almost a third of our lives in bed, so you might as well make it as comfortable as possible. The SouthShore Fine Living Vilano 4-Piece Bed Sheets come in 18 different colors, all with the capability to mix and match with your current bedding. This 4-piece set comes with two pillowcases, one standard sheet and one fitted sheet for your convenience. The SouthShore line also is available in twin, full, queen and king bed sizes as well as twin XL and split king sizes. With this breathable bed sheet set, you will get better sleep at night for many nights to come.
DOZ by SIJO Bamboo Sheet Set
Have you ever slept on bamboo sheets? Bamboo is a lightweight material that helps keep you cool throughout the night more so than cotton. The DOZ by SIJO Bamboo Sheet Set comes in a beautiful forest green that will add a sense of tranquility to any bedroom in an instant. With a 300 thread count in this sheet set, SIJO promises that its high thread count of bamboo makes it comparable to cotton with a thread count of three times as much. These bamboo sheets are a great deal for people with sensitive skin issues or who experience hotter temperatures at night and want to remain cool.
DREAMCARE Deep Pockets Bed Sheets
If you struggle with keeping your bed sheets on because you tend to be a wild sleeper, these sheets might solve your problem. The DREAMCARE Deep Pockets Bed Sheets are an excellent alternative for people who wrestle with their sheets at night. Made from premium microfiber materials, these bed sheets are guaranteed to perform and be wrinkle and fade-resistant. In addition to giving you extra fabric that will allow these sheets to remain intact, these sheets also have pockets for you to place your phone or remote control at night. These luxury sheets will make you feel like you are sleeping in a 5-star hotel every night.
Our editors love finding you the best products and offers! If you purchase something by clicking on one of the affiliate links on our website, we may earn a commission at no extra cost to you
---
---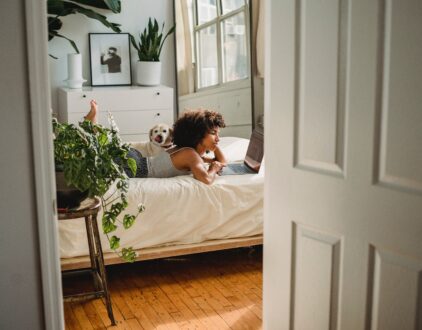 ---
Spaces
Whether it's luxury or ease, every area of your home should be as fabulous and unique as you.
FOLLOW ALONG ON INSTAGRAM
Find us on social for more home inspiration where culture, personal style, and sophisticated shopping intersect to help you create a home where you love to live.