When it comes to getting your home ready for the summer, incorporating natural elements and textures creates a refreshing and tranquil atmosphere. A rattan mirror is one decor item that perfectly captures the essence of summer. Rattan mirrors add a touch of bohemian charm while bringing warmth and style to any space.
Here's why you should add a rattan mirror to your summer home style:
Natural and Eco-Friendly
Rattan is a natural material sourced from the rattan palm. It is a sustainable choice for your home decor. If you're into eco-friendly and conscious living, a rattan mirror for your home's design is an excellent choice. The natural fibers and earthy tones bring a sense of nature to your abode.
Light and Airy
Rattan mirrors are lightweight, making them perfect for summer. Light passes through woven rattan, brightening your home and creating the illusion of more space. The mirror reflects light, illuminating your room while giving it a fresh and airy feel.
Versatile Style
The great thing about rattan mirrors is that they come in a variety of shapes, sizes, and styles. This makes them great for different design styles. Whether your home is bohemian, eclectic, or coastal, you can find a rattan mirror to perfectly complement your aesthetic.
Texture and Visual Interest
Rattan mirrors are great for adding visual interest to your space. The patterns and texture of the frame draw attention to the room and adds depth. Rattan adds great textural contrast to smooth surfaces like glass windows and painted walls.
Connection to Nature
Summer is all about enjoying the great outdoors and feeling connected to nature. Rattan mirrors are great for indoor and outdoor spaces and create a cohesive design flow. Hang a rattan mirror on your patio wall to add a touch of natural beauty to your outdoor space.
Timeless Design
Trends come and go, but rattan mirrors are here to stay. These mirrors transcend seasonal trends. They have been used and loved for decades. Investing in a rattan mirror is great for a long-term addition to your home that can be admired all year.
Keep scrolling to discover unique rattan mirrors for your home this summer.
Round Hanging Farmhouse Woven Rattan Wall Mirror
This stunning farmhouse mirror is made with natural woven rattan and raffia tassels and edged with wooden beads. It's an excellent mirror for hanging on your wall and would look amazing in an entryway, bedroom, bathroom, and even outdoor wall. The natural color and textures are easy on the eye and create a tranquil ambiance. The mirror comes with a hanging hook on the backside. There is also a sticker hook and non-trace wall hook included in the package. This makes it easy to hang on the wall. It's a great statement piece that makes your space look bigger. This mirror is perfect for bohemian design styles.
Large Rattan Innovative Art Decoration Round Mirror
Made from natural rattan, this mirror is perfect for bohemian design styles. Rattan is a natural fiber celebrated for its durability, strength, and natural aesthetic. This round mirror has a rustic look and adds style and character to any wall it's placed on. Each piece of rattan is weaved by the hand of expert artisans who are masters at weaving and molding rattan. This lightweight mirror is a piece you can use and admire for years. This mirror is also an art piece that can be added to your bedroom, bathroom, lounge, office, and wherever else you see fit. It's the perfect summer addition to your home.
Modern Bohemian Natural Brown Rattan Accent Wall Mirror
Curate your space to be carefree and relaxed this season with this beautiful modern bohemian natural brown rattan accent wall mirror. This mirror was made in Indonesia from rattan rods arranged in an angular pattern. This eye-catching mirror comes fully assembled and is perfect for mounting on your walls. The modern, geometric design adds personality and style to any space. Since this piece is made from natural materials, it is normal to experience variations in color, grain, texture, and pattern. This striking mirror is handmade by skilled artisans. Add a pop of color to this bohemian mirror with a lush green plant.
Arched Wall-Mounted Rattan Frame Vanity Mirror
This large rattan mirror can be placed on the floor, allowing you to see your whole body. It's a great mirror for your home's entryway, living room, or bedroom. It adds depth and dimension to any room it's in. The top of the mirror has an arched frame. The mirror has a natural rattan-wrapped border and perfectly complements bohemian, coastal, and modern design styles. There are hooks on the back of the mirror to mount to the wall. This high-quality mirror is explosion-proof, which means that if an accident occurs, the glass will not be shattered everywhere. This is great for households with small children.
Our editors love finding you the best products and offers! If you purchase something by clicking on one of the affiliate links on our website, we may earn a commission at no extra cost to you.
---
---
Decorate
Access design inspiration that infuses personality and culture into your spaces.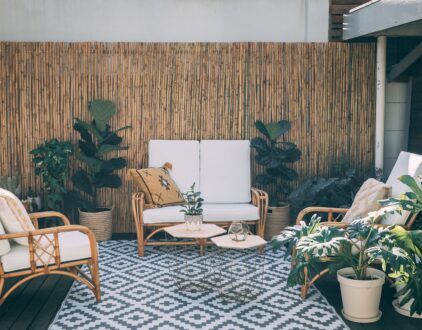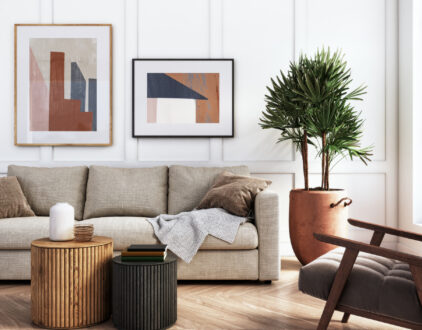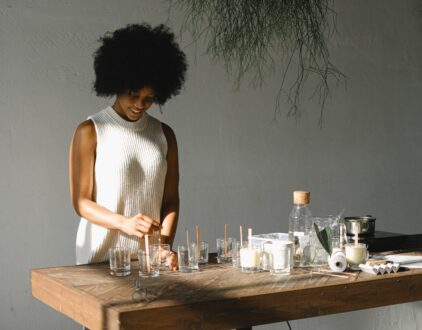 ---
Spaces
Whether it's luxury or ease, every area of your home should be as fabulous and unique as you.
FOLLOW ALONG ON INSTAGRAM
Find us on social for more home inspiration where culture, personal style, and sophisticated shopping intersect to help you create a home where you love to live.