When it comes to sorting out which windows treatments you should use, things can get confusing. For instance, how do you know which rooms should have curtains that touch the floor? It may seem like a silly question to ask yourself, but depending on how you decorate your home, it could be a tall task to answer.
Depending on where the sunlight hits your living room windows, you have more choices to have long, elegant curtains. However, rooms like your kitchen may not be the ideal place for a long drop scene.
Which Rooms Should Curtains Touch the Floor In?
View this post on Instagram
First, think about the purpose of long curtains. Traditionally, long curtains that touch the floor have always been the standard. On average, standard curtains can be from 42-50 inches wide and 60-150 inches long. If you have curtains that touch the floor and spread, you can easily decorate the extra fabric by tying it up. Creating this dramatic flair is common with floor curtains, and some homeowners love the dramatic effect.
Generally, drapes can be identified by four separate lengths: sill, apron, floor, and pooling.
Sill-length drapes are exactly what they sound like: curtains that stop right at the end of the window sill. Usually, these drapes are used for the kitchen and bathrooms, but if you have a small living room, they can work there, too. With sill-length drapes, you don't have to worry about them touching the floor because they are typically short. Even though they are short, they are extremely functional if you have a heater or air conditioner you don't want to be blocked.
Apron-length curtains might be the least popular out of all the drape lengths. To the unassuming, they may look like sill drapes, but they are a bit longer. These drapes are better in a bedroom or kitchen.
Floor length and pooling length often get used interchangeably, but they are not the same. Floor-length drapes stop right around the floor but they do not touch the ground. Floor-length curtains also tend to be straighter and sturdier than other drapes.
What Is Pooling and How To Achieve The Look With Your Curtains
Pooling-length or puddle-length curtains are the curtains that cover the floor. They are the longest of the drapes and are made with extra material to give a pronounced look.  They tend to be more romantic looking, and you should steer clear of adding these curtains to areas where there's lots of foot traffic. Puddle-length curtains look best in a bedroom or living room. If you have a living room window in a corner that doesn't get too busy, you can add pooling drapes there, too. Just remember pooling drapes need to be cleaned more often than regular curtains because they touch the bare floors.
Rules for Styling Curtains
Here's a rule of thumb you should follow: If you buy single-pair window treatments or even blackout curtains, they should touch the ground. With blackout curtains, you want to block out all the light, and if they don't touch the surface, the light will creep in.
Now, if you want a double panel, valence, or window tier, you can go shorter. The same goes for window scarves—they don't need to touch the ground, and if you have a portière that's long and you want to shorten it, then use the scarf to lift it.
Another rule you should remember is anything sheer or see-through must touch the ground. However, when it comes to the kitchen area (and even that is a personal preference), light material is fine to let linger at the surface.
---
---
Decorate
Access design inspiration that infuses personality and culture into your spaces.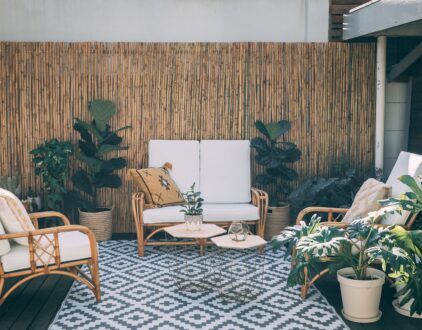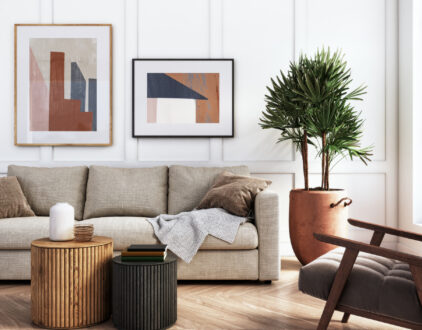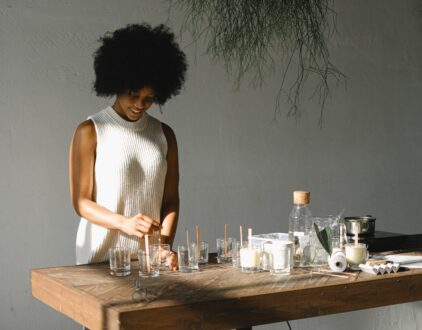 ---
Spaces
Whether it's luxury or ease, every area of your home should be as fabulous and unique as you.
FOLLOW ALONG ON INSTAGRAM
Find us on social for more home inspiration where culture, personal style, and sophisticated shopping intersect to help you create a home where you love to live.