Not all purchases are created equal when it comes to curating your dream home. While you're better off snagging a deal on certain home decor items, there are pieces where investing in the highest quality is best. These items contribute to your home's aesthetic, well-being, comfort, and savings.
Here are items you should always splurge on.
High-Quality Mattress
The mattress industry will always be booming because a good night's sleep is priceless. Sleeping on a high-quality mattress supports your posture, relieves pressure points, and ensures you wake up feeling refreshed. The average person spends a third of their life in bed, so it's only right to invest in an impeccably made mattress that supports your body.
Professional-Grade Kitchen Appliances
If you spend a lot of time in your kitchen and enjoy cooking, investing in professional-grade appliances is great for elevating your culinary experience. Look for energy-efficient models that are built to last. You'll save money in the long run while enjoying an elevated cooking experience.
Premium Sofa or Sectional
A sofa is the focal point of your living room and the hub of comfort when hosting friends and family for movie nights and more. It's important not to compromise on a piece that you'll be using on a daily basis. Opt for a sofa made with high-quality, durable fabric and cushioning that provides both comfort and support.
Art Pieces
Art has the power to transform a space completely. It's an expression of individuality, so splurging on pieces that resonate with you and represent your personal style will give your home a unique touch. While fine art requires an investment upfront, its value often appreciates over time, making it a great investment aesthetically and financially.
Energy-Efficient Windows
Upgrading your windows to energy-efficient models is both a wise financial and environmental decision. These windows are intentionally designed to reduce heat loss in the winter and keep your home cooler in the summer. As a result, your utility bills will be significantly lowered in the long run.
Timeless Fixtures
High-quality fixtures can transform a room from average to ultra-luxurious. Whether it's a state-of-the-art shower system or a crystal chandelier, invest in fixtures that match your aesthetic and are built to last.
Keep scrolling for inspiration on items worth the splurge.
Avocado Luxury Organic Mattress
Experience a new level of opulence with the updated 2022 Luxury Plus Mattress by Avocado Green. This certified organic and handmade mattress is made in Los Angeles and boasts 17 layers of premium organic and natural materials such as latex, wool, silk, hemp, and cotton. This mattress is designed for ultimate comfort and support. It features up to 3,145 individually pocketed coils that are strategically arranged in five zones for optimum motion isolation and targeted support. In addition to being the brand's softest mattress, it's Climate Neutral Certified, making it a great eco-friendly choice. This mattress ships flat and requires deep pocket sheets.
KitchenAid Artisan Series 5qt Tilt-Head Stand Mixer
This stand mixer is as stylish as it is functional. It's an essential kitchen appliance with a robust metal construction and offers 10 speeds, making it the perfect tool for everything from kneading dough to whipping cream. It has a generous 5-quart stainless steel bowl that can handle small and large batches. It's perfect for whipping up dozens of cookies in one go. Its tilt-head design makes it super easy to add ingredients. Over 10 optional hub-powered attachments are available for purchase, making it a multipurpose tool that can make pasta, grind food, and more. With over 20 color options, you can choose one that perfectly aligns with your kitchen aesthetic.
Muse Sofa by Design Within Reach
The Muse Sofa, designed by Australian talent Sarah Ellison, is a statement piece that exudes comfort and contemporary aesthetics. This piece was inspired by the plush, overstuffed sofas of the 1970s. Ellison reimagined the classics with exaggerated, sculptural forms covered in luxe yet low-maintenance upholstery. This sofa is more than a place to sit and relax—it is a piece of art built to last. This piece has incredible structural integrity and is made with a corner-blocked, kiln-dried hardwood frame and top-quality hardware. The recessed solid oak feet add a touch of magic, making the sofa appear as if it's floating. This sofa is available in velvet or boucle upholstery and embodies a refined yet relaxed and easygoing vibe.
"Helium Dreams" Painting
"Helium Dreams" is a one-of-a-kind acrylic painting by South African artist Cor Bosman. It features a neon yellow background and is a statement piece in any home. This 51x44-inch canvas painting is a reminder that investing in fine art not only elevates your living space but can also be a financial asset. Unlike mass-produced decor, original artwork gains value over time, making it a worthwhile splurge. This painting ships fully insured by Saatchi Gallery and will arrive in 8-10 days, adding a layer of security to your investment. A 14-day return policy adds an additional layer of peace of mind. With fine art, you're investing in something that holds aesthetic and financial value.
Crystal Chandelier Gold Starburst Lighting Fixture
This crystal chandelier is more than just a lighting fixture; it's an investment in your home's aesthetic. With a dazzling array of nano-cutting crystal beads and golden tubs, this fixture is a showstopper. It measures 63 inches in both diameter and height, making it an ideal addition to living rooms and foyers. The crystals disperse in hundreds of rainbow prisms when lit, creating an enchanting ambiance. While chandeliers are often considered a luxury, they are a wise investment for your home decor. Their timeless appeal ensures they never go out of style, and their striking visual impact can dramatically elevate a room. This particular chandelier has dimmable halogen bulbs and the option for LED replacement. Its chain can be adjusted at the time of professional installation.
Our editors love finding you the best products and offers! If you purchase something by clicking on one of the affiliate links on our website, we may earn a commission at no extra cost to you.
---
---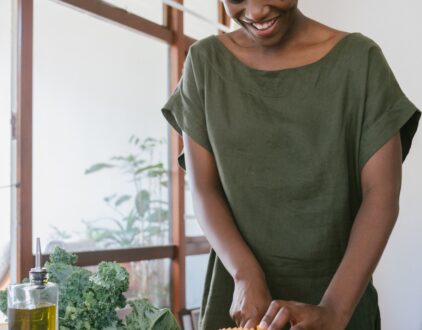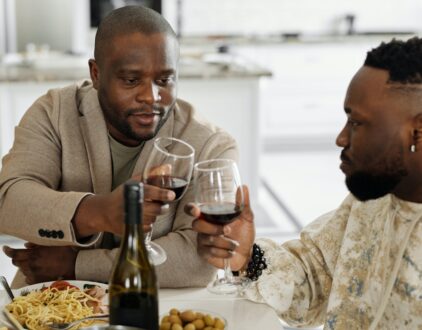 ---
Spaces
Whether it's luxury or ease, every area of your home should be as fabulous and unique as you.
FOLLOW ALONG ON INSTAGRAM
Find us on social for more home inspiration where culture, personal style, and sophisticated shopping intersect to help you create a home where you love to live.