Summer feels more sweltering than ever, and that's because it is, according to scientists. July was the hottest month ever on record, with temperatures across the country reaching at or above 100 degrees for what seemed like days on end. While these unbearable, sticky, breezeless heat waves are usually prominent in the south, the north can't seem to escape the intensity of the sun's rays this year either. Cranking up the air conditioning and switching the ceiling fan on high keeps your home chilly. Yet, despite these efforts, we've all been there: Barely clothed, sweating, and too hot to move. No matter how hard we try to make ourselves comfortable, nothing works. Undeniably, this level of heat calls for a face-in-the-fan moment. There's no quicker way to cool down your body than a direct gust of fresh air, almost as rejuvenating as an ice-cold glass of water.
Though sunny days are always something to look forward to in the colder months, the next few summers will be even warmer. For those who live by the details, the idea of the bulky box fans from childhood in your space makes you cringe. High-powered fans used to be eyesores, but now you can find many table and standing ones designed with charming style and appeal. Keep reading for six airy options for better, crisper summers.
Wood Tripod Floor Fan
A bestseller, this wood, tripod-style floor fan is a contemporary take on a classic design. It's made with solid walnut legs and comes in two colors: Oil rubbed bronze and satin nickel. Plus, you can move it in any direction and play around with its three speed settings for the ultimate customizable airflow. Perfect for boho and wood interiors, plug it up in any room for breezy comfort that won't disturb your decor.
Senior Pedestal Standing Fan
The Senior Pedestal Standing Fan combines power with aerodynamics for air circulation that can cool any room. Designed with a pivoting head, you can adjust its height for a more targeted experience. If that's not enough, it also has three speed settings. For a pop of color, go with the green colorway. Or, go for subtly and seamlessness with the cream option. A gorgeous addition to any home, this fan will blow guests away.
BONECO F235 Pedestal Fan
Calling all minimalists! This Bluetooth adjustable fan has a whopping 32 speeds and three heights! The sleek, gray design includes a deep pitch fan blade and curved front grid to boost airspeed. You can rotate the fan head, too. It also comes with a six-foot cord, so plug it up anywhere in your home. With a 3-year warranty, see what this fan can do without worrying about losses.
Printworks Portable Table Fan
These cute, compact, and colorful fans are just the whimsical addition you need this summer! Available in green, wine, and blue, each fan features a 360-degree rotation and micro USB charging. They're also super affordable at around $70. Place them front and center for a functional decor piece that keeps you comfortable and your home stylish. Since they're cordless, don't forget to take them on your summer picnics and beach trips!
Vornado Silver Swan Alchemy Fan
Stay cool with this retro silver fan made of die-cast aluminum in color "gunmetal." With three speeds and a rotating head for multidirectional airflow, this decor staple deserves a spot in your home. The beautiful matte base and golden blade cover are simple details that create a rich feel. Neutral enough to compliment any home's style, set in the kitchen or on a side table or nightstand for understated luxury.
Modern Forms Desk Fan
Are you on trend and styling a minimalistic home with black and white accents? This fan's meant for you! The industrial glossy black design features a silver base, white blades, and a matching cover. It also includes an oscillating mode and three speed settings. Move around your space and feel the fresh air wherever you are. Great for anyone who loves to sleep or sit in front of the fan but isn't in the mood for a constant chill.
Our editors love finding you the best products and offers! If you purchase something by clicking on one of the affiliate links on our website, we may earn a commission at no extra cost to you.
---
---
Spaces
Whether it's luxury or ease, every area of your home should be as fabulous and unique as you.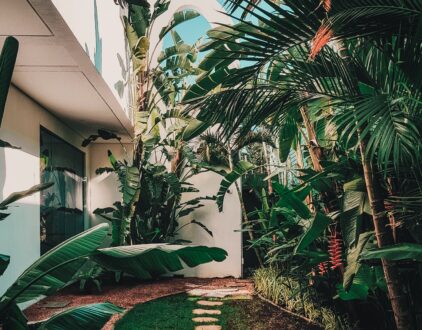 ---
Spaces
Whether it's luxury or ease, every area of your home should be as fabulous and unique as you.
FOLLOW ALONG ON INSTAGRAM
Find us on social for more home inspiration where culture, personal style, and sophisticated shopping intersect to help you create a home where you love to live.