Home collaborations are the way to our hearts. In West Elm's latest collection, the retailer collaborated with Los Angeles-based women-owned fashion brand Rhode. This collaboration features the brand's whimsical prints in an effortless summer collection of tableware and bedding.
View this post on Instagram
About Rhode
Phoebe Vickers and Purna Khatau are best friends and the design duo behind the beloved fashion brand Rhode. The two women were randomly assigned to be roommates in college, which sparked the beginning of a lifelong friendship. Vickers and Khatau went on to become business partners, launching their fashion brand of pieces designed for a vibrant life, good times, and adventures.
The Collection
This collection is here just in time for hosting beautiful summer soirees at your home. The ladies believe, "A beautiful table full of color is the best conversation starter when you're hosting." They show that in their limited-edition collection of pieces with vibrant colors, including placemats, salad plates, dinner plates, and more.
View this post on Instagram
With a variety of patterns and colors, this collection was made to be mixed and matched. The key is to have fun with the pieces and style them to show off your personal design aesthetic. One of the inspirations for this collection was the vibrant colors of co-founder Purna Khatau's home country: India. "The colors, prints, and patterns of India are so full of life that they're an ever-present inspiration," said Khatau.
Along with the West Elm team, Rhode designed a collection of over 20 pieces at an accessible price point starting at $30.
Keep scrolling to discover some of our favorite pieces from the collection.
RHODE Wiggle Round Pillow
This limited-edition pillow is inspired by vintage design and is a celebration of color. It's the perfect pillow to layer and mix and match to get a design that is uniquely yours. There is a hand-embroidered wiggle design on both sides of this pillow. It's a great choice for eclectic design styles and comes in two summery colorways: fair green with a pink squiggle and dijon with a blue squiggle. This huggable round pillow is made in India by talented artisans with soft cotton that will last for years to come. Care for this pillow by machine washing it with warm water on the gentle cycle. Tumble dry low or hang to air dry.
RHODE Lacquer Tray
Keep the party going this summer with this exclusive collaboration piece from RHODE and West Elm. This multi-functional tray can be used to serve refreshing drinks and cocktails to guests or as a catchall in your bedroom or entryway. The glossy, lacquered finish gives it the perfect touch of glamor. Made from wood, this tray has a beautiful blue and green color palette and cut-out handles, making it easy to transport from one area in your home to the other. To clean and care for this tray, wipe clean with a soft, damp cloth. This fun tray can be mixed and matched to suit your design aesthetic.
RHODE Wicker Tray
What better way to enjoy a beautiful summer morning than breakfast in bed? This beautiful wicker tray is perfect for enjoying a leisurely morning in bed, indulging in your favorite pastries, fruit, and coffee. It's also a great centerpiece for your breakfast nook or dining table. With a unique, curved shape and wicker material, this tray is great for bohemian-designed homes. It works well in natural color palettes; you can add a pop of color with a plant. This wicker tray is super easy to care for — all you have to do is wipe it with a soft, damp cloth.
RHODE Begonia Shower Curtain
Add feminine charm to your bathroom this season with this begonia-patterned shower curtain. This curtain is made from 100% cotton and exudes a vintage charm. Its soft color palette works well with vintage and traditional design styles. You can also make it work in eclectic bathrooms by adding patterned rugs and towels. Although this shower curtain comes unlined, it coordinates seamlessly with West Elm's shower curtain liners, which are sold separately. There are 12 buttonholes, making this curtain the perfect size for standard-sized tubs. To care for this shower curtain, machine wash it with warm water. Tumble dry on medium or hang dry.
RHODE Begonia Napkin Set
Set your table in style this season with this beautiful begonia napkin set. This piece is from the collaboration with women-owned lifestyle brand RHODE and home decor brand West Elm. This napkin set is the perfect way to brighten up your tabletop while protecting it from stains and scratches. It's made with soft cotton, which is light yet durable for everyday use. It's a sustainable choice for your dining area. The napkins can be washed and reused, reducing the waste in your home. You can purchase these napkins in a set of four or eight to suit your home's needs.
Our editors love finding you the best products and offers! If you purchase something by clicking on one of the affiliate links on our website, we may earn a commission at no extra cost to you.
---
---
Decorate
Access design inspiration that infuses personality and culture into your spaces.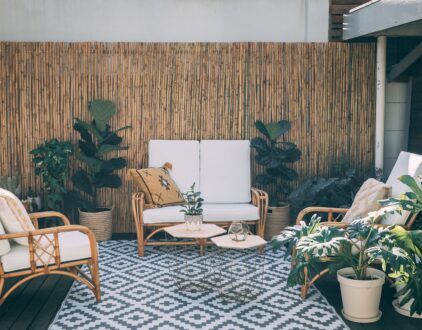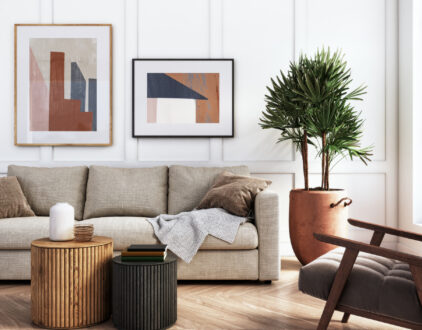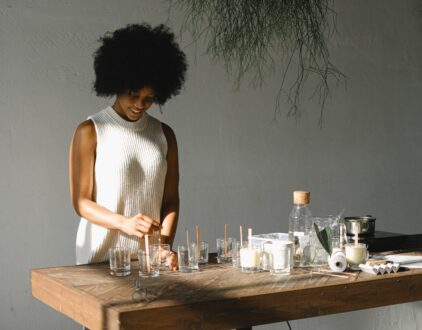 ---
Spaces
Whether it's luxury or ease, every area of your home should be as fabulous and unique as you.
FOLLOW ALONG ON INSTAGRAM
Find us on social for more home inspiration where culture, personal style, and sophisticated shopping intersect to help you create a home where you love to live.