Throughout history, witches have gotten a pretty bad rep. But as society becomes more and more tolerant of varying beliefs and religions, the way witches are represented is also changing. This is particularly true as it relates to the home decor space.
In recent years, witchy decor items have started to become popular, especially on social media. From mantels decorated with colorful crystals to candles strategically arranged on a floating shelf, there's no shortage of decor ideas floating around on TikTok, Instagram, and other shareable platforms.
And now that Halloween is around the corner, retailers from around the country are stocking up on inspired decor that's perfect for creating a magical space.
How To Create a Magical, Mystical Space
To turn your space into an enchanted abode, there are several factors to consider. Take a look!
Ambiance
Your home is your personal sanctuary, and its ambiance should reflect that. To create an inviting space, lighting is of utmost importance. You can play around with your lighting by incorporating vintage chandeliers or candles in deep colors such as dark red or even black.
Furniture
The type of furniture you select plays a heavy role in the aesthetic of your space. For witchy furnishings, opt for dark, gothic pieces made from velvet or carved wood. To add personality to your room, shop for furniture with whimsical or ornate accents such as claw feet or lace.
Decor
When it comes to designing a mystical space, decor is the most important element to consider. To create a witchy atmosphere, be sure to incorporate lots of mystical imagery like moons, stars, cats, owls and more. You can also use astrology charts as hanging decor for a gallery wall or above your bed.
Display dried herbs and flowers in jars and vases for the perfect spellbinding decor for mantels and tablescapes. And an old bookcase provides a great place to arrange crystals, stones, and old, worn-out books.
Witchy Artwork and Decor To Shop
If you're into the dark arts, why not invite a bit of mystical charm into your space with a few witchy decor items? Whether you're designing a space for meditation or using it to connect with familiars, having a place that resonates with your inner witch can help you feel more at home. To learn how to decorate a mystical space, here are seven decor items to try.
1
Dark Cottagecore Lantern Desk Mat
Can't get enough cottagecore? Try this Dark Cottagecore Lantern Desk Mat decorated with midnight butterflies! Featuring a glowing lantern, this captivating mouse pad makes working at your desk a lot more fun.
2
Happy Skull Horror Planter
If you're a plant parent, what better way to show off your greenery than with this adorable skull planter? Place your favorite houseplant or floral arrangement inside for a unique way to display your personality.
3
Moon Printed Round Rug
Become one with the cosmos with this beautiful rug that looks just like the surface of the moon. Not only is it cute, but it also provides a convenient place to sit during meditation.
4
Bat Hanging Bookshelf
Store your spell books in style with this unique Bat Hanging Bookshelf. Made from natural cotton cord, this hand-woven bookshelf is an ideal companion for a home library or reading nook.
5
Moon Clock – The Lunarium II
Add a touch of opulent charm to your space with this stunning handcrafted moon clock, The Lunarium II. This magical moon clock is designed to help you keep track of the lunar cycle so you can plan your next moves accordingly.
6
Cauldron Mug
Enjoy your morning cup of coffee in this super cute Cauldron Mug. Made from quality ceramic, this mug is not only visually appealing, it's strong and sturdy for lasting usage.
7
LED Neon Witch Sign
For a cool way to brighten up your space, try this LED Neon Witch Sign from Light House UA. This minimalistic LED sign is great for creating a warm glow in any room. Plus, you can choose from a wide selection of colors to match your existing decor.
Our editors love finding you the best products and offers! If you purchase something by clicking on one of the affiliate links on our website, we may earn a commission at no extra cost to you.
---
---
Decorate
Access design inspiration that infuses personality and culture into your spaces.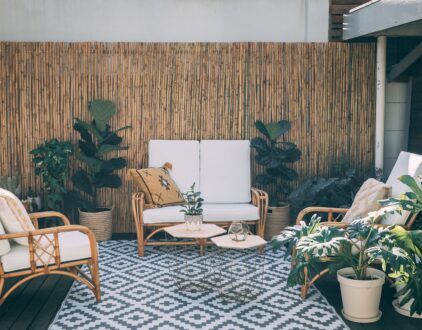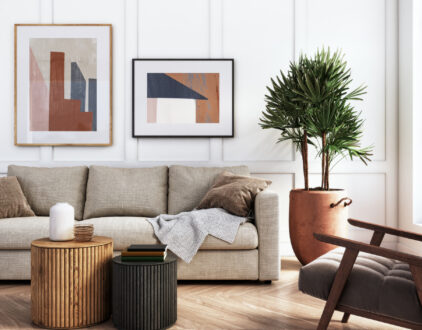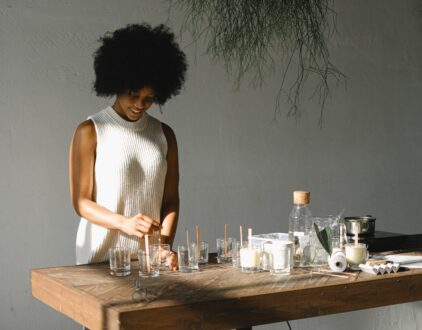 ---
Spaces
Whether it's luxury or ease, every area of your home should be as fabulous and unique as you.
FOLLOW ALONG ON INSTAGRAM
Find us on social for more home inspiration where culture, personal style, and sophisticated shopping intersect to help you create a home where you love to live.