Painting your walls can truly kick your decor up a notch. However, doing so is no easy feat. In fact, it takes a lot of time and effort to paint your walls, which is why many people hire a professional to do the heavy lifting instead. But fortunately, there are ways to revamp your walls without having to call the pros for help — and wall stencils are one of them.
With wall stencils, you don't have to be an artist—you can paint detailed wall patterns and prints with ease. Plus, wall stencils are reusable, which means you can save money on buying new ones in the future. And because there are so many design options available, you can truly personalize your space so that it resonates with your unique style and personality.
The best part? Amazon has a huge selection of wall stencils to choose from, from floral and botanical to geometric or abstract. No matter what design you choose, wall stencils are the perfect way to achieve a high-end look without the high-end price tag.
How To Use Wall Stencils
Wall stencils are a fun and easy way to transform your home. And luckily, they're super easy to use, too. To learn how to use them, take a look at this quick step-by-step guide:
Step 1: Prep the wall.
Before you start your project, you'll need a clean canvas. You can achieve this by cleaning your surface prior to applying your stencils. Make sure to address any imperfections by patching, sanding, and applying primer where needed to ensure your walls are smooth and ready for the next step.
Step 2: Protect your work area.
Avoid making a mess by ensuring your workstation is fully protected. You can do this by laying down a drop cloth to cover the floor. You can also protect the edges of your wall — i.e. baseboards, trim, ceilings, etc. — by taping the areas so they aren't exposed to paint splatter.
Step 3: Start painting.
Place your stencil where you want your design to go, securing it with painter's tape so that it doesn't slip or slide. Then, using a foam roller, paintbrush, or small spray bottle, paint over the stencil in thin, even coats.
Step 4: Let it set.
After you've finished painting, let it completely dry before removing the stencil from the wall. Then, apply a couple of coats of clear polyurethane sealer to seal and protect the final result.
Step 5: Touch it up.
If necessary, touch up the edges of your new design using a small paintbrush. Let that fully dry before decorating your wall with artwork and shelving.
Amazon Wall Stencils To Shop
Decorating your walls using wall stencils is a much more convenient way to revamp your space than painting freehand. And with Amazon wall stencils, it's super easy to do. All you need is a little patience and a willingness to experiment with different patterns and designs. To learn how to transform your space, here are seven Amazon wall stencils to try out:
1
Herringbone Simple Wall Stencil
This modern, black wall stencil features a simple herringbone design that easily matches with the rest of your decor. It also includes easy-to-follow instructions so you can apply it as soon as possible.
2
Serenity Allover Stencil
Perfect to use as a bathroom or kitchen backsplash, this cool, modern design is just what you need revamp plain, boring walls. Plus, its simple design means you can mix and match it with any room aesthetic.
3
Rain Wall Stencil
Enjoy a soothing rainfall design with this Rain Wall Stencil from Cutting Edge Stencils. Use it in your bedroom to promote peace and tranquility, or add it to your bathroom to create a spa-like environment that's sure to impress.
4
Cheetah Print Wall Stencil
Take a walk on the wild side with this Cheetah Print Wall Stencil. You can use paint over it in varying colors for an even more flamboyant aesthetic.
5
Bermuda Breeze Tropical Wall Stencil Kit
Invite The Great Outdoors into your home with this wall stencil kit featuring palm fronds. Each kit includes large and small stencils so you can create a vibrant botanical paradise no matter what size your walls are.
6
Stripes Wall Stencil for Painting
For a modern, minimalist design, try this Stripes Wall Stencil from STENCILIT. It includes convenient connection points so you can repeat the pattern on larger walls.
7
Birds and Roses Chinoiserie Wall Mural Stencil
Add a luxurious touch to your bathroom or vanity room with this beautiful Birds and Roses Chinoiserie Wall Mural Stencil. It features an assortment of birds and flower that make a stunning pattern when stenciled on walls or furniture.
Our editors love finding you the best products and offers! If you purchase something by clicking on one of the affiliate links on our website, we may earn a commission at no extra cost to you.
---
---
Decorate
Access design inspiration that infuses personality and culture into your spaces.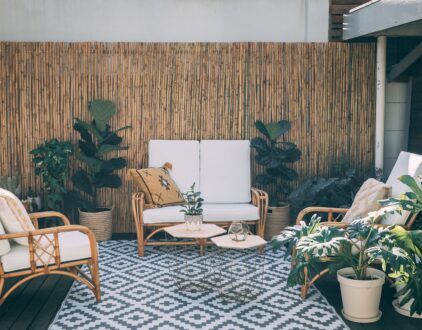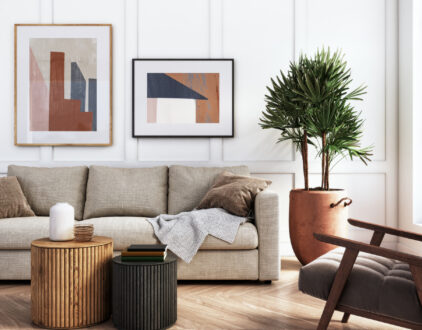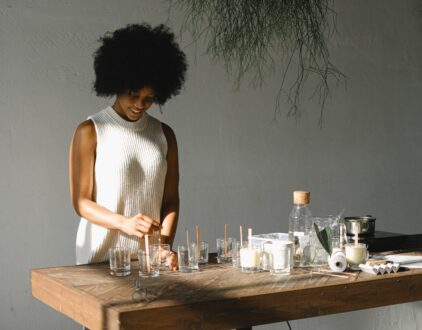 ---
Spaces
Whether it's luxury or ease, every area of your home should be as fabulous and unique as you.
FOLLOW ALONG ON INSTAGRAM
Find us on social for more home inspiration where culture, personal style, and sophisticated shopping intersect to help you create a home where you love to live.