In today's fast-paced world, there's not much we can commit to memory—phone numbers, friends' birthdays, and sometimes the days of the week can slip right past us unknowingly. But if there's one bit of information we can count on knowing frontward and backward, it's our perfected drink order. Whether you're a coffee connoisseur, a tea enthusiast, or a health-conscious individual looking for refreshing homemade drinks, these beverage makers will have you skipping the lines at your favorite—albeit overpriced—joint in favor of brewing your own in the comfort of your home.
Tea Infusers and Tea Makers
For tea lovers, having the right equipment to brew the perfect cup of tea is essential. Here are two types of beverage makers for tea enthusiasts:
Loose Leaf Tea Infusers
Loose leaf tea infusers are ideal for those who enjoy the rich flavors of loose leaf teas. These infusers allow the tea leaves to expand fully, resulting in a more flavorful and aromatic brew.
Electric Tea Kettles
Electric tea kettles are convenient and efficient for heating water to the ideal temperature for different types of tea.
Coffee Makers
There's nothing like a classic cup of coffee or the sound of swirling around an iced beverage as you start your day with errands. And having the right coffee maker can make all the difference.
Espresso Machines
Espresso machines are perfect for those who enjoy the strong and concentrated flavors of espresso-based drinks like cappuccinos and lattes. The best ones offer precise temperature control, adjustable pressure settings, and the ability to froth milk for a creamy finish.
Drip Coffee Makers
Drip coffee makers are a staple in many households. They offer simplicity and convenience by quickly brewing a pot of coffee.
Soda Makers
If you enjoy sparkling drinks, soda makers allow you to carbonate water and add your choice of flavors to create customized sodas, sparkling water, or refreshing mocktails.
Blenders
Blenders invite you to create smoothies, shakes, and even soups with ease. They are perfect for blending fruits, vegetables, ice, and other ingredients to create refreshing and nutrient-packed drinks.
Scroll to see some of the best beverage makers you can buy:
1
Pure Zen Tea Tumbler with Infuser
Experience a new level of tea enjoyment that will elevate your on-the-go sipping experience, detoxify your body, and enhance your lifestyle. This tumbler lets you brew loose tea leaves of your choice, transform your drink into a refreshing fruit-infused water bottle, or even steep herbal beverages and cold brew coffee. The generous 13-ounce size will make sure you stay hydrated no matter where your adventures take you. The double-walled, odor-free glass tumbler keeps your drinks cool or warm for extended periods without any worry of sweating or leakage.
2
Cuisinart Electric Kettle
With a 1.7-liter capacity and 1,500 watts of power, this kettle offers fast heat-up times, while the concealed heating element prevents mineral buildup. Take full control with the custom settings of this electric kettle. Enjoy the simplicity of one-touch controls, allowing for effortless operation. Want to keep your beverage warm? The 30-minute keep warm option ensures your drink stays at the perfect temperature. The stay-cool nonslip handle provides a comfortable and secure grip, and the 360-degree swivel power base allows for a cordless experience. For added safety, the kettle has an auto safety shutoff feature, giving you peace of mind during use.
3
ESPRO – P3 French Press
Elevate your coffee experience with this French press, a modern twist on the classic coffee press. Its timeless glass design adds some serious main character aesthetic to your brewing ritual, making it the perfect companion for a lazy morning or a quick coffee break. Its patented double micro-filter keeps your coffee free from unwanted particles, resulting in a smooth and delicious sip every time. No more unpleasant coffee grounds to disrupt your enjoyment. With the ESPRO P3, pressing the filter stops the extraction process completely, preventing over-extraction and the development of bitter flavors over time. Each cup you pour tastes as delightful as the very first one.
4
Mueller Ultra Coffee Maker
Brew a full pot of coffee using your favorite grounds, and with the brew strength control, you can choose between regular or bold coffee flavors to suit your preferences. Enjoy the convenience of easy brewing and precise pouring. The pause and serve function allows you to pour a cup of coffee at any time during the brew cycle, so you don't have to wait for the entire pot to finish brewing. The special carafe design ensures drip-free pouring, delivering every last drop of coffee without any mess. You'll also love the permanent coffee filter that comes included, saving you money and contributing to a more eco-friendly coffee experience!
5
Nespresso Vertuo Coffee and Espresso Machine
Imagine calling the "shots" as a barista in your own kitchen! This advanced coffee machine utilizes revolutionary technology to deliver rich-tasting coffee and espresso with just the press of a button. Experience the convenience of a smart sensor that recognizes the type of blend in the capsule. The machine automatically adjusts its brewing parameters to ensure that each cup is perfectly tailored to your chosen blend. With a swift heat-up time of just 15 to 20 seconds, you'll be savoring your coffee in no time. The machine is designed with your safety and energy conservation in mind, automatically shutting off after nine minutes of non-use.
6
SodaStream Art Sparkling Water Maker
Enjoy the convenience of making fresh sparkling water at the touch of a button with the SodaStream Sparkling Water Maker. This all-in-one set includes everything you need to get started: the sparkling water maker, two CO2 cylinders, a twin pack of dishwasher-safe bottles, and two 40-milliliter bubbly drops flavors. Powered by a CO2 cylinder, this sparkling water maker is energy efficient and allows you to carbonate water with ease. Each CO2 cylinder can carbonate up to 60 liters of water, providing you with ample sparkling water to enjoy. Enjoy hassle-free carbonation with the easy-to-use snap-lock bottle insertion. Simply insert the bottle, lock it in place, and press the button to carbonate your water in seconds. It's quick, convenient, and provides you with instant bubbles.
7
Vitamix E310 Explorian Blender
Achieve culinary precision and create a wide range of textures with the OG blender, the Vitamix. With 10 variable speeds, you can effortlessly refine every blend, from the smoothest purées to the heartiest soups, giving consistent and delicious results every time. The 48-ounce container is an ideal size for blending medium batches, making it perfect for small family meals. Cleaning your Vitamix blender is easy with the self-cleaning feature. With just a drop of dish soap and warm water, your machine can clean itself in as little as 30 to 60 seconds. Included in the box are the motor base, a 48-ounce container, a mini-tamper for added control during blending, and a cookbook.
Our editors love finding you the best products and offers! If you purchase something by clicking on one of the affiliate links on our website, we may earn a commission at no extra cost to you.
---
---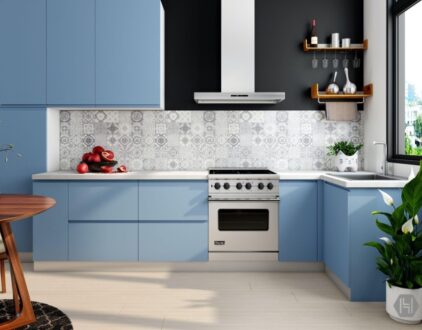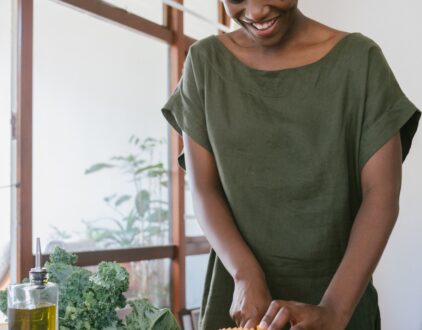 ---
Spaces
Whether it's luxury or ease, every area of your home should be as fabulous and unique as you.
FOLLOW ALONG ON INSTAGRAM
Find us on social for more home inspiration where culture, personal style, and sophisticated shopping intersect to help you create a home where you love to live.