Let's talk about the unsung heroes of interior design – throw pillows. These seemingly modest accents are far more than just fluffy cushions. Get into the world of throw pillows, explore the different types, and discover how they can raise your home's aesthetics.
The Versatile Nature of Throw Pillows
Throw pillows, also known as accent or decorative pillows, are small cushions designed to serve both functional and aesthetic purposes in interior design. They're not just there to look pretty; they add to the comfort of your furniture while adding character to your space.
A Journey Through History
Throw pillows trace their origins back to ancient Egypt, where they were initially designed for lumbar support. Over time, their purpose evolved, turning them into canvases for artistic expression and design.
In the Roman Empire, throw pillows became symbols of wealth and opulence, adorned with intricate patterns and crafted from luxurious materials. They served both functional and decorative roles, reflecting the larger-than-life characters of the time.
During the Ming Dynasty, where throw pillows boasted elaborate embroidery and vibrant colors. They were held in high regard, valued not only for their comfort but also for their aesthetic allure.
The Diverse World of Throw Pillow Types
When it comes to throw pillows, diversity is everything. Each type offers a unique blend of design, texture, and functionality.
1. Decorative Throw Pillows
These pillows serve as the backbone of interior design. They come in various shapes, sizes, and fabrics, providing a canvas for you to experiment with colors and patterns. These pillows are your artistic outlet, allowing you to express your creativity through your choices.
From vibrant prints to muted solids, decorative throw pillows offer limitless possibilities. They are ideal for injecting a burst of color or a touch of whimsy into your living spaces.
2. Embroidered Throw Pillows
For those who appreciate craftsmanship, embroidered throw pillows are an ideal choice. These pillows feature intricate, often meticulously sewn designs. The textured, raised patterns add a layer of sophistication and luxury to your decor.
Embroidered throw pillows come in various styles, from traditional to contemporary. They are available in an array of colors and motifs to match your style and theme.
3. Throw Pillow Inserts
While not the stars of the show, throw pillow inserts play a crucial role in providing the plushness and support that your decorative pillows need. They come in different kinds of materials, including down, feather, and synthetic options.
Investing in high-quality inserts means that your decorative pillows maintain their shape and comfort over time. They are the secret behind those perfectly fluffed pillows often seen in interior design magazines.
4. Outdoor Throw Pillows
Why restrict your style to the indoors? Outdoor throw pillows are designed to hold up against the elements on your patio furniture while adding charm to your outdoor spaces.
Outdoor throw pillows come in a range of materials, including water-resistant fabrics and UV-resistant finishes.
Crafting Unique Ambiances with Throw Pillows
Here's how you can use throw pillows to create unique atmospheres in your living spaces:
1. Minimalistic Elegance
If you prefer a clean and modern aesthetic, minimalistic elegance is the way to go. Use solid-colored throw pillows with sleek designs. The key here is simplicity. Stick to muted tones or a monochromatic palette to maintain a sleek and uncluttered appearance.
2. Bohemian Flair
Embrace the vibrant and free-spirited Bohemian style by mixing and matching throw pillows with bold patterns and textures. Think earthy tones, textured fabrics, and playful details to achieve that Boho-chic vibe.
Don't shy away from combining different patterns and colors. Bohemian style encourages a carefree and eclectic approach to design, perfect for embracing your creativity!
3. Unmistakably Classy
For a timeless and elegant ambiance, get throw pillows in rich, luxurious fabrics such as velvet or silk. Classic elegance embraces traditional design elements. Choose throw pillows with refined patterns like damask or brocade to infuse that refined feel in your space.
4. Nautical Serenity
Dreaming of a coastal or nautical-themed room? Incorporate throw pillows featuring anchors, seashells, or sailboats. Stick to a color palette inspired by the sea, with shades of blues, whites, and sandy neutrals. Nautical retreats aim to create a tranquil and beachy atmosphere. Use striped or aquatic-themed pillows to infuse a sense of oceanic serenity into your decor.
---
---
Decorate
Access design inspiration that infuses personality and culture into your spaces.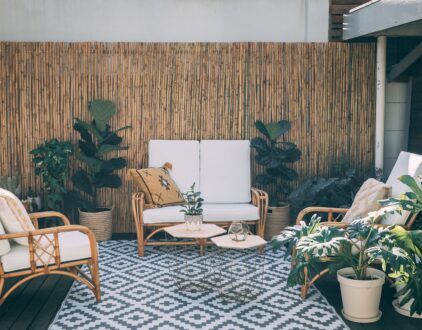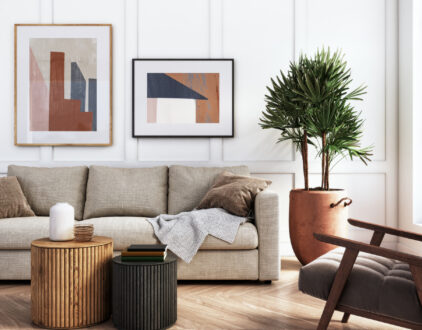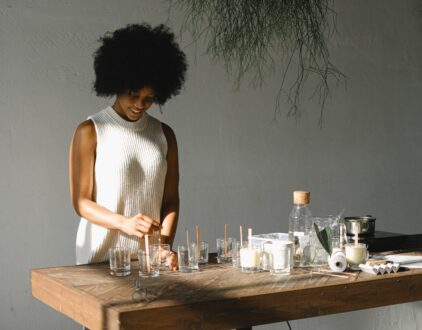 ---
Spaces
Whether it's luxury or ease, every area of your home should be as fabulous and unique as you.
FOLLOW ALONG ON INSTAGRAM
Find us on social for more home inspiration where culture, personal style, and sophisticated shopping intersect to help you create a home where you love to live.