Kitchen upgrades are a necessary part of being a homeowner. Upgrading your space not only transforms its aesthetic but also provides a number of practical benefits as well.
Whether you have a small kitchen or an extra large one, carefully planning renovations can increase the overall value of your space, making it a worthwhile investment for the future.
Why Kitchen Upgrades Matter
Renovating your kitchen can provide a number of benefits. And fortunately, you can breathe new life into it with a few quick fixes on a budget. Houses start to show signs of aging with time. To combat this, renovations can help improve their appearance. This includes giving your kitchen a new paint job, updating its fixtures, or installing brand-new flooring. Such changes help to completely change the look and feel of your space, adding to its ambiance.
Next, renovating your kitchen can improve its functionality and efficiency. For example, you can try upgrading insulation, windows, and doors to boost energy efficiency. Not only is this healthier for the environment but for your wallet, too. Not to mention, kitchen upgrades are also beneficial for creating more storage space, enhancing your workflow, and modernizing appliances, which saves you time and energy on daily tasks.
When you decide to give your kitchen a makeover, you can also increase the market value of your home. Having a modern, well-maintained property adds to its appeal, which allows you to command a higher selling price. And even if you're not planning to sell anytime soon, or at all, making upgrades can help keep it competitive in the real estate market so you can have a sense of security in knowing your potential financial gains in the future.
Budget-Friendly Kitchen Upgrades for a Fresh Look
Renovating your kitchen provides ample benefits, but it can cost a pretty penny, especially when hiring professionals to do the job. To learn how to give your kitchen a makeover on a budget, here are five budget-friendly kitchen upgrades to transform your space:
Paint and Hardware
Painting your kitchen is a simple but highly effective approach to modernizing your space. You can select pale, tranquil colors to create an airy ambiance. And remember to switch out your cabinet hardware with more up-to-date and stylish knobs or handles for a quick transformation.
Backsplash Refresh
Another affordable way to upgrade your kitchen is by installing a peel-and-stick backsplash or painting the current one. This easy improvement can instantly give the area a new, revitalized appearance.
Lighting Makeover
You can change old, worn lighting fixtures to more modern ones that use less energy. Consider installing beautiful pendant lights above the kitchen island or under-cabinet LED lighting to promote a more functional and attractive space.
Open Shelving
Highlight your best china by removing the cabinet doors from a few upper cabinets to create open shelving. This can also create the illusion of having a more open and spacious kitchen.
Countertop Resurfacing
Replacing countertops can be pricey, so instead, try resurfacing them. Consider more affordable options such as laminate overlays or concrete staining. With these upgrades, you can imitate the look of more expensive materials with ones that come at a much lower cost to you.
---
---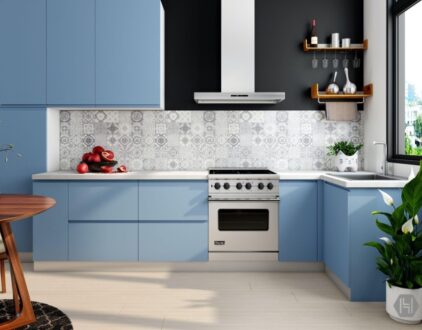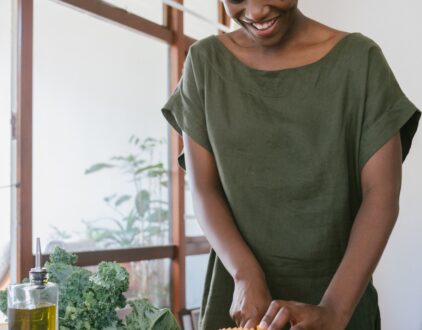 ---
Spaces
Whether it's luxury or ease, every area of your home should be as fabulous and unique as you.
FOLLOW ALONG ON INSTAGRAM
Find us on social for more home inspiration where culture, personal style, and sophisticated shopping intersect to help you create a home where you love to live.