Camping can be a refreshing and rejuvenating experience, a chance to escape the daily grind and reconnect with nature. However, without the right gear, it can quickly turn into a miserable and uncomfortable affair. From sleeping bags that feel like a warm embrace to cookware that ensures you don't have to face the wilderness without your favorite foods, having the right camping essentials can make all the difference. So, before you head out into the great outdoors, make sure you're equipped with the right tools to make your camping trip a success.
Add These Camping Essentials to Your Packing List
First on the list is a sturdy tent. You don't want to find yourself in the middle of the woods with a flimsy shelter that can't withstand the elements. Invest in a high-quality tent that can withstand wind, rain, and any other surprises Mother Nature may throw your way.
Next, you'll need a cozy sleeping bag. Don't underestimate the importance of a good night's sleep when you're roughing it in the great outdoors. Make sure you choose a sleeping bag that is appropriate for the weather conditions and provides enough insulation for the temperature.
Of course, no camping trip is complete without a campfire, so packing a lighter or some matches and a tool for cutting small branches is essential. Not only does a fire provide warmth and light, but it's also a great opportunity to roast marshmallows and tell ghost stories. Just remember to follow fire safety guidelines and leave no trace when you're done.
Last but not least, don't forget the essentials for cooking and eating. A portable stove, cooking utensils, and durable dishes are all must-haves for any camping trip. And if you want to add a little sweet treat to your trip, don't forget to bring some s'mores ingredients and a bottle of your favorite camping cocktail.
Before you start packing, check out this list of some of our favorite camping essentials that you should add to cart before your next trip.
WUBEN High Lumens Outdoor Pocket Flashlight
This might sound like a small or insignificant essential gear piece, but you need a bright flashlight when you are camping. Once the sun begins to set, there are no street lights, and the light on your phone is not bright enough to help you see when walking in trees and bushes. The WUBEN High Lumens Outdoor Pocket Flashlight is the ideal flashlight for when you are out on adventures. Don't let the size fool you, this light can instantly brighten an area with its bursting 2,500 high lumens. With plenty of settings, you can also switch colors and adjust the brightness as you need. If you ever find yourself in trouble there, is an SOS setting that will turn your bright light red so you can be located.
Coleman Sundome Camping Tent
Before you pack your car and hit the road, you need to make sure you have a proper tent that can accommodate you and your family and friends on your camping adventures. This dome camping tent can accommodate up to six people comfortably. When camping, you need a tent that can withstand wind and cooler temperatures, and this tent can withstand winds up to 30 miles per hour. Additionally, this tent is pretty resistant to water as well, so if it rains, you and your company won't have to worry about being wet while outdoors. Don't worry about it being stuffy on the inside, either. With the vents attached to the tent, you will always have cool air circulating.
The North Face Wasatch Sleeping Bag
One of the first things you need to ensure you have a good camping trip is a trusty sleeping bag. Depending on where you camp, the nights can be much cooler than the daytime, so you need to be warm just in case. North Face is already a trusted brand when it comes to coats and winter clothing essentials, so you already know the sleeping bag is on point, too. This sleeping bag comes in a regular and long length. With the ability to keep you warm in weather as cold as 20 degrees, you can enjoy your nights outdoors in comfort.
Power Tooth Softgrip Blade Pruning Saw
When you are out in the wilderness, you need a dependable blade that can cut through small trees and tough materials. The Fiskars Power Tooth Softgrip Blade Pruning Saw is perfect for campers who enjoy cooking and venturing out in the woods. You can clear your path with this folding blade. It also has the ability to cut in two different ways: underhand and overhand. This blade is not only great for camping but gardening as well, so you can get a lot of use out of this blade. Now you can cut branches safely and start your fire with a sturdy knife for cutting wood.
Stanley Adventure Even-Heat Camp Pro Cookset
If this is your first time camping, you may want to plan your meals before you enter the woods. Some people like to fish when they camp, but no matter what you're cooking, you still need some durable and easy-to-clean cookware for outside. This Stanley Adventure Even-Heat Camp Pro Cookset comes with 11 pieces. Now you won't have to sacrifice taste just because you aren't in your kitchen. Included are stock pots, a saucepan, frying pans with plenty of lids, and a locking bungee. This cookware set is made of high-quality stainless steel that you'll want to use even after your trip.
Our editors love finding you the best products and offers! If you purchase something by clicking on one of the affiliate links on our website, we may earn a commission at no extra cost to you. 
---
---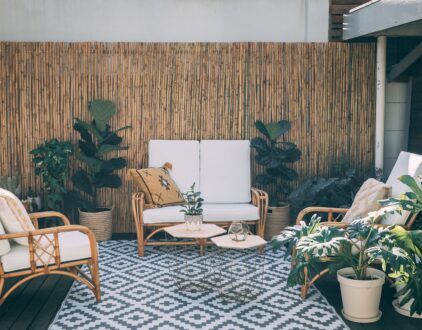 ---
Spaces
Whether it's luxury or ease, every area of your home should be as fabulous and unique as you.
FOLLOW ALONG ON INSTAGRAM
Find us on social for more home inspiration where culture, personal style, and sophisticated shopping intersect to help you create a home where you love to live.