Throughout history, champagne has been associated with having a good time. From anniversary dinners to NYE parties, the light and crisp beverage is a staple during celebrations. Toasting is a popular way to celebrate with champagne, with champagne flutes being the classic vessel for commemorating special moments. No matter if you raise a toast to a new marriage or a new promotion, nothing says "cheers" quite like a sip of bubbly.
A Brief History of Toasting
A long, long time ago — back when ancient civilizations ruled the world, the ancient Greeks toasted with their favorite libations. In his book A Gentleman's Guide to Toasting, David Fulmer explains that toasting represented "a good faith gesture to assure the drink wasn't spiked with poison."
Later, the Romans caught onto the practice and started toasting for health and well-being as well. Because the wine was bitter, they added toasted bread crumbs to their goblets — thus, the term "toasting" was born.
No one is exactly sure how the practice of clinking champagne flutes came to be. However, many historians believe that it started in Europe and England. They argue that people clicked glasses so that the beverages spilled into each other to prove that there was no foul play — i.e. poisoning.
Today, toasting is a common practice during celebrations. And beyond toasting for good health, people raise a glass for a myriad of other reasons. From birthdays to engagements, any time is a good time to put your champagne flutes to good use. Plus, toasting is a great way to bond with loved ones, creating memories that last a lifetime.
Champagne Flutes for Celebrations at Home
No celebration is complete without a proper toast. And what better way to make a toast than with a set of champagne flutes to kick off the festivities? To commemorate your special day in style, here are seven champagne flutes for your next celebration:
1
Handmade Crystal Champagne Flutes
Raise a toast in style with this pair of handmade champagne flutes. Each iridescent flute features a crystal base that is sure to impress your guests. Plus, its long, narrow bowl is perfect for savoring the perfect bubbly flavor.
2
Handblown Bogota Recycled Champagne Flute
To complement your rustic decor, try out this beautiful handmade champagne flute set made from blown glass. For the sustainable shopper, each flute is designed using recycled material. And its extra tall bowl adds a sophisticated touch for a special toast with friends.
3
Hand Painted Champagne Flute
Decorated with tiny handpainted daisies, this champagne flute is an adorable way to celebrate a special occasion. Perfect for brunches, bridal showers, and anniversaries, it's the perfect complement to your toast.
4
Colorful Champagne Glass Cups
If you have a flair for the dramatic, check out these bold and colorful champagne glass cups that are the perfect addition to your tablescape. Each cup is creatively crafted to feature a unique funnel bowl design. And their bright colors can add a pop of personality to your home decor.
5
Swarovski Champagne Flutes
Take your celebration to the next level with this captivating set of champagne flutes made using Swarovski crystals. Featuring a distinct "ring" design, each flute is complemented by a trio of sparkling crystals — the perfect way to express your appreciation for the one you love.
6
Morgan Flutes
Made from premium borosilicate glass, this set of four chromatic champagne flutes is a great addition to your next event. Their rich, deep colors are warm and inviting. And with their elegant shape and clarity, you can pair them with any style of decor, from eclectic to Mediterranean.
7
Confetti Celebration Flutes
Kick off the celebration with this sparkling set of Confetti Celebration Flutes. Each flute is made from blown glass for a classy appearance. And for added charm, the flutes are speckled with confetti dots handpainted using 24-karat gold.
Our editors love finding you the best products and offers! If you purchase something by clicking on one of the affiliate links on our website, we may earn a commission at no extra cost to you.
---
---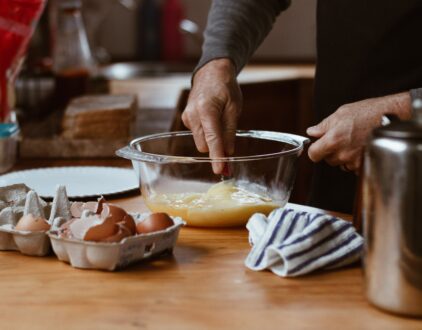 ---
Spaces
Whether it's luxury or ease, every area of your home should be as fabulous and unique as you.
FOLLOW ALONG ON INSTAGRAM
Find us on social for more home inspiration where culture, personal style, and sophisticated shopping intersect to help you create a home where you love to live.