Summer is the perfect time for a seafood boil. From spicy shellfish to sweet and juicy corn on the cob, a seafood boil is the best way to indulge in the harvests of the season. With this communal experience, you not only have the opportunity to enjoy a homemade feast, but you can also create lasting memories with loved ones.
Tips for Hosting a Seafood Boil at Home
When it comes to hosting a seafood boil, freshness is key. Ensure that your seafood is of good quality and is sold fresh, not frozen. You should also remember to purchase enough seafood for your guests so everyone has a share and leaves satisfied.
Instead of using traditional dinnerware, seafood boils are better suited for down-and-dirty dining. Line your table with newspaper or butcher paper so guests can enjoy the meal without worrying about making a mess.
What You Need To Host a Summer Seafood Boil at Home
Hosting a communal meal is the perfect way to spend time with your loved ones in the summer sun. So roll out the table runner, play your favorite tunes, and get ready for a good time! Here is what you need to host a summer seafood boil at home:
Seafood
No seafood boil is complete without its star ingredient, seafood. Seafood boils include a selection of fresh seafood, such as shrimp, crab, lobster, and crawfish. If you want to add even more variety, you can also include mussels and clams. Make sure to season your food well by using lemons, garlic, onions, and a flavorful homemade or store-bought seafood boil seasoning mix.
Accompaniments
To complement your seafood selection, you can add other ingredients to serve as sides. The best foods to accompany your meal are corn on the cob, potatoes, and sausages.
Large Stockpot or Boiler
Making a seafood boil for multiple guests requires a large stockpot or outdoor boiler to accommodate the volume of ingredients you need to cook. You should use a 40-quart pot or larger with a lid and a sturdy handle for easy handling.
Outdoor Cooking Setup
To host the perfect summer seafood boil, consider your outdoor setup. For a more authentic experience, you can use a propane burner or grill. Also, before you start cooking, ensure your cooking station is set up in an area that has proper ventilation away from flammable materials.
Serving and Eating Supplies
Eating with your hands is common when enjoying a seafood boil, however, there are still a few utensils to pick up before the party starts. For example, you should stock up on large disposable tablecloths or newspapers to cover the serving area. Bibs or large cloth napkins are also necessary for your guests to wear to protect their clothing as seafood boils tend to get messy.
Beverages and Refreshments
Provide a selection of refreshing beverages, such as lemonade, iced tea, or soda. Alcoholic beverages like ice-cold beers or wine coolers make for a tasty complement to the meal as well.
Atmosphere and Decor
Get the party started with the perfect ambiance! A seafood boil tends to have a casual, relaxed atmosphere so you can set up string lights, lanterns, and themed decor, like seashells and anchors for a nautical theme or mini beach umbrellas and tiki lamps for a tropical theme.
Citronella Candles
If the party lasts into the night, use citronella candles to keep the bugs away. Not only are citronella candles perfect for warding off flies and mosquitoes, but they also act as a great accent that smells good, too.
---
---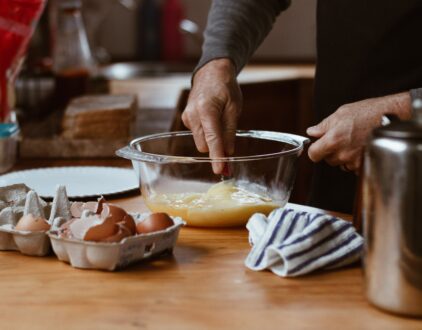 ---
Spaces
Whether it's luxury or ease, every area of your home should be as fabulous and unique as you.
FOLLOW ALONG ON INSTAGRAM
Find us on social for more home inspiration where culture, personal style, and sophisticated shopping intersect to help you create a home where you love to live.