Fashion girls know that keeping your closet organized can be a struggle. A well-organized closet is essential to keeping inventory of your clothing, shoes, and accessories. It also helps you take note of items you're not wearing that can be donated or given away.
Nothing is more annoying than getting ready to go out for dinner or drinks and feeling like you have nothing to wear because everything is unorganized. Spring is in the air, and it's the perfect time to eliminate pieces that aren't serving you and make room for new items in your closet.
It may seem unattainable to have a well-organized closet, but there are tips and tricks that will make your life a lot easier and make getting dressed joyous again.
Here are six tips for organizing your closet:
Matching Hangers
If you love fashion, chances are you also love to shop. Give your closet a boutique feel with matching hangers. Having mismatched hangers in metal, velvet, plastic, and wire variations can be off-putting and lower your mood when getting dressed. Add fun back to getting dressed by making it feel like you're going shopping in your closet every day.
Take Advantage of Vertical Space
Utilize the walls of your closet by adding shelving units or hanging organizers produce you with extra storage space. To maximize vertical space and keep your clothing easily accessible, use cascading hangers or hang clothing on multiple tiers.
Utilize Vacuum-Sealed Bags
If you haven't tried vacuum-sealed bags yet, you're missing out! These bags are a great way to maximize space in your closet while protecting your clothing, shoes, and accessories from water, dust, and bugs. The bags compress your clothing and reduce their volume, allowing you to store more items in a smaller space. Vacuum-sealed bags are perfect for storing bulky sweaters and winter coats.
Organize In Categories
Organizing your closet in categories is an easy way to get started—group your clothing by type, such as your shirts, dresses, pants, and shoes. You can then create subcategories like color, season, and style. This makes it easy to know what you have and to find the items you need when putting an outfit together.
Use Every Nook And Cranny Of Your Room
Maximizing storage space for your clothing, shoes, and accessories includes using every nook and cranny of your room. Consider other areas of your room besides the closet, such as behind the door, under the bed, or even on your walls. Hanging organizers and shelving units on the back of your closet door and hanging rods and hooks make it easy to hang clothes and accessories. Utilize these extra spaces to maximize your room's storage potential and keep your closet clutter-free.
Display Your Clothes And Shoes Like Art
Organizing your closet doesn't always have to be about functionality. It's a chance to showcase your personal style by displaying your clothes and shoes like art. This adds visual interest to your closet space. You can accomplish this by using floating shelves or clothing racks to display your favorite and most coveted pieces.
Jump to Products
---
5 Items To Organize Your Clothes, Shoes and Accessories
Hanging Closet Organizer System
Hanging items vertically allows you to see all your clothing and helps keep your items organized. This system is excellent for maximizing the space in your closet. Its designer Martha Stewart says, "Visually stunning and designed for our ever-changing modern lives, The Everyday System is home organization at best." This system can hang suits, coats, dresses, and formal wear. This wall-mounted system is 4ft long and provides an organization solution to your closet that is both functional and aesthetically pleasing. The hidden track system allows you to adjust the height of the shelf and add new components. You can customize the system to work in a walk-in or L-shaped closet.
5-Section Expandable Drawer Organizer
Organizing your drawers doesn't have to be a hassle. There's a simple way to keep your underwear and sock drawer tidy and prevent overflowing. This drawer organizer is well-designed and perfect for keeping your undergarments, lingerie, hosiery and accessories neat, easily accessible, visible and protected. This organizer has three main compartments with a lot of storage. Its adjustable frame slides out to create two additional sections. When fully expanded, you will have five sections to store your items. Laundry day is easier when you have a beautifully organized drawer to put your undergarments in.
Luxe Shoe Storage Ottoman
Who says you can have too many shoes? If you run out of places to put your shoes, try storing them in inconspicuous places around your house, like this ottoman. Remove the tufted top of the ottoman, and you'll be welcomed to a luxe storage space for your shoes. The inside is lined with a paisley print fabric, and the inner folds are perfect for storing your beloved shoes. The ottoman can support up to 275 pounds and is perfect for sitting on when lacing up your sneakers before heading to the gym or putting on boots and heels for a night out with your girls. The design is perfect for luxe legacy and contemporary homes.
Upholstered Storage Bed
If you live in a small space or a home with limited storage, finding furniture with built-in space for storing items is essential. A bed with drawers, for example, is an excellent place for storing extra linens, tools, and other miscellaneous items. This upholstered storage bed has a clean design and is excellent for minimalist and contemporary design styles. To hide the storage space under your bed, add a bed skirt. The bed is a beautiful addition to any bedroom and can help maximize the space in your room. It has a 4.4-star rating and is currently on sale at Wayfair.
Freestanding Wardrobe Rack
Incorporating a wardrobe rack in your room is a great way to maximize space and organize your clothes while maintaining a chic aesthetic to your room. This freestanding wardrobe is great for your clothes, shoes, and accessories. You can also use it to put folded sweaters and baskets to store items while maintaining a clean aesthetic. It's easy to assemble and holds up to 100 pounds. All tools needed for assembly are included. The shelf has four wooden shelves that are perfect for displaying your handbags, sunglasses, jewelry, and other accessories. The minimalist design works well with most color palettes and design styles.
Our editors love finding you the best products and offers! If you purchase something by clicking on one of the affiliate links on our website, we may earn a commission at no extra cost to you.
---
---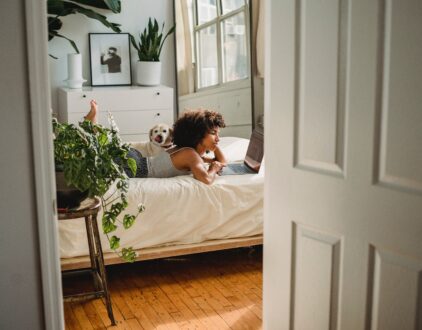 ---
Spaces
Whether it's luxury or ease, every area of your home should be as fabulous and unique as you.
FOLLOW ALONG ON INSTAGRAM
Find us on social for more home inspiration where culture, personal style, and sophisticated shopping intersect to help you create a home where you love to live.