Episode three of Home & Texture's House Tours was just what we needed to put a smile on our faces. Designer David Quarles, IV welcomed us into his Memphis home for a mood-boosting tour of his eclectic space. Inspired by the disco era, destinations he loves, and his culture, Quarles designed his space from a "sense of happy."
View this post on Instagram
In addition to incorporating pieces in his favorite color, yellow, Quarles says, "I just want to really embrace sunlight and what I feel inside and have it come out tenfold in my home."
We have a few tips if you want to learn how to curate your space from a "sense of happy" like Quarles.
Tap Into How You Feel
Sure, aesthetics are important when curating a home, but you must tap into how you feel to design a home that embodies your personality. Design your home incorporating pieces and aspects that inspire positive emotions and make you feel happy and comfortable. This can look like purchasing pieces in your favorite color, like Quarles, or picking up pieces while traveling that remind you of your experiences while abroad.
Consider Colors and Textures
Believe it or not, the colors you use in your home can impact your emotions and mood. Bright colors can energize and uplift your mood, while pastel colors can calm and make you feel mellow. Choose colors for your room according to how you want that room to make you feel. For example, choose pastel colors if you want to feel zen in your bedroom and bathroom. Opt for vibrant colors if you want your home office to get your juices flowing and wake you up. Adding textures through throw blankets, pottery, and pillows can also add to making your space feel inviting and cozy.
Add Living Elements
Plants and flowers don't only look beautiful in your home, but they also have wellness benefits. They help to purify the air and make you feel relaxed. Your home should be your safe space and ease your stress and anxiety. Another way to curate your home from a "sense of happy" is to bring in as much natural light as possible. Open your blinds and curtains during the day and let the sun shine in on your home.
Check out the items below to get started on your journey to curating a happy space.
Jump to Products
---
Rio Shaped Wax Candle
David Quarles, IV loves the tropics and incorporates aspects of his Dominican heritage into his home design. If you want to add elements of the tropics to your home's interior to spark happiness, a candle is a great way to do so. This beautiful candle is molded with stunning green tropical leaves made out of wax as the border. This candle is fragrance-free, so it's perfect for households with allergies. You can have it as a decorative candle or put it to use by lighting it on a heat-safe surface. Remember to trim your wick every time you light your candle.
Crowley Cruiser Plus 3-Speed Bluetooth Suitcase Vinyl Record Player Turntable
Take it back to David Quarles, IV's favorite era with this 3-speed Bluetooth suitcase vinyl record player turntable by Crowley. Bluetooth lets you play your favorite vinyl on a wireless speaker. You can also stream music wirelessly to the record player's built-in speakers. The aux cord allows you to plug in your mobile devices, so you're always streaming your favorite playlists to set the vibes. Whether you're waking up to disco music like Quarles or listening to contemporary hits, this record player is the perfect addition to your home. Music sparks joy, and so does this aesthetically pleasing nostalgic record player. It's the perfect mix of old school and new school in a delightful shade of yellow.
"Tresors" Framed Wall Art Prints, Set of 3
Incorporating art into your space is a sure way to spark joy and get your creative juices flowing. If you're looking for artwork with a pop of color and abstraction, these "Tresors" framed wall art prints are a great choice. Against a plain white backdrop are black lines and bold, solid colored abstract shapes. The art prints are printed on textured artist paper and framed in white wood frames with clear acrylic protective glazing. This contemporary design brightens any space that it's in. To get the most out of this set, hang them over a sofa, bed, or in your home office.
Amber Highball Glasses, Set of 4
Every aspect of your home should bring your joy in. This includes the glasses that you drink out of. Whether you're drinking room-temperature water or lemonade with tons of ice, you deserve to drink out of a beautiful glass that sparks joy and looks great with your home decor. This set of four glasses is hand-blown by talented artisans. Each comes in a different hue with a glowing rainbow effect. From sunny gold to deep amber, these glasses are absolutely stunning. These glasses also have subtle textures, with vertical ridges that reflect the light. It's perfect for serving guests on a hot summer's day or to brighten up your day during the gloomy winter months.
Aura Mums Non-Slip Outdoor Door Mat
Welcome guests into your home with a joyful doormat. First impressions are everything; a welcome mat is the first thing guests see when arriving, so why not get one that represents your design style and personality? This mat is perfect for the summer with its bright yellow color and mum-printed design on a fine jacquard weave. The mat is durable and weatherproof. It's great for homes that get a lot of sunlight because it is UV-resistant. Full non-slip traction also means you won't have to worry about slipping on the mat. This mat was designed by Terri Ellis, an independent artist.
Yellow Stoneware Dinnerware Set
Hosting friends and family at your home to bond over a delicious meal is a great way to spark joy in your home. Make sure that the dinnerware you're enjoying your food on is as equally exciting to eat on and looks great on your tablescape. We love this stoneware dinnerware set for that very reason, and since it's in David Quarles, IV's favorite color, we're sure he'd also approve. This dinner set comes with four dinner plates, salad plates, cereal bowls, and mugs. You can purchase multiple quantities if you need a set that suits larger households. This set is chip-resistant, BPA-free, oven-safe, dishwasher-safe, and microwave-safe. Its safe to say that this set is an investment worthwhile.
Orange Modern Tulip Upholstered Arm Chair
If you watched episode three of Home & Texture's House Tours, you'll see that designer David Quarles, IV has upholstered couches in his sunroom with a print. You, too, can get a printed upholstered chair to accent your decor and add happiness to your day. We love this piece because it instantly brightens spaces. This accent armchair instantly brings an artsy, modern style to your living room space. It is crafted with solid birch, engineered wood, and upholstered with 100% polyester fabric. The tailored seat cushion makes this chair comfortable and supportive. The removable seat cushion makes it an easy accent chair to clean.
Brown Terry Bathrobe
If lounging around your home is one of your favorite pastimes, do so in style with a plush robe. We love this robe because it's plush, comfortable, and stylish. Made out of cotton terry and with a shawl collar and tie belt at the waist, this robe is perfect for a self-care day at home. Reminiscent of the spa, you can spend the day lounging around, giving yourself a facial, catching up on a good book, and drinking comforting tea. Whatever you decide to do, having a robe that is beautiful instantly elevates your mood and curates a "sense of happy" in your home.
Fiddle Leaf Fig Tree Live Indoor Floor Plant
You can never have too many plants when curating a home from a place of happiness. Plants are a great way to add a pop of color to a space as well as a refreshing touch of nature. David Quarles, IV adds plants into his home and even has a greenhouse in his backyard. If you're a plant parent and looking for a new plant to liven up your space, this ficus lyrata fiddle leaf potted plant will do the job. Fiddle leaf plants have been a popular houseplant among millennials for the past few years. Place them in a well-lit room out of direct sunlight. These plants thrive in high-humidity areas. They are the perfect addition to your living room or dining room space.
Our editors love finding you the best products and offers! If you purchase something by clicking on one of the affiliate links on our website, we may earn a commission at no extra cost to you.
---
---
Decorate
Access design inspiration that infuses personality and culture into your spaces.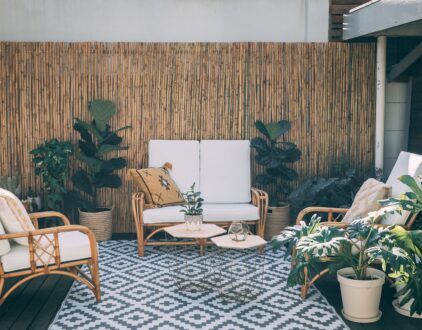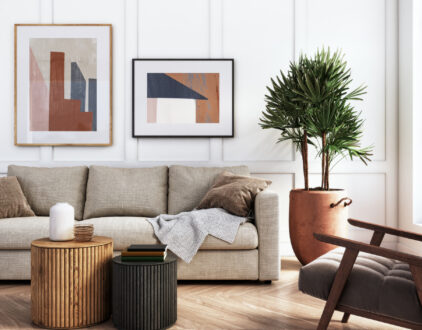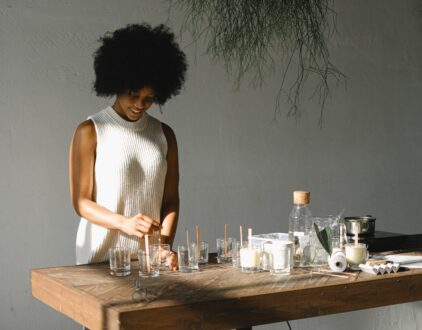 ---
Spaces
Whether it's luxury or ease, every area of your home should be as fabulous and unique as you.
FOLLOW ALONG ON INSTAGRAM
Find us on social for more home inspiration where culture, personal style, and sophisticated shopping intersect to help you create a home where you love to live.