We spend about one-third of our lives sleeping, so why not invest in the best bedding? From thread count to patterns and colors to materials, the options seem endless. One of the biggest decisions to make when shopping for bedding is whether to opt for a duvet or a comforter, which both come with their own set of pros and cons. Let's get into the difference between duvets and comforters to help you decide which is best for your space.
Duvets: Pros and Cons
Duvets are soft, flat bags filled with down, feathers, wool, or a synthetic alternative typically protected with a removable cover known as a duvet cover. You can find duvet covers in a wide range of fabrics, colors, and patterns, making it easy to change up your bed's look without purchasing new bedding.
Pros
Can be used with or without a top sheet.
Removable cover makes washing simple.
Lightweight yet provides excellent insulation.
Cons
Can be expensive.
May require additional bedding, such as a top sheet or blanket for extra warmth.
Comforters: Pros and Cons
Conversely, a comforter is a thick, quilted, fluffy blanket designed to keep you warm. It is usually filled with synthetic fiber fill and is quilted or stitched to secure the filling and keep it evenly distributed.
Pros
Wide range of styles, colors, and patterns.
Cozy and warm.
No need for additional bedding.
Cons
Can be difficult to clean as it cannot be removed from its cover.
May be too warm for some people.
Limited versatility compared to a duvet.
Which Should You Choose?
Opt for a duvet if you're looking for bedding that is versatile and easy to clean. Duvets are ideal for homeowners who like to switch up their decor frequently. It's also great for homeowners with children or pets.
If you prefer a thicker, cozier blanket and don't mind using a top sheet, a comforter may be the way to go. This is ideal for homeowners who want a simple, straightforward bedding option that doesn't require much fuss. Ultimately, both duvets and comforters are excellent choices for a cozy and stylish bed.
---
---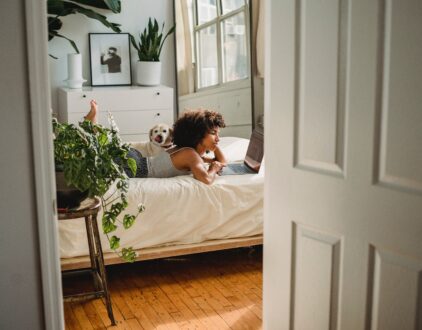 ---
Spaces
Whether it's luxury or ease, every area of your home should be as fabulous and unique as you.
FOLLOW ALONG ON INSTAGRAM
Find us on social for more home inspiration where culture, personal style, and sophisticated shopping intersect to help you create a home where you love to live.