When it comes to modern kitchen design, you might consider the backsplash as a small and often-overlooked element. A well-chosen design can add a world of style and personality to your kitchen while also protecting your walls from spills and stains. If you have white kitchen cabinets, you have a blank canvas to work with, and there are many options for creating a beautiful aesthetic that complements your cabinets.
The Latest Trend: Peel-and-Stick Backsplashes
Peel-and-stick backsplashes are a popular choice for many homeowners, as they are affordable, easy to install, and come in a wide variety of styles and designs. They are also a great option for renters or anyone who wants to update their kitchen without making a permanent change or making costly mistakes.
With these, you can transform your kitchen in just a few hours without the need for professional installation or pricy materials like glass and stainless steel. And many of them are surprisingly durable and water resistant!
The Importance of Backsplashes in Modern Kitchens
In modern kitchens, backsplashes have become an essential element of the overall design, as they serve both a functional and decorative purpose.
Functionally, backsplashes protect your walls from damage caused by cooking, washing dishes, and other kitchen activities. They make it easier to clean up spills and splatters and prevent moisture from seeping into the walls and causing mold or mildew.
Backsplashes can also protect your walls from heat damage caused by cooking on the stove or using hot pots and pans.
Aesthetically, they can add color, texture, and personality to your kitchen, as they come in a variety of materials, colors, patterns, and shapes. Backsplashes can be subtle with a luxurious feel, such as a marble backsplash design, or feature bold design elements like colorful Moroccan tile, depending on your personal style and preferences.
Additionally, they can serve as the focal point of your kitchen. For example, you can use unique materials or shapes to create a statement piece, such as by using patterned tiles over the stove and subway tiles throughout the rest of the kitchen. They can also be used to tie different elements of your kitchen together, such as coordinating the color of your backsplash with your countertops or flooring.
Creative Ways To Use Backsplashes in Your Kitchen
One creative way to use backsplashes in your kitchen is to create an accent wall or highlight your appliances. Instead of limiting your backsplash to the area behind your sink or stove, you can extend it to cover an entire wall or a portion of a wall. This can be especially effective if you have a small kitchen or a kitchen with limited natural light. Using a backsplash to create an accent wall can add visual interest and depth to your kitchen.
On the other hand, subway tile is a classic choice for kitchen backsplashes, and it looks especially elegant when paired with white cabinets.
Another way to get creative is to mix and match different materials and colors, such as geometric backsplashes. This can create a unique and personalized look that reflects your personal style and taste.
For example, you can combine subway tiles with glass tiles or mix different shades of blue tiles to create a custom color gradient for a kitchen that's one of a kind. Be sure to consider the overall color scheme and design aesthetic of your kitchen when choosing different materials and colors for your backsplash.
Herringbone is also a popular pattern for kitchen backsplashes, as it adds a touch of sophistication and elegance to any space.
Backsplashes can also be used to add texture to your kitchen. For example, you can use textured tiles, such as hexagonal or 3D tiles, to add depth and dimension to your design.
Our editors love finding you the best products and offers! If you purchase something by clicking on one of the affiliate links on our website, we may earn a commission at no extra cost to you.
---
---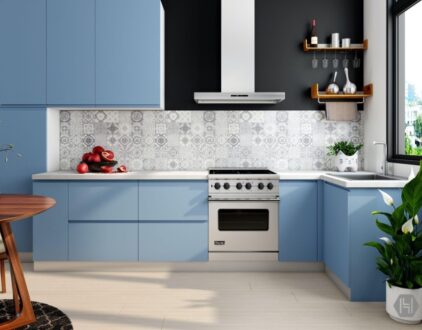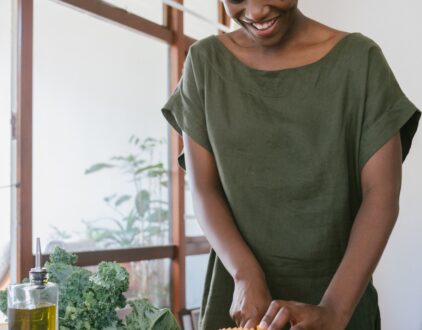 ---
Spaces
Whether it's luxury or ease, every area of your home should be as fabulous and unique as you.
FOLLOW ALONG ON INSTAGRAM
Find us on social for more home inspiration where culture, personal style, and sophisticated shopping intersect to help you create a home where you love to live.