If you want to upgrade your autumnal soirees this season, Lisa Lafferty is definitely your best bet. As the CEO and founder of Lisa Lafferty Events, Lisa knows exactly how to curate the perfect festive flair using gorgeous seasonal touches. From Rodeo Drive to Hollywood's red carpet, this expert event planner, creative director, and culinary curator boasts an incredible portfolio, having partnered with a number of major brands and celebrities to curate chic events and weddings across the country.
Lisa sat down with Home & Texture to share her best insider tips about how to transform boring dining tables into exceptional tablescapes. And with her sage advice, you can learn how to make your next gathering your best one yet.
Home & Texture: What are your top tips for creating elegant fall tablescapes?
Lisa Lafferty: Creating an elegant fall tablescape hinges on defining a precise aesthetic direction. It's crucial to outline the desired color palette and overall ambiance for the party. For a light and contemporary ambiance, opt for a palette of autumn neutrals. Incorporating warm browns, soft beiges, and cool greens will create a snug and laid-back atmosphere. Or, if you're aiming for a lively and extravagant gathering, consider using vibrant gemstone hues to infuse a bold and energetic spirit.
Drawing inspiration from the changing leaves, incorporate shades like orange, brown, and red, complemented by wooden accents to capture the essence of fall while maintaining a vibrant atmosphere. To preserve an element of opulence, introduce chic metallics such as amber, gold, and silver, alongside classic patterns and rich textures like plaids, velvet, wool, or cashmere.
H&T: How do you recommend incorporating seasonal elements like pumpkins, gourds, and fallen leaves into table decor?
LL: I like to decorate pumpkins and gourds with a metallic hue by spray painting them, incorporating unconventional designs, and introducing gems or shimmer. To create a warm ambiance, I decorate with string lights and supplement the pumpkin display with items like cozy blankets, a basket filled with apples, and seasonal floral arrangements.
H&T: What are some of your top tips for creating a spooktacular Halloween tablescape?
LL: To emulate the perfect combo of spooky and spectacular, I like to add a lot of tapered candles or tapers in goth/vintage candelabras. This creates a dramatic dripping candlewax effect that sends chills up your spine and is effortlessly spooky.
Dark and moody or dried florals make for the perfect centerpiece. I love to request "on-the-way-out florals" from my florist. These are florals that are on their last few days of life left—there is beauty in the dry/dying look to some foliage and florals. Some of my favorite arrangements for gothic or edgy events are from past their prime florals and foliage.
But don't just stop at the décor, incorporate the theme in small elements such as the table cards and menu. For the place cards, go with a textured handmade paper with bleeding ink calligraphy for an eerie element. For the menus, heavy ink on scrolls creates an interactive theme element for guests to open.
H&T: What are your suggestions for balancing scary and elegant?
LL: Layering your tablescape or tabletop items is an effective way to get the best of both worlds when balancing scary and elegant. I love a good accent plate that may have a scary nod to it, but I prefer to mix and match plateware and glassware that are still coordinated together, just not perfectly matching. Goblet-shaped glassware is always fun or long-stemmed as well.
Keep the color scheme in monochromatic tones because when you add in too many items that don't match, it just becomes a tacky Halloween feel. I like to add scarier elements with simple graphics such as on the menu or table cards. If going heavy into one theme, I like to color code my items adding in elements such as glitter-sprayed skulls and bones (versus a regular shade of brown/ivory) along with florals and spiders to this.
H&T: What food and beverage pairings do you recommend for seasonal fall dinner parties?
LL: Consider crafting a menu inspired by the fall season, utilizing the freshest ingredients available during this time of year. Present these dishes in a playful, refined, and contemporary manner. I typically kick things off with an elegant harvest salad that maintains a rustic appearance while being artistically plated, featuring a medley of vegetables and fruits to capture that authentic "harvest vibe."
To remain in tune with the season and captivate your guests, a vegan butternut squash puree enriched with coconut cream and garnished with toasted pepitas can be served in a stunning bowl or creatively presented within fresh acorn squash or delicata squash shells. I highly recommend incorporating a handmade pasta course, with sage and brown butter ravioli adorned with white truffles as an exquisite and indispensable choice.
H&T: Speaking of dinner parties, how can hosts transform their Thanksgiving tables from boring to fabulous this year?
LL: Choose a direction and go big! Whether all florals, candles, fresh foliage, or a pumpkin/herb foraged feel for your table centerpiece, deck the center out and add in as many custom elements as you can to elevate each place setting. The Thanksgiving table is truly the centerpiece so invest in doing more here.
Also, add metallics. No matter what color or theme your table décor may be inspired by, adding a metallic pop always gives a fabulous and elevated feel to any tablescape. You can also add in some customization with either handwritten place cards or mini-painted pumpkins with gilded gold elements for a Glamgiving feel. Opt for foraged centerpieces for gold spray-painted pears.
H&T: What are some of your favorite fall DIY projects for home decor on a budget?
LL: I love to customize accents by painting/spray painting various-sized pumpkins, gourds, pinecones, etc. I've painted all in various color sequences and finishes, added in stenciled art and patterns, and jeweled and added glitter to many different colors or theme ideas. You can also use store-bought faux pumpkins and gourds that will last years to come. You can just repaint and customize it to next year's theme.
---
---
Decorate
Access design inspiration that infuses personality and culture into your spaces.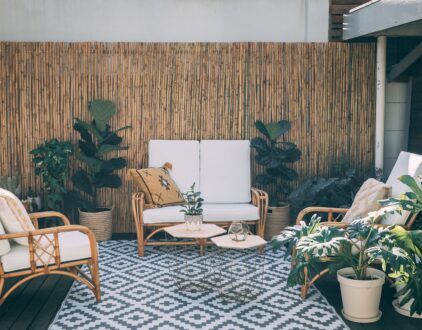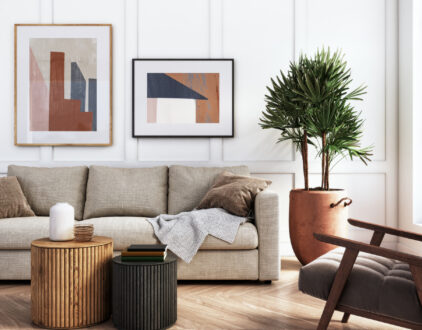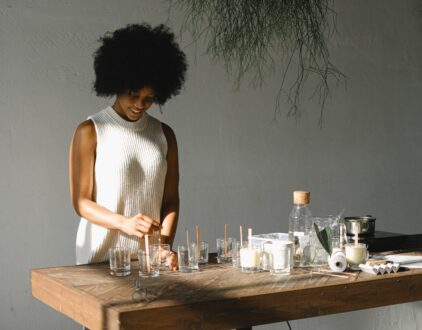 ---
Spaces
Whether it's luxury or ease, every area of your home should be as fabulous and unique as you.
FOLLOW ALONG ON INSTAGRAM
Find us on social for more home inspiration where culture, personal style, and sophisticated shopping intersect to help you create a home where you love to live.