Displaying family photos in your home can be a wonderful way to add a personal touch to your decor. However, simply hanging them up in a standard frame can sometimes feel lackluster and uninspiring. If you're looking for creative ways to showcase your family photos, there are plenty of options that can add a unique and stylish flair to your home. From creating a gallery wall to incorporating them into a ladder, these ideas can help you turn your family photos into a work of art.
Why You Should Use Family Photos To Decorate
Displaying family photos in your home is a great way to showcase the memories you've shared with your loved ones. They can remind you of special occasions and events such as birthdays, graduations, or weddings, bringing you back to those celebratory moments. Whether you hang them up on a wall or place them inside a photo album, displaying family photos is a great way to help you remember what matters most in your life.
Having pictures of your loved ones can also create a sense of belonging, which contributes to your overall well-being. They can point to your heritage, especially the people who shaped you.
Displaying family photos can serve your mental health as well. Looking at happy memories with cherished loved ones can uplift your mood when you feel sad. It can also provide comfort and make you feel grateful for the meaningful moments shared with the ones who mean the most.
Creative Ways to Display Family Photos at Home
Whether you have a few cherished pictures or several boxes filled with photos, you can remember your favorite moments by displaying them in your home. Here are five ways you can display your family photos:
Gallery Wall
Enjoy a beautiful gallery wall by strategically arranging your pictures to hang on a wall. You can experiment with multiple frame sizes and styles to really tap into your creative side.
Photo Clock
You can personalize a clock by trimming your photos to fit the clock face dimensions and replacing its numbers with 12 small family photos.
Photo Mobile
DIY a hanging photo mobile for an artistic way to display your memories. Simply attach your pictures to strings or ribbons before suspending them from a decorative hoop or branch.
Photo Ladder
Put an old, unused wooden ladder to good use by using it to show off your pictures. To start, lean the ladder against a wall, then add your photos to the rungs for a rustic display.
Digital Frame Display
You can also use a digital photo frame to show off a rotating selection of family photos, which can add a personal touch to your home.
---
---
Decorate
Access design inspiration that infuses personality and culture into your spaces.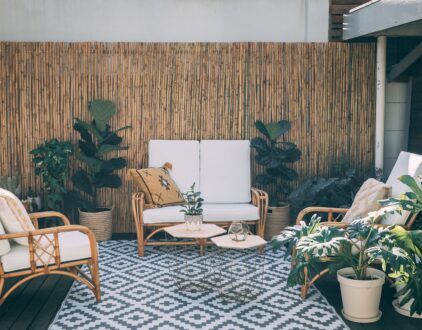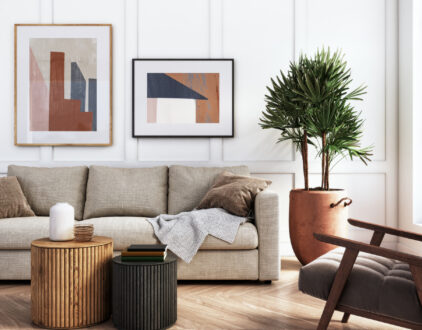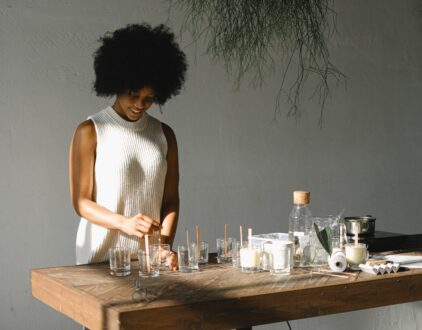 ---
Spaces
Whether it's luxury or ease, every area of your home should be as fabulous and unique as you.
FOLLOW ALONG ON INSTAGRAM
Find us on social for more home inspiration where culture, personal style, and sophisticated shopping intersect to help you create a home where you love to live.