A glass shower door does more than just provide a beautiful look to your bathroom. 
Though shower curtains will certainly allow you to express your unique style — with a wide variety of patterns to choose from — a glass shower door has many more benefits.
The experts at Thompson Remodeling in Ada, MI, note that these doors not only let light into even the dingiest of bathrooms, but they're available at any budget and style. What's more, they say, they're far easier to keep clean than their plastic & vinyl counterparts. "The bathroom is generally not a favorite place to clean and showers and bathtubs can be particularly cumbersome," they say. "With a frameless glass door, you can squeegee the door and typically get in and out easier to clean the floor and walls."
In recent years, frameless glass shower doors have grown, exponentially, in popularity. With their sleek, aerodynamic designs and lack of seals for water (and other germs) to collect, these futuristic-looking doors have proven to be popular with many 21st-century homeowners.
But even though they're easier to clean, they still sometimes require a little more work than usual to get to their sparkling best.
Home & Texture has compiled a list of necessities to clean even the most stubborn soap scum off your glass shower doors. Whether you need a light daily cleaning or a heavy-duty mildew-tackling, these five essentials are a must-buy for your next cleaning day.
Jump to Products
---
1
The Bucko Soap Scum and Grime Cleaner
While not as well known as some of its more "name brand" competitors, the Bucko soap scum and grime cleaner is just as good — if not better — than its marquee competition. In addition to getting your glass shower doors clean as a whistle, the commercial-grade brand will target nearly all other types of tough household stains. Whether you have a yellowing acrylic bathtub, a scummy kitchen sink, or even a set of greasy rims, Bucko gets it all gone without bleach, toxins, or other harsh chemicals. Best of all, it leaves a light, fresh lemon scent behind, so you don't feel like gagging every time you clean your house!
2
All-Purpose Shower Squeegee by Fun-Mall
The true beauty of a glass shower door is found in how easy it is to get — and keep — clean. For daily wipedowns of water droplets, the all-purpose shower squeegee by Fun-Mall will get the job done in a jiffy. With an ergonomic design — including a functional handle — the squeegee is just as beautiful as it is functional. It also comes with an easy-to-apply wall attachment, so you don't have to go shuffling through your linen closet to find it when you need it. Best of all, it's durable enough for both indoor and outdoor use, so you can even use it on your car or exterior house windows!
3
Hard Off+ Hard Water Stain and Spot Remover
For homeowners with a hard water problem, getting your glass shower door clean can prove especially challenging. Hard water leaves calcium deposits behind, and even the best cleaners can't keep the stains off permanently. But the cleverly-named Hard-Off (get it?) works overtime to get hard water stains and spot removers off your showers...and everywhere else. It's one of the simplest cleaners to use: just spray it on, wait 60 seconds, and wipe it off. (Don't rinse it off — remember, hard water robs soap of its cleansing properties.) Best of all, you don't need to spray a whole lot to get effective results...as the old tagline goes, a little dab'll do ya!
4
2-in-1 Window Cleaner & Shower Squeegee by Homilfibra
Do you have a particularly large bathroom with high ceilings? Are you tired of pulling out stepladders and other sundry to get your glass shower doors — and other hard-to-reach places — clean? This 2-in-1 window cleaner and shower squeegee by Homilfibra will prove to be a lifesaver in more ways than one. With a durable, rust-proof stainless steel construction, the squeegee comes with both a scrubber and a microfiber cloth to both clean and wipe away even the toughest of stains. Each squeegee also comes with replacement pads and cloths, as well as two extension poles that can extend the reach up to 12 feet.
5
RotoScrub 7 Pack Multi-Purpose Drill Brush Kit
Got a particularly nasty case of soap scum in your shower? Or, do you just want to get everything cleaner, quicker? This 7-pack multi-purpose drill brush kit by RotoScrub is the perfect companion for even the toughest jobs. Just attach the scrubber to your drill and power away! The kit includes 6 reusable scrubbing pads and one backing pad and is all but guaranteed to get the tough stuff loose. But, buyers be aware: while the RotoScrub is perfect for tile, fiberglass, and porcelain showers, it's not recommended for granite, travertine, or marble. And it perhaps goes without saying that the kit doesn't come with a drill.
Our editors love finding you the best products and offers! If you purchase something by clicking on one of the affiliate links on our website, we may earn a commission at no extra cost to you.
---
---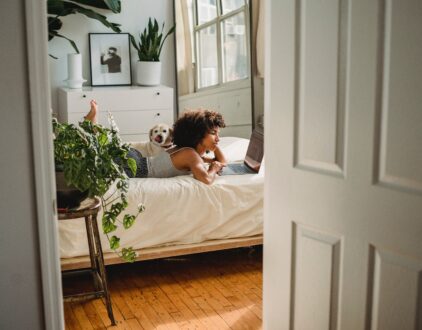 ---
Spaces
Whether it's luxury or ease, every area of your home should be as fabulous and unique as you.
FOLLOW ALONG ON INSTAGRAM
Find us on social for more home inspiration where culture, personal style, and sophisticated shopping intersect to help you create a home where you love to live.