Want to feel close to nature in your own home? The color green is the best color to make you feel a sense of earth or calmness in your own space. It's no surprise green has become a trendy and popular color in interior design. The color speaks for itself. Green comes in a spectrum of light and dark shades and it's a versatile color that can evoke your feelings and influence your behavior. This is called color psychology, the study of how your emotions and behavior are affected by color.
Think about what colors best go with green and consider the bases and undertones of the shade of green you choose. Green is versatile, but it doesn't mean goes well with other colors.  You can pair warm colors together and cool colors together to find the best color scheme for your home. If you want to be bold, pair colors on the color spectrum that are considered opposite to green like red. At the end of the day, it is your decision. If you need some help creating a color scheme for green, keep reading.
Whether you want to incorporate green into your color scheme or it's simply your favorite color, check out these colors that go well with green.
Keep it crisp and airy with white.
As a neutral color, white is the easiest to pair with and use in design. It makes your space feels open, airy, and fresh. You can choose any shade of green and it will add plenty of contrast to your home with a crisp or cream white. White is also perfect for a base color, meaning any other color paired with it will be lifted and stand out. The best greens to pair with a crisp white are the yellow undertone greens like jade, lime, or emerald green.
Go bold with yellow.
Yellow is known to be a bold color and being paired with green, it proves its boldness. Deep green goes with a bright yellow. When paired together, it provides contrast and they both reflect light. If you use green as a base color and yellow as an accent, it is sure to add that pop of color and personality to your home.
Make things prettier with the color pink.
Pink is the perfect color to add a feminine touch and pop of color when paired with green. The two colors bounce off each other and create balance. Salmon pink, coral, or blush pink, and most of the other shades of pink go well with green. Blush pink lightens a room full of dark greens, gives off a luxury aesthetic, and is pleasing to the eye. Coral is perfect for a summer color scheme. Use this color scheme in your bedroom or living room to grab attention and stand out.
Burnt orange, anyone?
Using warmer tones like orange and dark green keeps your space compelling and creates balance. These two colors also create contrast and feel daring, yet natural. For a brighter room, think about using lighter shades of both green and orange. If you want to go warmer, think about deep shades of green and orange. Bold oranges like tangerine or terracotta make an easy color palette with emerald or forest green.
Calm it down with shades of brown.
Brown and green are reminiscent of nature and will always give off a calming forest-like feel. Using brown as the foundational color, found in dark brown wooden furniture, it pairs best with most shades of green. Deep shades of green stand out, but you can also use pastel greens to go with lighter shades of brown like beige to lift the color. To add to your nature and earthy environment, use green plants to really speak to your senses and how you feel within this space.
Make it serene with green on green.
Yes, you're looking at how well green pairs with green! Combining different shades of green together makes a beautiful and easy color palette. To give your space depth and layering, try pairing lighter shades of green like sage green or pale green with darker greens like forest green and get a result like pictured above. It provides a calming and soothing feeling that makes you feel relaxed.
Feeling blue?
It's not likely that you see green and blue together, but with the right shades of each color and a great interior designer like yourself, you can pull it off. It's like a fresh start and a brand-new color combination. You can use deeper shades of blue and green, but you can also pair lighter shades for a more vibrant scheme. Use lighter pastel shades for areas like your kitchen for an open and brighter space.
---
---
Decorate
Access design inspiration that infuses personality and culture into your spaces.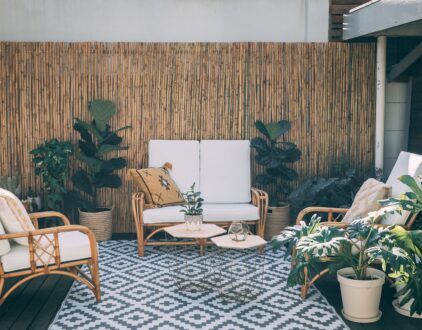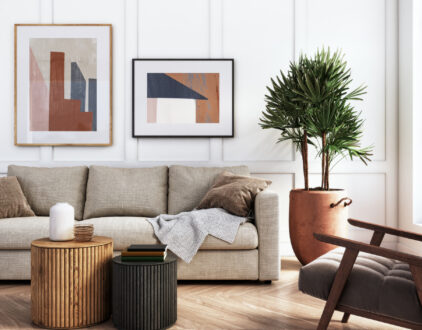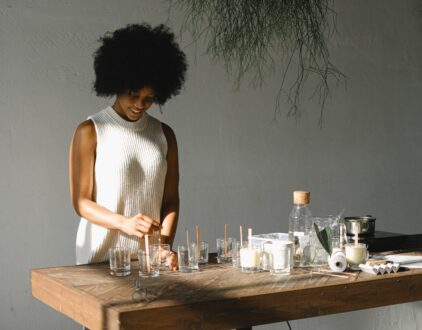 ---
Spaces
Whether it's luxury or ease, every area of your home should be as fabulous and unique as you.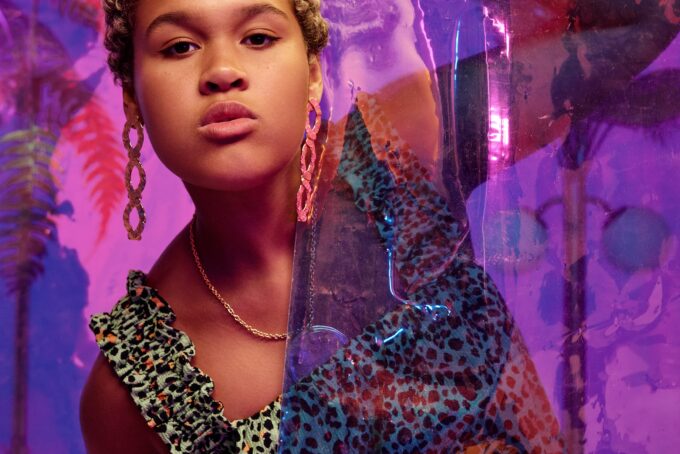 FOLLOW ALONG ON INSTAGRAM
Find us on social for more home inspiration where culture, personal style, and sophisticated shopping intersect to help you create a home where you love to live.