Pumpkin Spice lattes are back, which means Halloween is just around the corner. Transforming your home into a haunted house can be a fun and creative project, especially if you're hosting a Halloween party. Haunted houses require many moving parts, and there are so many decorations you can choose from to design your spooky setup. With all the ghosts and ghouls around this time of year, intensifying your haunted house's scare factor is no easy feat. Keep reading for Home and Texture's step-by-step guide to crafting a creepy haunt to remember right in your very own home.
1. Plan your haunted house.
Pick a theme and storyline for your haunted house. What fright will those who dare to enter step into? A classic haunted mansion, an abandoned asylum, or something completely unique? Choose a theme that excites you and fits your space.
Create a layout of the rooms you want to include and brainstorm about the decorations you will feature. Start with an entrance and gradually make things scarier as guests reach the end.
2. Shop for decor and costumes.
Decorate your home with spooky elements such as cobwebs, skeletons, gravestones, ghosts, and vampires. You'll also need props like fake spiders, fake blood, or severed limbs.
Dress in costumes and intricate makeup that match your theme. If possible, ask friends and family to join as scare actors.
Pro tip: Use mirrors to create illusions and tricky reflections.
3. Set the scene with lighting.
Both dim and colored lighting work in haunted houses. Use LED lights, jack-o'-lanterns, flickering flameless candles, or black lights to create various effects. You can even add a fog machine to heighten the mysterious and eerie ambiance.
4. Lead with sound.
Play startling sound effects and haunted house music throughout your haunted experience. You can find playlists or soundtracks online or make your own.
5. Map out hidden scares.
Every haunted house needs jump scares and surprises. These could include motion-activated animatronics, hidden actors, or unexpected noises.
6. Develop an immersive experience.
Write a narrative that follows your theme and use clues to guide your guests through the haunted house.
Incorporate interactive elements, like touch-and-feel mystery boxes, to make the experience more engaging.
7. Whip up themed party snacks and drinks.
Think eyeball punch, witches' fingers cookies, ghost s'mores dip, or other creative treats.
Serve these delicious goodies after your guests have experienced all the horrors of your house.
8. Control the pacing.
Remember to give guests a moment to catch their breath between scares. Then, hit them with more horrors. The element of surprise is essential to a successful haunting.
Don't let too many people inside at once, and keep groups to small numbers to avoid any spoilers.
9. Hire a photographer or rent a photo booth.
Have a photographer or photo booth to capture everyone's reactions and memories.
10. Don't forget the rules.
What are the rules of your experience? Define rules so your participants and guests can enjoy themselves without concerns.
Whether you create a full-scale creepy masterpiece or a small, spooky corner of your home, the goal is to have fun and provide a memorable experience. Your design can be as elaborate or simple as you want, depending on your available space, budget, and the level of scariness you want to achieve.
Before opening the doors to your scary realm, there are a few not-so-fun things to check off the list, too. Prioritize safety by ensuring your haunted house is free from tripping hazards, sharp objects, and anything that could cause harm. Be sure to have fire extinguishers available and explicitly mark exits in the event of an emergency. Also, check if your local laws require any permits or regulations for haunted houses.
Happy haunting!
---
---
Decorate
Access design inspiration that infuses personality and culture into your spaces.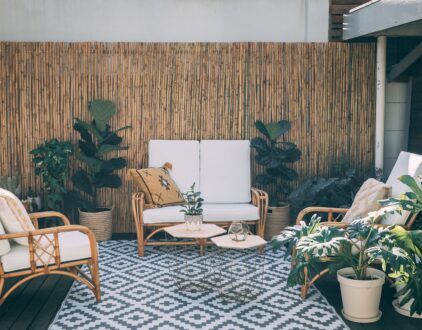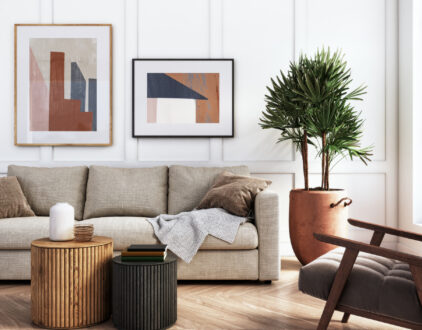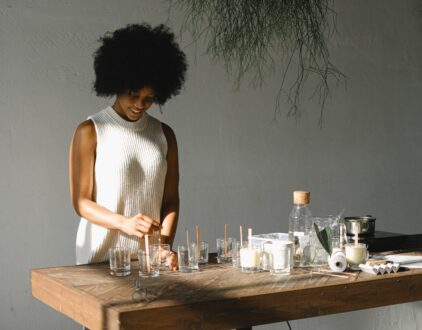 ---
Spaces
Whether it's luxury or ease, every area of your home should be as fabulous and unique as you.
FOLLOW ALONG ON INSTAGRAM
Find us on social for more home inspiration where culture, personal style, and sophisticated shopping intersect to help you create a home where you love to live.