Can you believe we're already approaching March? If the first two months are an indicator of how 2023 is going to go, it's safe to assume that December will be here before we know it. The holiday season always seems to creep up on us, no matter how prepared we think we are. After Thanksgiving, the rest of the year seems to fly by. Getting a head start on things is important to avoid feeling stressed this holiday season. We're working on stocking up on gifts and decor throughout the year and storing them in a closet or room, so we're prepared for when the holiday season is in full swing.
Luckily, stores are discounting their holiday merchandise to make way for spring and summer items. This is a great opportunity to stock up on items like holiday lights, Christmas trees, wreaths, and more. Saving time and money is always a good idea.
Your Holiday Design Style
Taking advantage of holiday sales is also a great reason to revamp your holiday design style. Maybe you were all about being minimalist with clear lights and a tree with monochrome ornaments last year, but this year you want to explore what a bohemian holiday would look like. Perhaps you were all about luxe legacy last year and had a decked-out tree with gold wrapping paper to match, but you want to focus on a contemporary holiday design style this year. The world is your oyster, and you have enough time to reinvent your holiday decor this year without feeling pressured or stressed.
We've been adding holiday items to our carts all week, and it's only right we share our favorite finds with you. From gift bags to indoor and outdoor lights, there is something for everyone to suit every budget. Some items, like lights, can even be used for parties and special events throughout the year. There's no better feeling than being prepared, and you can count on us to have your back this holiday season and beyond.
Jump to Products
---
7 Holiday Items On Sale That We're Adding To Cart ASAP
Canadian Pine Artificial Christmas Wreath
These 24" wreaths are a great decor addition to the exterior of your home. Deck your windows with these wreaths to let everyone know you're in a festive mood. These wreaths are currently on sale for $21.99. The wreaths can be used indoors as well as outdoors. The two-tone forest hue adds a fully dimensional, lush, and live look. It's a wreath you can pull out yearly and will still be in great condition. Note that the branches are going to be compressed when shipped. All you have to do when it arrives is fluff the branches so that it looks full and luscious.
Berry Mini Christmas Lights
Stocking up on lights early is a must if you want your house to shine come the holiday season. You can never have too many lights — especially since some may break easily. These berry mini lights are adorable and festive without going over the top. You can also use these lights during the year to dazzle your space. These lights are great for a party at home or a girl's night with wine and charcuterie. The lights give off a candlelight vibe with soft natural warm white low. They're approved for indoor and outdoor use, and if one light goes out, the rest will stay lit. The lights are also interchangeable and replaceable.
Pre-lit Christmas Tree with Foldable Metal Stand
If you've been looking for a Christmas tree, this is your sign to add this tree to your cart immediately. With 42% off, this tree is a steal and will remove the stress from finding a tree come the holiday season. The tree is regularly $259.95, but if you purchase online, the cost comes down to $149.99. Standing 6 feet tall, this artificial Christmas tree is fade-resistant and pre-lit. There is a foot pedal switch that will allow you to adjust the lighting modes with ease. With ten flashing lighting modes, you'll have options to suit the vibe you're going for. The metal stand ensures that the tree is stable.
Waterproof Globe Lights
This is another steal from Target's holiday sale. It's currently 45% off when purchased online. The original price is $85.99, and you can get it for $46.99. Not only are these lights stunning, but they can also be used all year, not just for the holiday season. These 48-foot heavy-duty lights are great for decorating the exterior of your home. Each LED bulb comes in an individual box. These bulbs are great quality and can be used for commercial and professional events like weddings, parties, restaurants, etc. These are a great choice if you're looking for a stylish and simple but festive light.
Iridescent Small Gift Bags
Everyone waits until the last minute to go gift shopping for family, friends, and loved ones. This year, get a head start and purchase gift bags that will be ready to go as you start buying gifts. If you want to get ahead of the holiday rush, find gifts for your loved ones throughout the year and store them in a closet so that when the time comes, you're ready. These holographic gift bags are great for making your gifts beautiful. They can also be used for birthdays, weddings, bridal showers, graduation parties, and more. They come in a set of 20 and can be customized with stickers, name tags, and tissue paper (not included).
Pink Artificial Christmas Tree
This beautiful pink tree is perfect for the luxe legacy and eccentric design styles. Both girly and classy, it can be decorated with white or gold ornaments for a luxe look or colorful ornaments to bring out eccentricity. It's currently 63% off when purchased online, bringing the price down to $65.99. If that's not a good deal, we don't know what is. Standing 6 feet tall, this cherry blossom-colored tree is eye-catching and dreamy. It's easy to assemble and has a metal stand to keep it sturdy. Guests visiting over the holiday season will be transported to your magical holiday abode. It's certainly a non-traditional approach to a holiday staple.
Red Berries Artificial Christmas Wreath
Add a pop of color to your front door with this red berries artificial Christmas wreath. It's currently on sale online at Target for $38.38. The wreath is vibrant and perfect for bringing in the holiday season in style. If you can't wait until November to put your wreath up, add it to your autumn decor. If adding it to your front door isn't your style, try your hallways and stairways for a visual treat. The red berries shine against the reddish-brown twigs on the wreath. No assembly is required, and the wreath measures 28 inches in diameter.
Our editors love finding you the best products and offers! If you purchase something by clicking on one of the affiliate links on our website, we may earn a commission at no extra cost to you.
---
---
Decorate
Access design inspiration that infuses personality and culture into your spaces.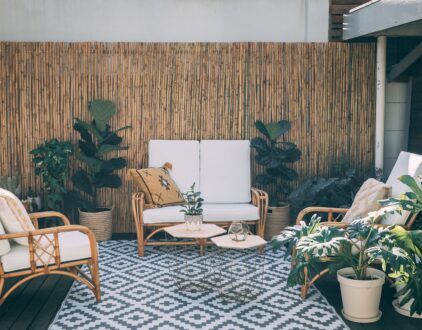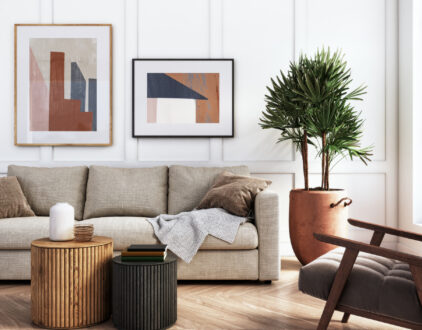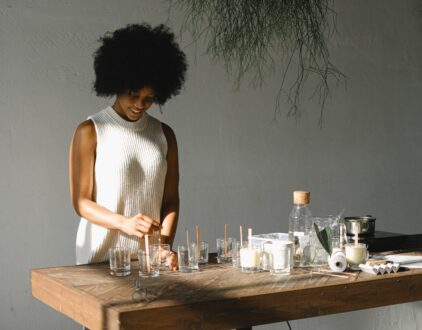 ---
Spaces
Whether it's luxury or ease, every area of your home should be as fabulous and unique as you.
FOLLOW ALONG ON INSTAGRAM
Find us on social for more home inspiration where culture, personal style, and sophisticated shopping intersect to help you create a home where you love to live.