Your bedroom is more than just a space to sleep; it's an intimate sanctuary. Thus, it deserves your utmost attention in design, ensuring it exudes comfort and luxury. Fortunately, luxury doesn't always equate to expense. It's entirely possible to elevate your bedroom's aesthetics even on a tight budget.
Many of us, especially those who have moved recently, would have come across IKEA in our quest for home décor. It's a hub for affordable furniture and design inspiration for every corner of your home, from the bedroom to the bathroom. Here are some select pieces and design tips that can infuse opulence into your bedroom without breaking the bank.
Essential Elements for a Luxurious Bedroom
Various components can enhance the overall opulence of a bedroom. Textural elements such as leather, wool, textured artwork, and wood grain can introduce dimensionality. To amplify wall space, consider introducing large artwork or patterned wallpaper. Additionally, employing extra-long curtains can craft the illusion of towering ceilings. Here are more detailed insights:
Opt for Statement Pieces
Invest in unique items like an emerald green velvet accent chair or gold gilded lamps. Remember, less is often more; so, limit statement pieces to avoid a cluttered look.
Enlighten with Light Fixtures
A captivating light fixture can instantly elevate your bedroom's appearance. Consider statement pendant lights or modern chandeliers that deviate from the norm.
Create Texture with a Rug
Rugs add warmth and dimension to your bedroom. It's also a great way to add texture to your space. Consider animal print rugs or floral prints to establish the chic factor in your room.
Exhibit Large Artwork
Showcasing art is a reflection of personal style. While hanging is conventional, leaning artwork against a wall can also create a striking effect.
IKEA's Contribution to Luxe Design
Take a look at these IKEA items that will give you luxury for low.
IKEA Malm Dresser
A little can go a long way. IKEA's Malm Dresser is minimal, modern, and sleek. Picking furniture that doesn't have much to work with gives you more opportunity to emphasize those statement pieces. Find furniture collections that suit your personal style. Even if it's simplistic, it still looks good and has a nice finish.
IKEA Hovet Mirror
This mirror is guaranteed to make an impression in your room. You can mount it horizontally on your wall above the dresser, as pictured below, to create an illusion of a larger room. You can also mount it vertically to check yourself out.  Whatever you decide, the Hovet Mirror won't disappoint.
IKEA Storslinga Lighting Fixture
Out with the mundane ceiling lights. Opt for something that's both functional and artistically appealing, making a statement in the room.
IKEA Vikhammer Nightstand
Perfect for those who value decluttered aesthetics. With ample storage, it keeps essentials out of sight while complementing more grandiose beds. For those who wish to prioritize design and additional storage in a nightstand, there are options available.
IKEA Dytag Curtains
If you have standard-height ceilings, these extra-long curtains from IKEA can allow diffused natural light in while creating an illusion of heightened space, offering a complete look.
---
---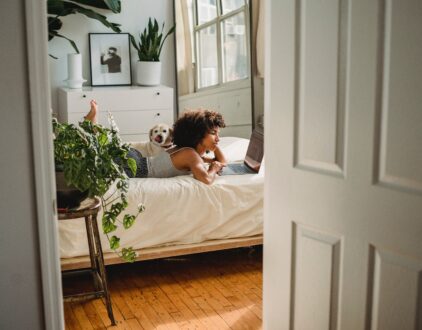 ---
Spaces
Whether it's luxury or ease, every area of your home should be as fabulous and unique as you.
FOLLOW ALONG ON INSTAGRAM
Find us on social for more home inspiration where culture, personal style, and sophisticated shopping intersect to help you create a home where you love to live.