Ready to be the (g)host with the most? If you're a self-declared spooky queen or king, Halloween is most definitely your time to shine, especially on the 'gram. You're already the talk of the neighborhood with a decked-out Halloween yard, so now it's time to take things indoors. Whether you're looking for just a little extra spice to add some fall flavor to your space or planning to transform your home into a haunted haven, these indoor Halloween decor ideas and picks will have you cackling with ghoulish delight.
Haunted Front Door Delight
If MTV Cribs taught you anything, first impressions matter. And your front door sets the tone for your Halloween decorations. Welcome your ghosts—or uhm, guests—brave enough to enter with a seasonal welcome mat, or turn things up a notch with an out-there wreath made from black feathers, miniature pumpkins, and eerie faux spiderwebs.
Spellbinding Table Settings
For those planning a Halloween-themed dinner or party, don't neglect the table settings. Go for black tableware, dark floral centerpieces, and spiderweb-patterned tablecloths. Incorporate antique candleholders with dripping wax candles for extra spooky vibes.
Mysterious Lighting
Create an otherworldly atmosphere by incorporating mysterious lighting. Replace your regular bulbs with colored ones in shades of orange, purple, or green. These hues will add an eerie glow to your home, making it perfect for capturing the essence of Halloween on your feed.
Cozy with Throw Pillows and Blankets
While Halloween is known for its spookiness, there's no need to compromise on coziness. Scatter throw pillows with Halloween-themed prints like bats, witches, and ghosts on your sofas and chairs. Drape soft and fuzzy blankets over your furniture for a warm and inviting look.
Creepy Crawly Accents
Incorporate creepy-crawly accents like lifelike spiders and cobwebs throughout your home. Place them in unexpected corners or drape them on furniture for an added layer of spookiness.
Pumpkin Paradise
Pumpkins are synonymous with Halloween, and they make excellent props for your snapshots. The pumpkin decor options are endless, from ceramic to metal and wood. Or if you're feeling DIY, try painting pumpkins with metallic colors like gold, silver, and bronze for a chic yet eerie setting.
Now that you've got your inspiration, shop the products below to truly make your vision come to life:
1
Roszwtit Halloween Door Mat
Seasonal decor starts right at the front door! Experience the spooky season with this Halloween doormat. It's the perfect way to express your love for Halloween while setting the scene for everyone that visits. Made from high-quality linen, this welcome mat stands out for its durability and functionality. The linen surface excels at scraping off dirt, mud, and debris, leaving your floor spotless and tidy. With its top-notch non-slip rubber backing, you can trust that the mat will remain securely in place. Thanks to advanced printing technology, the vibrant colors remain intact over time, even in the face of wear and tear.
2
Hocus Pocus Pillow Covers
Come, we fly! Arguably one of the best classic Halloween movies ever made, Hocus Pocus lends its aesthetic to your unsuspecting pillows with these pillow covers. Crafted to capture the essence of your favorite Sanderson sisters, these pillowcases effortlessly blend charm, playfulness, and a hint of magic. Created from a breathable linen blend material, these pillow covers are soft, skin-friendly, and great for both indoor and outdoor use. They are designed for durability, built to withstand regular mayhem, and can be conveniently washed in a washing machine. These pillow covers are crafted to maintain their colors and structural integrity, ensuring they stay vibrant and sturdy for many Halloweens to come.
3
MACKENZIE-CHILDS Beware Decorative Pumpkin Set
Explore the enchanting world of Happy Halloween Figurines, where Halloween drama converges with the classic beauty of MacKenzie-Childs prints. Hand-painted and detailed with the iconic Courtly Checks and Stripes, these pumpkins playfully serve as sentinels, offering a whimsical warning to all who encounter them. Departing from the typical orange-and-black color scheme, these pumpkins have a striking palette of black, white, and gold, introducing a unique spin to your autumn decor. Regardless of their placement—whether on a window sill, gracing a fireplace mantle, or welcoming guests on an entryway table—these pumpkins possess the innate ability to elevate any room they inhabit.
4
Lounsweer Set of 12 Fall Pumpkin Shaped Candles
Get in your fall feels with this delightful collection of 12 Halloween-themed candles that are perfect for enhancing your chosen decorative spaces or for making great gifts for anyone attending one of your spooky soirees. Encased within translucent orange pumpkin-shaped glass jars with white candles, these candles offer both aesthetic appeal and practicality. What makes them truly impressive is their burn time, providing about 25 hours of glow, filling your surroundings with their inviting warmth and fragrance. Crafted with precision, these fall candle decorations feature glass jars, wooden lids, and wax candles and are thoughtfully made with twine and paper cards for added decoration.
5
Battilo Caramel Throw Blanket
Okay, so you're not quite ready to dive into full-on spooky decor. Maybe your vibe is a little more subtle, and this perfectly fall-hued throw blanket adds a soft reminder of the season. Made from 100 percent chenille polyester, this throw blanket features a soft and cozy texture that invites you to snuggle up in warmth and style. This blanket is not only incredibly soft but also remarkably versatile. Whether you're using it for snuggling and staying warm or to add a pop of color to your living space, it's the perfect choice. Its soft, breathable, and lightweight design makes it perfect for year-round use, ensuring comfort in every season.
6
Coffin Letter Board
This one's for the year-round spooky babes and boos! Dive into the dark aesthetic with this Coffin Black Letter Board. This eerie masterpiece is the perfect Halloween gift for your Halloween decor. Take the eerie ambiance with you wherever you roam. Your letter board arrives equipped with over 500 white characters, plus an arsenal of more than 80 spooky emojis. It includes a wooden stand and a convenient sawtooth hanger, allowing you to swiftly move messages or announcements from wall to tabletop. Unleash your imagination and picture your guests entering your dark, gothic abode with black curtains, greeted by a witchy message on your Halloween letter board.
7
20-Piece Floating Candles with Wand
Elevate any space into a realm of enchantment with these floating candles with an included wand. This set includes a 164-foot transparent fishing line, which can be easily customized to your preferred length and threaded through the candle tops, allowing for effortless, straight, and even hanging. These candles create a mesmerizing floating effect that will instantly transport you into a haunted fairy tale. Channel your inner wizard as you use the wand to bring your decor to life. Simply click the wand's switch button to easily control the candlelight. To enhance your wizardry skills, press and hold the middle button to slow down your spell and light up more candles.
8
Halloween Cups
These charming jars feature a clean silhouette adorned with cute white ghosts, infusing Halloween spirit into your drinkware collection. Each set includes four 24 ounce Halloween cups, complete with four matching bamboo lids, glass straws, and a handy straw brush. As an extra decorative detail, four black and white checkered paper towels are also included. These Halloween cups aren't just for sipping, they also double as cute decorations. Whether you choose to use them for beverages or as eye-catching decor, they effortlessly find a place in your home, adding a unique flair to your Halloween setup.
Our editors love finding you the best products and offers! If you purchase something by clicking on one of the affiliate links on our website, we may earn a commission at no extra cost to you.
---
---
Decorate
Access design inspiration that infuses personality and culture into your spaces.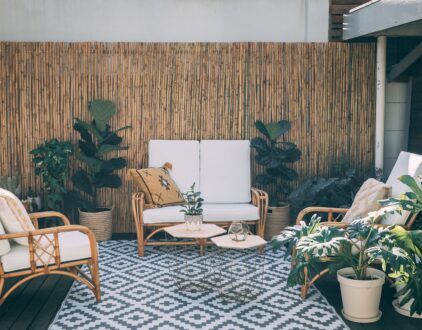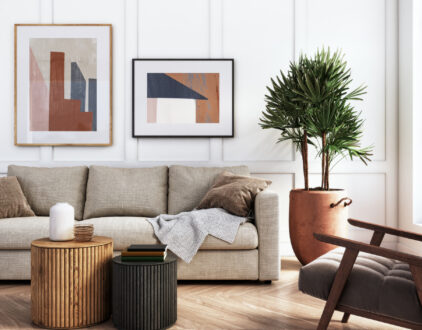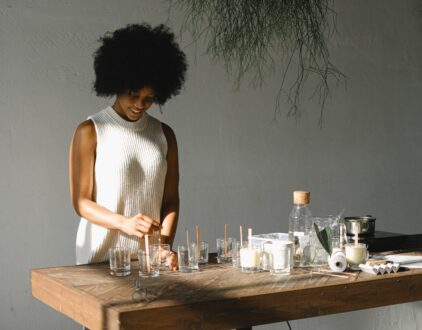 ---
Spaces
Whether it's luxury or ease, every area of your home should be as fabulous and unique as you.
FOLLOW ALONG ON INSTAGRAM
Find us on social for more home inspiration where culture, personal style, and sophisticated shopping intersect to help you create a home where you love to live.