Hosting family and friends brings celebrity couple Chrissy Teigen and John Legend complete and utter joy. Step into their Beverly Hills home, and you'll feel the warmth they've curated through decor and design. With the help of acclaimed designer Jake Arnold, the couple's home reflects the vibrant chapters of their lives in an inviting, colorful, and luxurious space that's both ultra-chic and cozy.
The "Instagram Story Room" — A Cozy Living Space
One of the heartbeats of their home is the living room, also affectionately referred to as the "Instagram Story Room" by Teigen. This room is more than a space where Teigen connects with her over 42 million Instagram followers; it's a room perfect for family bonding. The living room seamlessly blends with the kitchen, making it great when hosting loved ones. Since the house is designed to be kid-proof, durable outdoor fabrics are used on the seating indoors, ensuring it can withstand the playful antics of their children and furry friends.
A Kitchen Fit for Culinary Magic
The kitchen is the epicenter of their home. Although it looks pristine, it's a place where the couple cooks big meals, hosts gatherings with friends, and celebrates Thanksgiving and Christmas. With marble counters and a matching backsplash, the kitchen exudes a sense of elegance. Equipped with four ovens, an espresso machine, and ample space for food prep and cooking, this kitchen is truly the heart of their home. The couple's open-door policy welcomes friends and family to enjoy decadent meals in this lively kitchen.
Piano Bar with a Personal Touch
Within their home, you'll find a room that serves as a creative sanctuary for Legend and a space for their daughter Luna's piano lessons. What makes this space even more remarkable is the stunning chandelier designed by Alison Berger. It features wine glasses etched with lyrics from the musician's early albums—a tribute to his musical journey. This room is a testament to the creative spirit that flows throughout their home, complete with an elegant display of their numerous awards.
The Enchanted Olive Tree
Between the kitchen and living room lies an enchanting olive tree. While it may not be alive, it's a work of art with silk leaves that look and feel remarkably real. This embalmed olive tree doubles as a Christmas tree during the holidays, where the kids open their presents underneath its branches.
Mustard Yellow Dining Room
The dining room, part of the great open space, is adorned with stunning mustard yellow dining chairs, adding a pop of color to the area. A large dining table anchoring the space makes this the perfect room to share meals and create memories.
Home Theater with a Feminine Touch
The couple's home theater exudes a blush, feminine charm with stylish and cozy furry chairs.
Cozy Family Room for Gatherings
Teigen and Legend host large gatherings to watch TV shows over good food in the family room. To create a cozy atmosphere, they've chosen a massive pink couch that sits low to the ground, complemented by fun, mushroom-shaped ottomans.
A Tranquil Bedroom Retreat
The bedroom boasts a natural color palette, creating a soothing and serene ambiance. It includes a seating area referred to as the "therapy area" by Teigen, where her therapist visits once a week. The master bathroom features a luxurious marble shower with gold finishing and "his and hers" sides for convenience.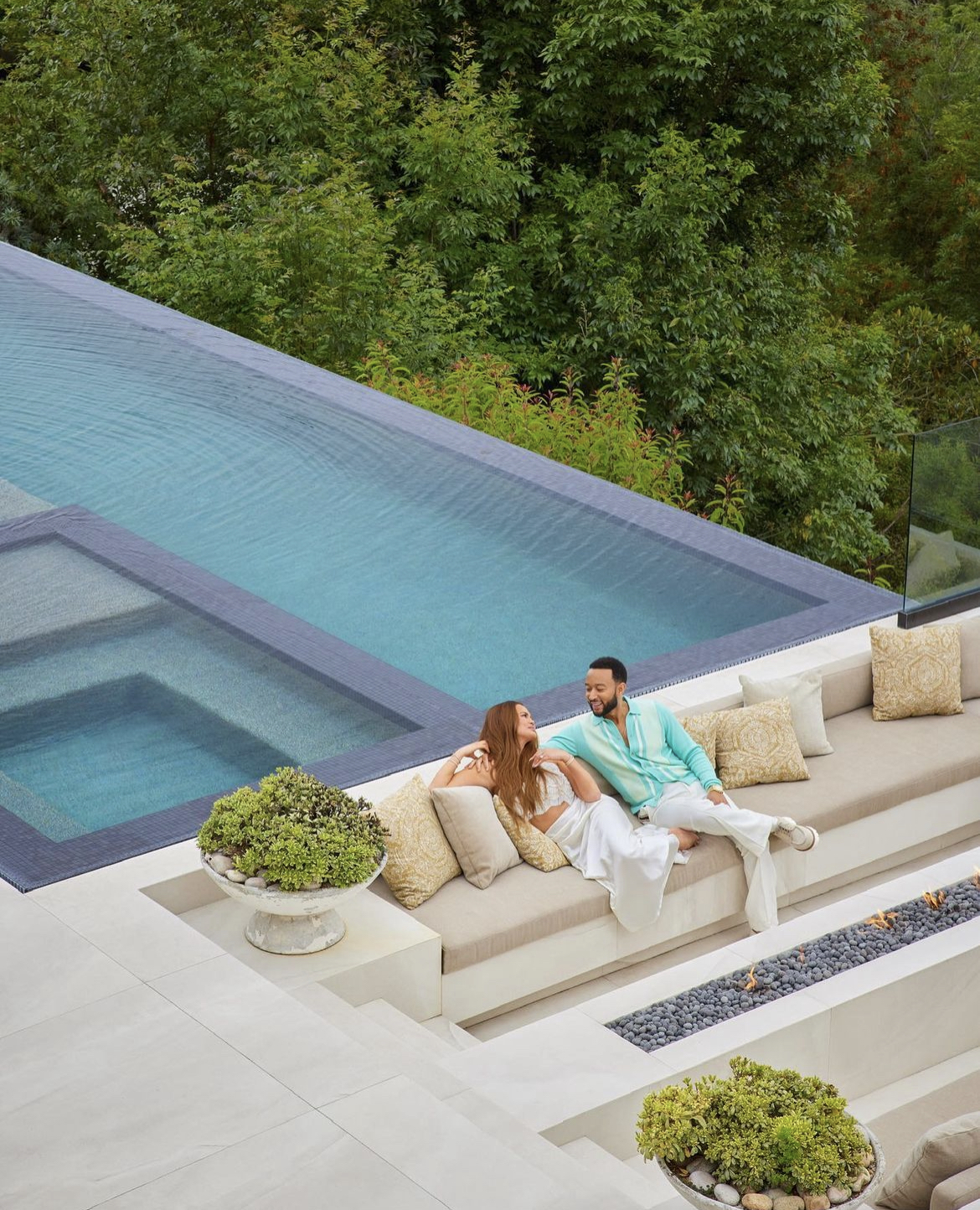 The Backyard Oasis
Stepping into the backyard, you'll find a paradise for relaxation and play. It's a haven for outdoor enjoyment with a pool, water slide, play structure for the kids, and easy-to-maintain turf. The garden completes this picturesque backyard, offering a serene escape.
In every corner of this couple's Beverly Hills home, you'll discover a blend of style, comfort, and personal touches that reflect their vibrant personalities and love for family. It's a place where memories are made, laughter is shared, and love abounds.
---
---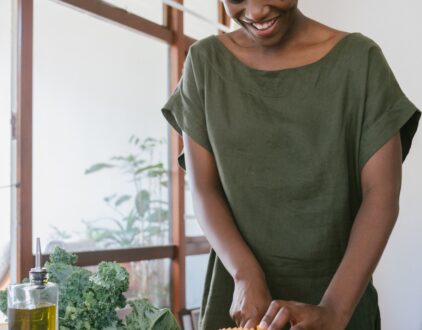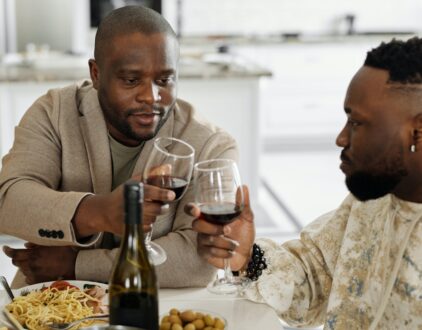 ---
Spaces
Whether it's luxury or ease, every area of your home should be as fabulous and unique as you.
FOLLOW ALONG ON INSTAGRAM
Find us on social for more home inspiration where culture, personal style, and sophisticated shopping intersect to help you create a home where you love to live.