L-shaped kitchens are all the rage on social media, and we can definitely see why. Not only are they an attractive way to create a stylish space in your kitchen, but they can also be very functional. Whether you are in need of more counter and storage space or want to add a modern touch to your kitchen, an L-shaped kitchen can be the perfect solution.
Benefits of an L-Shaped Kitchen
There are ample benefits to owning an L-shaped kitchen. For example, if you enjoy cooking, this type of kitchen provides more storage and counter space for prepping meals and creating dishes. This type of layout also offers a bit more flexibility when it comes to dining options because the space is divided into two distinct areas: a kitchen zone and a dining area. This allows you to store your kitchen tools and appliances at the bottom of the "L" and keep the top part for seating and dining.
Or, if you plan to entertain guests, an L-Shaped kitchen can be a great way to do so. Its shape provides enough space to set up snacks and beverages for holidays and parties. From Saturday nights in with friends to holiday dinners with the family, an L-shaped kitchen can give you more room to accommodate your guests.
Another great perk to this type of kitchen is how much easier it is to move around in. With an open floor plan, you can quickly access your kitchen necessities as they are always close by.
You can also display your kitchen space with an added island. An island or peninsula can be added to provide an extra eating area or storage space. An island can also be an ideal way to add a touch of style and sophistication to your kitchen.
L-Shaped Kitchen With Island Design Inspo
L-shaped kitchens are a great way to create a more attractive and functional kitchen space. Whether you use it to cook weekday meals or to host dinner parties, an L-shaped kitchen can do it all. And with the addition of an island, designing your kitchen has never been more exciting. Here are five examples of an L-shaped kitchen with an island for design inspo:
A Classic and Simple Space
View this post on Instagram
This classic kitchen space features white cabinetry and stainless steel appliances to create a clean and simple aesthetic that any homeowner can appreciate.
A Modern and Sleek Space
View this post on Instagram
This modern kitchen space uses chic decor to create a sleek, yet inviting environment. It also features ample window space, allowing natural light to flood in and create a beautiful atmosphere.
A Colorful L-Shaped Space
View this post on Instagram
This L-shaped kitchen uses color to brighten up the space. You can add interest and depth to an all-white kitchen by adding bold accent colors. When decorating your kitchen, consider incorporating color psychology to create a more attractive environment.
An Au Naturale Space
View this post on Instagram
This kitchen space is decorated using a number of natural elements. Its wooden cupboards and rattan seating are the perfect way to incorporate a bit of nature in your kitchen space. And the added houseplants are a nice touch of greenery to brighten up the area.
A Multi-Functional Space
View this post on Instagram
This multi-functional L-shaped kitchen transforms into an L-shaped dining booth — perfect for hosting friends and family.
---
---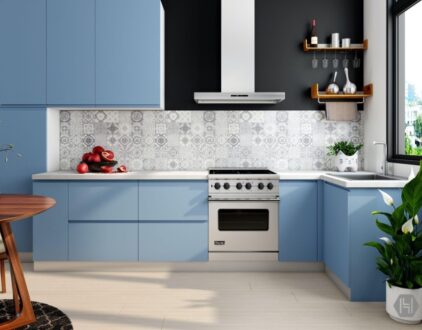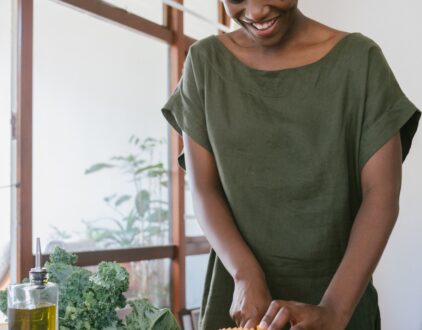 ---
Spaces
Whether it's luxury or ease, every area of your home should be as fabulous and unique as you.
FOLLOW ALONG ON INSTAGRAM
Find us on social for more home inspiration where culture, personal style, and sophisticated shopping intersect to help you create a home where you love to live.