Olive green kitchen cabinets are popular among homeowners looking for a distinctive and fashionable look. This deep and organic shade is a refreshing departure from the classic white or wood cabinets. It provides the room with a natural, welcoming vibe.
Why Olive Green Is a Popular Choice for Kitchen Cabinetry
Olive green cabinets have the advantage of being versatile, as they can easily blend traditional and contemporary styles. This makes them a suitable option for different types of kitchens. Whether you have a rustic farmhouse-style kitchen or a modern one, olive green cabinets can enhance the overall vibe and create a cohesive atmosphere.
Olive green also has a natural elegance that adds depth and character to the kitchen, while evoking the soothing essence of the outdoors. This hue works best in kitchens with plenty of natural light, as it interacts with the sunlight to create a vibrant and inviting space.
And by incorporating this color into your kitchen design, you can play around with contrasting or complementary colors. For example, to achieve a conventional aesthetic, you can match them with white countertops and subway tiles to create a timeless and refreshing vibe. Alternatively, adding warm metallic highlights like brass or copper hardware can add a hint of luxury to the kitchen.
They can also be paired with both light and dark wood finishes to create different effects. Lighter wood tones will create a slight contrast, allowing the cabinets to be the focal point. On the other hand, darker wood finishes will emphasize the richness and depth of the olive green. This can result in a more sophisticated and luxurious feel.
Olive Green Kitchen Cabinets Design Inspo
For design inspiration, here are five ideas for how to decorate your cabinetry for an attractive kitchen space:
An Au Naturale Kitchen
View this post on Instagram
This pale olive cabinetry is the perfect way to showcase the natural elements in the room. Notice the hanging houseplant, wooden kitchen dishes and furniture that create a tranquil atmosphere. The countertops are a solid black color to add a contrast to the space while making the olive color truly stand out.
A Modern, Classic Kitchen
View this post on Instagram
This clean and simple kitchen design provides the perfect way to show off your olive green cabinetry. Featuring a white backsplash and stainless steel appliances, this kitchen space is both timeless and modern.
A Kitchen for the One Who Enjoys the Finer Things
View this post on Instagram
This rainforest marble island countertop perfectly complements the olive green shelving and cabinetry of this kitchen space. This attractive addition is sure to draw attention and admiration from your guests. Aside from rainforest marble, you can choose from a number of marble designs and colors, including Carrara, Calacatta, and Crema Marfil.
A Kitchen With a Unique Shade
View this post on Instagram
This cabinetry features an olive green color with notes of blue for a one-of-a-kind shade that creates a welcoming environment. The perfect storage solution, this cabinetry can be used to organize your cooking and dining essentials. When choosing this shade of olive green, remember to keep your decor simple to keep your cabinetry the star of the show.
A Cottagecore Kitchen
View this post on Instagram
Cottagecore is not just reserved for fashion. This kitchen is a great way to take part in the cottagecore trend by featuring an ornate backsplash, woven decor, and a vibrant houseplant. But you can also add a touch of cottagecore to your space with vintage tea sets, floral wallpaper, and even fairy lights.
---
---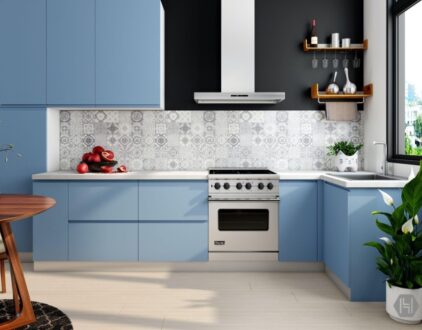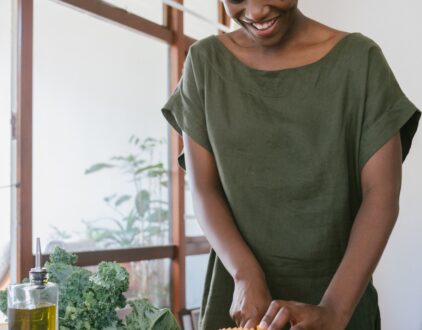 ---
Spaces
Whether it's luxury or ease, every area of your home should be as fabulous and unique as you.
FOLLOW ALONG ON INSTAGRAM
Find us on social for more home inspiration where culture, personal style, and sophisticated shopping intersect to help you create a home where you love to live.