Your patio serves as a bridge between the comfort of your indoor sanctuary and the soothing nature of the great outdoors. It's a canvas where you can seamlessly blend aesthetics with functionality, transforming an ordinary outdoor space into an extraordinary one. A well-designed and welcoming patio—with the right outdoor decor—has the potential to create an atmosphere that aligns with your lifestyle and your personal aesthetic. Adding a few chic and cozy pieces to your porch or patio can immediately enhance the overall ambiance of your home, offering an inviting space to connect with nature and unwind. These tips and tricks are sure to give your patio the glamorous glow-up you've been searching for!
Select the right furniture.
When it comes to patio furniture, it's not just about picking pieces that look appealing – durability is equally important. Go for materials that can withstand the elements, such as weather-resistant wicker, wrought iron, or teak. Not only will this keep your patio furniture intact despite rain or shine, but it will also create a comfortable and inviting atmosphere where you and your guests can relax.
Lighting up the night!
Don't let the setting sun dim the allure of your patio. Incorporate creative lighting to keep the enchantment alive even after dark. Whether it's the warm glow of Edison lights, the whimsy of solar-powered lanterns, or the contemporary charm of built-in LED lighting, the right illumination can transform your patio into a magical retreat where evenings are as enchanting as the days.
Add personalized accents to reflect your style.
Infuse your patio with a personal touch by incorporating accents that reflect your style and preferences. Whether it's unique cushions, captivating artwork, or carefully chosen sculptures, these personalized details will add character to your patio and make it a true reflection of your individuality. If you want to really go over the top, accessories like fire pits and relaxing water features add even more style to your space.
Lay outdoor rugs for comfort and elegance.
An outdoor rug isn't just a decorative element; it's also a source of comfort and elegance. Choose a rug that's specifically designed for outdoor use, as it will be able to withstand exposure to sunlight and moisture. The rug not only adds a sense of luxury to your patio but also ties the different elements of the space together.
1
PHI VILLA 10-Piece Patio Furniture Set
Crafted with durability at its core, this set is a testament to quality. The high-quality, handwoven weather-resistant PE rattan and waterproof fabrics, enhanced by CUSHION PRO technology, defy the elements, promising years of pristine condition. Elevate your outdoor experience with a smokeless fire pit table, meticulously designed for unparalleled coziness. Embrace the allure of the elegant wicker aesthetics and the convenience of a removable lid, all while basking in the inviting atmosphere it creates. Indulge in unmatched comfort as you recline in the expansive single seat featuring a high back for unwavering support. Sink into the plush seat cushions and let the supportive back cushions cradle you.
2
MAGIC UNION Six-Piece Wicker Patio Furniture Set
Discover a realm of sophistication with this outdoor wicker furniture sofa set that redefines style. Comprising a three-seat couch, two single sofas, two ottomans, and one coffee table, this ensemble transcends convention with its novel and unique design. The sofa and coffee table's wide top and narrow bottom showcase an intriguing aesthetic, exuding a charming vibe. Embrace the artistic and fashion-forward essence that sets this set apart from ordinary wicker patio furniture. Immerse yourself in the luxurious touch of the all-weather PE rattan surface. Hand-woven in twin strands, the three-dimensional, textured rattan exudes a tactile charm.
3
NICESOUL Indoor Outdoor Patio Wicker Hanging Chair
Experience a harmonious blend of strength and comfort with this modern egg chair, meticulously crafted to enhance your seating experience. Constructed with the utmost care, the seat and frame of the egg chair are enveloped in polyethylene rattan resin wicker. The wrap-around design ensures weather-resistant protection, imbuing the chair with both resilience and durability. The back of the chair offers a unique touch with its nylon rope detailing, adding an intricate element to its design. Relax into luxury with the seat cushion and headrest pillow, both enveloped in premium polyester material and polyester fiberfill cores, offering a cocoon of comfort.
4
Westcharm Rustic LED Pillar Garden Statue with Planter Dish Bowl
This luminous metal column stands as a testament to sophisticated design. Whether gracing your front porch, terrace, or balcony, it adds an air of contemporary flair. As night falls, watch as your surroundings transform into a canvas of brilliant light patterns, courtesy of the mesmerizing display of the LED lights. Elevate your space with the charm of our elegant LED column, a captivating blend of style and functionality. Its removable planter bowl is a versatile addition, with an artistically punched leaf pattern that exudes modernity and elegance, enhanced by the trendy rusted finish. Simplicity reigns when it comes to operation. Insert two AA batteries (not included), flick the switch, and witness the warm white LED lights illuminate the column. For added convenience, use the timer function to enable automatic switch-off after six hours.
5
Koi Fish Garden Sculpture
The sculpture creates an instant focal point with meticulously hand-painted lines, rendering it a truly distinctive and exceptional piece of art. Made from premium copper material, it's both beautiful and durable. With no tools required, you can place it wherever you desire effortlessly. What's more, its eco-friendly nature ensures it remains unaffected by rain, temperature fluctuations, and humidity, standing resilient in the face of the elements. A choice that resonates with contemporary home settings, this sculpture marries simplicity and glamour. Its unassuming design is a testament to its ability to captivate, making it a perfect selection if you seek an understated yet stunning addition to your space.
6
Hamiedun Outdoor Waterfalls
This is giving enchanted fairy garden! Created with enduring quality, the polyresin and fiberglass construction of this outdoor fountain is resistant against rust and weather, providing a timeless appearance that will hold up through the years. The gentle cascade of water from the top to the bottom mirrors the soothing sound of a genuine waterfall, infusing your patio or garden with a serene ambiance. The tiers of water pots create a symphony of relaxation, enveloping your surroundings with peace. Suitable for both outdoor and indoor spaces, this fountain seamlessly adapts to your environment. With a simple connection of the pump and light, and the internal water flow always surpassing that of the pump, maintaining the water's consistent flow becomes effortless.
7
CAMILSON Outdoor Rug
Enhance the appeal of your space with this rug, perfectly suited for both indoor and outdoor settings including patios, kitchens, and hallways. The flat weave design features textured raised and cut patterns, adding depth and stunning aesthetics. Enjoy the convenience of a stain-resistant and dust-releasing rug that maintains its pristine appearance effortlessly. Made from 100 percent polypropylene material and featuring a short-haired structure, it effectively repels dirt and dust for easy maintenance. Resistant to water, sun, and dirt, this rug also fends off UV fading, for long-lasting vibrant and fresh aesthetics.
8
JONATHAN Y Madrid Vintage Filigree Textured Weave Indoor
This rug is made from from low-pile synthetic rug fibers and built to withstand high-traffic areas. It's perfect if you frequently entertain or have kids that make use of your home's outdoors. Its construction is also pet-friendly, preventing dirt accumulation and ensuring spills can be easily cleaned up. Machine-woven for durability, the rug fibers remain firmly in place, avoiding shedding and keeping your outdoor area tidy. Enjoy the charm of the flat-weave construction, composed of 100 percent polypropylene. Its blend of aesthetics and functionality provides a lasting and appealing addition to your indoor and outdoor spaces, infusing them with both beauty and practicality.
Our editors love finding you the best products and offers! If you purchase something by clicking on one of the affiliate links on our website, we may earn a commission at no extra cost to you.
---
---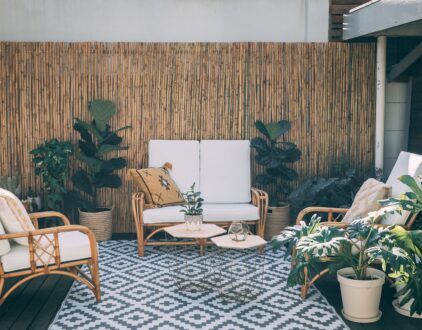 ---
Spaces
Whether it's luxury or ease, every area of your home should be as fabulous and unique as you.
FOLLOW ALONG ON INSTAGRAM
Find us on social for more home inspiration where culture, personal style, and sophisticated shopping intersect to help you create a home where you love to live.