Palm Springs, California—the very name evokes images of sun-kissed landscapes, mid-century modern architecture, and a blend of indoor-outdoor living. This desert town has long been a haven for Hollywood stars, artists, and design lovers. For millennial homeowners, translating the charm of this destination into your personal space can be a challenge and a journey of discovery.
If you're looking to add a sprinkle of Palm Springs magic to your home decor, we've rounded up tips to help you fuse vintage vibes with contemporary chic.
Embrace mid-century modern.
The mid-century modern design movement, which peaked from the mid-1930s to the mid-1960s, finds its heart in Palm Springs. Embrace mid-century modern design into your home by opting for sleek lines, organic curves, and an emphasis on functionality. Incorporate pieces made from teak wood furniture, geometric patterns, and statement pieces like Sputnik chandeliers.
Use vivid color palettes.
Palm Springs style is all about vibrant hues. Consider an accent wall in turquoise or coral or throw pillows and decor items in yellows and greens. Pops of color set against neutral backgrounds can invigorate any space.
Fuse the indoors with the outdoors.
The homes in Palm Springs do a great job of blurring the lines between indoors and out. You can do the same by incorporating large glass doors or floor-to-ceiling windows. Decorate your patio with comfortable seating, tropical plants, and string lights to create an inviting outdoor lounge.
Celebrate nature.
Palm Springs, located in the desert, is filled with cacti, palm trees, and succulents, so consider bringing these elements into your home. Potted plants like snake plants are great low-maintenance indoor additions. If plants aren't your thing, consider wall art or prints that showcase desert landscapes.
Incorporate retro vibes.
Palm Springs decor brings a touch of nostalgic glamour. From vintage bar carts to retro artwork, infuse old-school elements into your home.
Design intentionally.
This aesthetic is vibrant, but it's never cluttered. Each piece in your home should be intentional, either serving a function or aesthetic purpose. This approach ensures that the most vivid spaces retain a sense of calm and openness.
---
---
Decorate
Access design inspiration that infuses personality and culture into your spaces.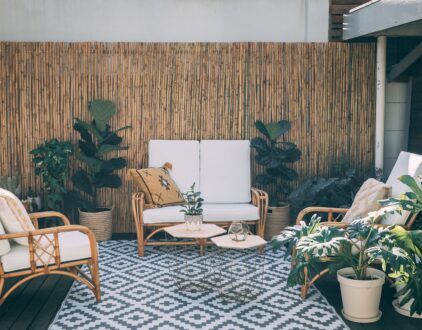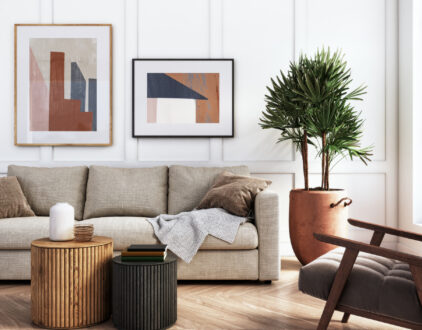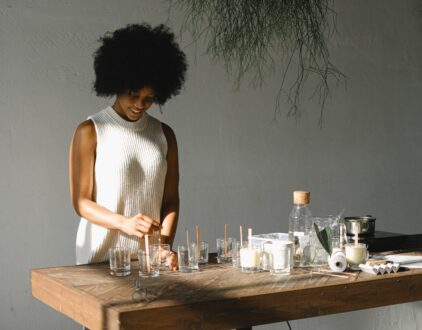 ---
Spaces
Whether it's luxury or ease, every area of your home should be as fabulous and unique as you.
FOLLOW ALONG ON INSTAGRAM
Find us on social for more home inspiration where culture, personal style, and sophisticated shopping intersect to help you create a home where you love to live.