When looking to decorate your home, consider style, function, and the values and beliefs of the brands you choose to support. By seeking out POC-owned home decor brands, you can not only find unique and high-quality products, but also support businesses that promote diversity and inclusion in the industry.
Target offers a selection of POC-owned home decor brands. The next time you're in the market make sure you consider these brands and support an impactful movement.
Goldmine & Coco
Felicia Jarrell founded Goldmine and Coco with the goal of empowering people to prioritize their own health and well-being. Her line offers a range of products, including wellness journals, affirmation cards. and sticker books. They all promote self-care and positivity.
Satya + Sage
Sonja Haile founded Satya + Sage, which creates handcrafted candles and wellness products using natural and eco-friendly materials. She has a goal to create products that promote self-care and spiritual healing. Haile's vision for the brand has deep roots in her own personal journey of self-discovery and healing.
Jungalow
Jungalow, founded by Justina Blakeney, has gained a reputation for its bohemian-inspired designs, priority for eco-friendliness and social responsibility. The company works with a range of artisans and makers to create high-quality and unique products. Each product shows the beauty and diversity of different cultures and traditions.
Frères Branchiaux
Frères Branchiaux creates handcrafted candles, soaps and body products. Bothers Collin, Ryan and Austin Gill founded the company. They started making candles in their home kitchen as a way to earn money for their household.
Be Rooted
Be Rooted, founded by Jasmin Foster, is the first Black-owned stationery brand to be sold at Target. Foster designs each product with a focus on natural materials. The brand has simple, elegant designs.
Jump to Products
---
1
Goldmine and Coco – T.G.Y.T. Sticker Book
This is a unique and fun product that allows you to add a touch of personality and style to any surface. The sticker book contains a variety of designs, ranging from colorful and playful to sophisticated and elegant. You'll enjoy 30 sheets with 994 stickers. They are also easy to apply and can be removed without leaving any residue, making them perfect for use on laptops, water bottles, notebooks, and more.
2
Satya + Sage – 9oz Sun Candle
Enjoy a luxurious and eco-friendly candle that is perfect for creating a warm and inviting atmosphere in any space. Made from vegan vegetable and coconut wax and scented with a blend of essential oils, this candle offers a clean and sustainable alternative to traditional candles. The scent itself is light and refreshing, with citrus blossoms, clean linen, and woody notes, making it suitable for use in any room of the house. The wax also burns more slowly than traditional paraffin wax, which means that the candle will last longer and produce less soot and smoke.
3
Jungalow – Abrazo Quilt Set
This beautifully designed bedding set is perfect for adding style and personality to your bedroom. It features a unique design that showcases Blakeney's signature bohemian-inspired aesthetic and a playful pattern inspired by Blakeney's love of nature and her travels around the world. The set is made from high-quality materials, including 100% cotton, which is both comfortable and durable. The set includes a quilt and two pillow shams, all of which feature the same charming and colorful design.
4
Frères Branchiaux – Vanilla Spice Candle
This candle is scented with a blend of vanilla and spices that create a warm and inviting aroma perfect for relaxing and unwinding. It's made from high-quality soy wax and a blend of natural oils for a non-toxic option that adds to your decor aesthetic. A portion of the proceeds from every Frères Branchiaux purchase supports local charities and organizations. With its unique scent and natural materials, this candle is a great choice for anyone who values sustainability, social responsibility, and high-quality products.
Be Rooted – 12″ x 15″ Wood Decorative Tray
This tray is made from high-quality wood and features a natural finish that is both elegant and understated. Its simple design allows it to fit seamlessly into any decor style, from modern to rustic. The Wood Decorative Tray is highly versatile and can be used for a variety of purposes, including as a serving tray, a catch-all tray for keys and other small items, or a display tray for candles, vases, or other decorative objects. Its large size makes it perfect for entertaining guests or for use as a centerpiece on a dining table.
Our editors love finding you the best products and offers! If you purchase something by clicking on one of the affiliate links on our website, we may earn a commission at no extra cost to you.
---
---
Decorate
Access design inspiration that infuses personality and culture into your spaces.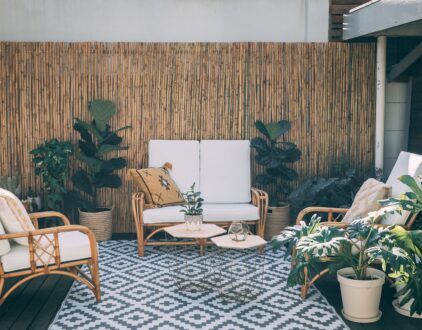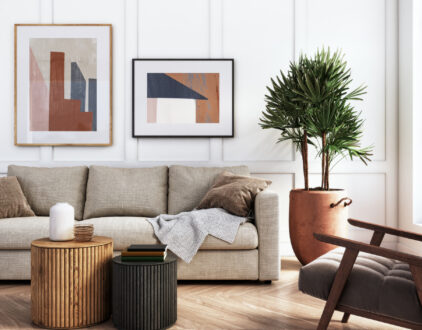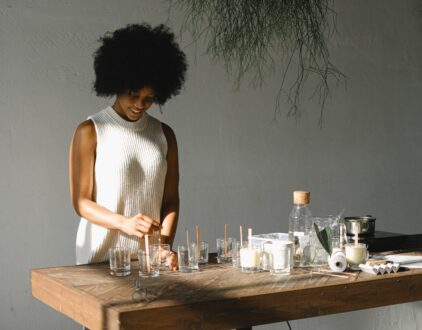 ---
Spaces
Whether it's luxury or ease, every area of your home should be as fabulous and unique as you.
FOLLOW ALONG ON INSTAGRAM
Find us on social for more home inspiration where culture, personal style, and sophisticated shopping intersect to help you create a home where you love to live.