One thing about summer: It will get unbearably hot. Some days are worse than others, but oftentimes extreme heat can lead to discomfort, dehydration, and headaches. Solutions like a cooling fan aren't effective at times. Having a window air conditioner is great for cooling a room, but portable ACs are more convenient. If you don't have central air conditioning, choosing a portable air conditioner is a great choice that provides mobility, comfort, and ease. They quickly cool specific areas or rooms in your home and are quiet enough to have in your home office.
View this post on Instagram
If you're wondering what sets portable ACs apart from other cooling options, here are a few advantages:
Mobility
Portable air conditioners are intentionally designed to be easily moved from one room to another. Many designs come with caster wheels, allowing you to roll them to your desired location in your home.
Minimal Installation
This air conditioning option requires minimal installation compared to traditional air conditioning systems. They come with a window kit or an exhaust hose that can be attached to a window or a vent. This way, you won't need to add permanent modifications to your home.
Energy Efficient
When used to cool smaller areas, portable air conditioners offer energy-efficient cooling solutions. They allow you to focus on specific areas of your home that need to be cooled instead of the entire home. Targeting where it needs to be cooled reduces energy waste.
Cost Effective
Purchasing a portable air conditioner will save you money. They are generally more affordable than central air conditioning or installing ductwork for traditional air conditioning units.
If finding a portable air conditioner is on your summer shopping list, check out some of our favorites below.
Jump to Products
---
BLACK+DECKER Portable Air Conditioner With Remote Control
This personal air conditioner is perfect to use in rooms up to 700 square feet. It keeps you cool in the summer and is great for getting restful sleep. Nothing is worse than trying to fall asleep in a muggy, hot room. This portable air conditioner includes a dehumidifier and fan. It weighs about 60 pounds and has a remote control and top mounted control panel with an LED display. You can set your desired temperature, and it also has a slide-out washable filter, a 24-hour timer, and auto water evaporation. Casters on the bottom and side handles make this air conditioner easy to move from room to room.
Portable Air Conditioner With Humidifier
Wavego created this portable air conditioner with a high-performance motor and unique air duct design. There are two atomization humidification holes, which lowers the surrounding temperature. You'll instantly get powerful and refreshing airflow. The compact design is perfectly designed for use in bedrooms, offices, garages, backyard parties, camping, kitchens, and more. You'll never have to feel overwhelmed by the sweltering summer heat. The portable air conditioner can work for eight to 10 hours when filled with water. It automatically switches to the natural wind when the water runs out. You can feel safe falling asleep with this portable air conditioner.
Portable Air Conditioner, Window Installation Kit Included
This portable air conditioner is 3-in-1 — cool, fan, and dry. The cool mode provides amazing cooling and dehumidifying on hot and humid days. The fan mode helps circulate air in the room, and the dry mode is great for rainy and damp days. There is also an auto-swing air vent that circulates air evenly in the space to avoid hot spots. It includes two cooling and fan speeds that you can customize. This portable air conditioner is great for cooling rooms up to 250 square feet. It's the perfect air conditioner for medium rooms. Over 1,000 people who purchased this air conditioner on Amazon agree it is a fantastic selection.
Portable Air Conditioner, Personal Mini Air Cooler
This personal mini air cooler has seven different color cycles. You can enhance the appearance of your room and create your ideal sleeping environment with color changes. A large water tank works for two to six hours after filling. It continuously sprays you with cold air to keep your body cool at night for optimal sleep. This personal air conditioner comes in three modes: low, medium, and high. It can be transported anywhere and allows you to escape the hot summer weather no matter where in the house you may be. It has a low-noise motor and is perfect to put in your office, bedroom, and baby's room.
Midea Portable Air Conditioner With Fan, Remote Control, and Window Kit
With an innovative duo hose design, this portable air conditioner allows the unit the take in and exhaust air outdoors. It allows for proper air circulation indoors and prevents hot air from seeping into the room through gaps in doors and windows. It also uses less electricity to cool rooms than traditional portable air conditioners. This unit can save over 40% of energy compared to the U.S. federal standard. The duo hose design maximizes cooling indoors and can take a room from hot and muggy to cool and comfortable twice as fast as other units. The sound of the unit is very quiet, and it's perfect for your home office and bedroom.
Our editors love finding you the best products and offers! If you purchase something by clicking on one of the affiliate links on our website, we may earn a commission at no extra cost to you.
---
---
Spaces
Whether it's luxury or ease, every area of your home should be as fabulous and unique as you.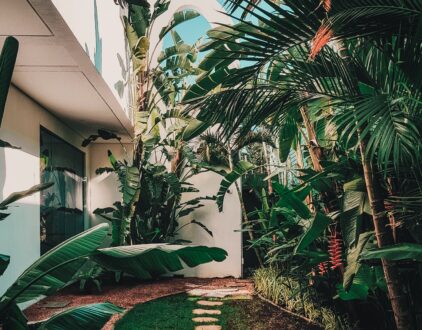 ---
Spaces
Whether it's luxury or ease, every area of your home should be as fabulous and unique as you.
FOLLOW ALONG ON INSTAGRAM
Find us on social for more home inspiration where culture, personal style, and sophisticated shopping intersect to help you create a home where you love to live.