This fall season presents a unique opportunity to blend the natural beauty of the outdoors with the coziness of indoor living. Embracing this aesthetic gives you the ability to use your space as a statement of style that's unique to you! Get into the spirit of the season and learn how to infuse the essence of nature with rustic fall decor.
Embrace Earthy Textures
The cornerstone of rustic fall decor lies in the embrace of earthy textures. You could incorporate weathered wood, burlap, and woven textiles into your interior design. These materials have a rugged charm but also exude warmth and coziness.
Imagine a reclaimed wood coffee table gracing your living room, subtly showing off character with its grainy imperfections. Or, maybe rustic wooden shelves add depth to your walls, offering both functionality and homey vibes.
Warm Up with Natural Colors
The fall color palette is a masterpiece in itself. It's a symphony of deep reds, burnt oranges, and golden yellows that reflect the changing foliage outside your window. These colors stir up feelings of comfort and nostalgia, making your space feel like a comfy haven.
Think walls with warm, terracotta hues, creating a cocoon of comfort. Deep red accents in the form of throw pillows or curtains add richness and elegance. A strategically placed rug featuring golden yellows ties the room together, inviting you to sink your feet into its plush warmth.
Harvest-Inspired Centerpieces
Another key element of rustic fall decor is the incorporation of harvest-inspired centerpieces. Picture your dining table as a canvas for nature's bounty. Arrange a stunning centerpiece composed of seasonal fruits, gourds, and rustic candles.
Cozy Up with Soft Furnishings
Fall is synonymous with coziness, and the right furnishings can make all the difference. Invest in oversized, comfortable sofas and chairs, and layer them up with thick throw blankets and plush pillows in fall-inspired prints. These additions are easy on the eyes and create a focal point in the room for you and your guests to kick back and enjoy.
Those cool evenings pretty much call for a visual of sinking into a deep, leather armchair with a plaid throw and a pile of cushions while you sip your pumpkin spice latte. It's the epitome of comfort and relaxation, a sanctuary from the world outside.
Natural Lighting
To fully embrace the beauty of fall, maximize natural light in your living space. Remove heavy curtains and replace them with sheer or linen drapes that allow sunlight to stream in. The soft, diffused light creates a signature serenity and accentuates the warmth of your rustic decor elements. It's a daily reminder of the season's beauty.
Autumn-Inspired Wall Art
Enhance the fall ambiance with wall art that pays homage to the season. Decorate your walls with botanical prints, landscapes featuring fall foliage, or even handmade crafts that incorporate leaves and twigs. These unique pieces really help tie your theme of bringing the outdoors in, and it's a fun way to switch up your artwork so every season gives you something new to look at.
Tablescapes with Natural Elements
Elevate your dining experience with carefully curated tablescapes featuring natural elements. Wooden chargers, linen napkins, and copper accents can transform your dining table into a rustic masterpiece. Don't forget to add small, potted plants or succulents as charming centerpieces.
Picture a dinner party with friends and family, where the table is a work of art, a conversation starter.
Scented Candles and Seasonal Scents
Engage multiple senses by incorporating scented candles and seasonal fragrances. Choose candles with aromas like cinnamon, apple pie, or pumpkin spice to fill your home with the delightful scents of fall. These scents can instantly elevate the mood and create a cozy atmosphere.
You can practically smell it: coming home after a brisk walk through fallen leaves, and the air is filled with the comforting scent of cinnamon and nutmeg. It turns your aesthetics into a full-on experience where you can embrace a warm welcome from your home and a reminder that you're in the heart of autumn.
---
---
Decorate
Access design inspiration that infuses personality and culture into your spaces.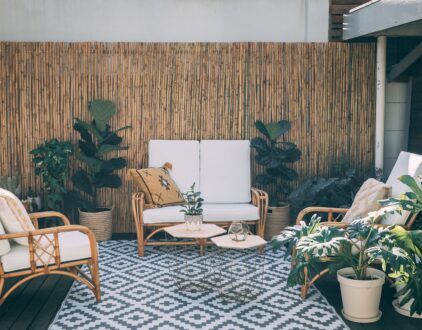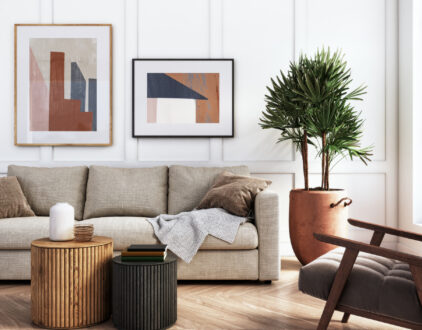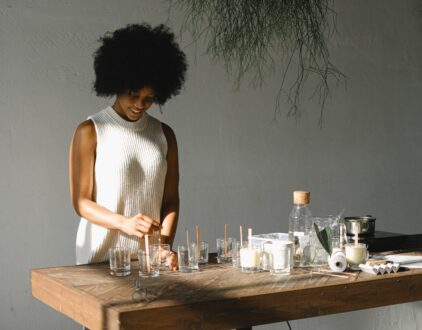 ---
Spaces
Whether it's luxury or ease, every area of your home should be as fabulous and unique as you.
FOLLOW ALONG ON INSTAGRAM
Find us on social for more home inspiration where culture, personal style, and sophisticated shopping intersect to help you create a home where you love to live.