Imagine stepping out onto your porch, a cup of coffee in hand. The birds are chirping, the sun is shining, and a gentle breeze carries the scent of freshly cut grass. It's like having a front-row seat to nature's daily spectacle, where you can kick back, relax, and watch the world go by, undisturbed by bugs or the elements. Having a screen porch—and building one on a budget—is not only possible but also lets you get super creative. Whether you're creating your dream screened-in outdoor space or decorating it, you'll love these porch ideas on a budget.
Why Have a Screen Porch?
A screen porch offers a transitional space between the indoors and the outdoors, allowing you to enjoy fresh air, natural light, and stunning views. But there are several more reasons why they make a great addition to your home:
Protection from bugs and pests. With a screened enclosure, you can enjoy the outdoors without the annoyance of pesky insects and bugs.
Comfortable relaxation space. A screen porch provides a comfortable area to relax, read a book, or spend quality time with family and friends.
Extended living space. A well-designed screen porch can effectively expand your living space, giving you additional room for entertaining or simply enjoying the outdoors.
Increased home value. A thoughtfully designed and functional screen porch can enhance the value of your home, attracting potential buyers in the future.
Planning and Designing a Screen Porch
Planning and designing your screen porch is a crucial step in creating a budget-friendly outdoor oasis. Consider the following factors:
First, determine the appropriate size and layout for your screen porch, keeping in mind the available space and your specific needs. Be sure to check with your local authorities to ensure you comply with any building codes or regulations when constructing it. Also, be thinking about the orientation of your screen porch to maximize natural light and ensure it aligns with your preferred outdoor view.
And of course, decor! Decide how you plan to use this new space and select furniture and decor accordingly. Don't forget to select furniture that is weather-resistant and suitable for outdoor use.
Budget-Friendly Materials for Screen Porches
Creating a screen porch on a budget requires careful consideration of cost-effective materials. Here are some affordable options to consider:
Aluminum frames are lightweight, durable, and cost-effective. They are an excellent, simple choice that also looks effortless.
Fiberglass screens are affordable, easy to install, and provide excellent visibility. They effectively keep bugs out while letting all that fresh air flow in.
Vinyl flooring is a budget-friendly option that offers durability, easy maintenance, and a wide range of styles and patterns to choose from.
Reclaimed materials, such as salvaged wood or vintage furniture, adds character and uniqueness to your screen porch.
Creative Ideas for Screen Porches on a Budget
You can utilize vertical space by incorporating hanging planters or installing a trellis for climbing plants. This adds greenery and visual interest to your screen porch. You may want to create privacy and shade by making your own curtains using affordable outdoor fabric. Choose colors and patterns that complement your overall design.
Then, give old furniture a new lease on life by repurposing or refinishing them. Paint wooden chairs or tables with vibrant colors to add a pop of personality to your screen porch. Don't forget the ambiance! Enhance it by hanging string or pendant lights, which create a cozy and inviting atmosphere, especially during evenings or special occasions.
Bring the look together with outdoor rugs, which define the seating area and add texture and warmth to your screen porch.
Creating a screen porch on a budget doesn't mean compromising on style, comfort, or functionality. By embracing innovative ideas and cost-effective solutions, you can transform your porch into a delightful haven that enhances your outdoor living experience.
Our editors love finding you the best products and offers! If you purchase something by clicking on one of the affiliate links on our website, we may earn a commission at no extra cost to you.
---
---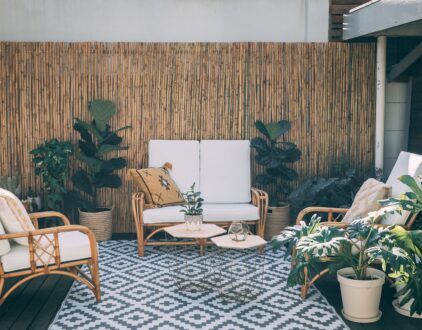 ---
Spaces
Whether it's luxury or ease, every area of your home should be as fabulous and unique as you.
FOLLOW ALONG ON INSTAGRAM
Find us on social for more home inspiration where culture, personal style, and sophisticated shopping intersect to help you create a home where you love to live.