Fall is upon us, and as the mornings get crisp and evenings get crisper, there's no better time to extend your living space outdoors. Curating a cozy, inviting outdoor atmosphere is crucial for fall hosting, and what can be more relaxing than gathering around an outdoor fireplace? If you want to elevate your hosting game this season, invest in an outdoor fireplace.
Here's what you need to know before purchasing this fall hosting essential.
Types of Outdoor Fireplaces
Wood-burning Fireplaces
A wood-burning fireplace is a traditional option that gives you rustic charm. The aroma of burning wood and the sounds of crackling logs will take you back to nostalgic fall feelings. These fireplaces are perfect for roasting marshmallows while bonding with your loved ones. Be mindful that this type of outdoor fireplace requires regular cleaning and a supply of wood stock.
Gas Fireplaces
If you're looking for convenience, a gas fireplace is a great modern alternative. This option is easy to start and maintain and offers a consistent flame. The only downside is that gas fireplaces lack a wood-burning fireplace's authentic aroma and sound.
Fire Pits
Fire pits are open structures that provide a 360-degree view of the fire. Although it's not technically a fireplace, it is perfect for curating a communal atmosphere. It's the ideal fireplace choice if you love making s'mores under the stars.
Chimineas
These free-standing, front-loading fireplaces have a vertical chimney. Chimineas are typically made from clay or metal and are an excellent choice for patios and small spaces.
Features to Consider
Safety
Safety should be a top priority when choosing an outdoor fireplace. Opt for fireplace models with built-in safety screens and ensure they meet the regulations of your local fire department.
Space and Scale
The space you have available determines the size of the fireplace you can accommodate. An oversized fireplace can overwhelm a space, while a too-small one may look lost in an area.
Material and Design
Opt for a material that complements the overall aesthetic of your outdoor space. Stone, brick, and stainless steel are all popular options. Your design choice can range from traditional and ornate to modern and minimalistic.
Budget
Outdoor fireplaces range in price. You can find some for a few hundred, while others cost several thousand dollars. Consider your budget and remember that quality should not be compromised for cost.
Additional Features
Some outdoor fireplaces have extra features like built-in seating, storage space for wood, and cooking grates for an outdoor grilling experience.
---
---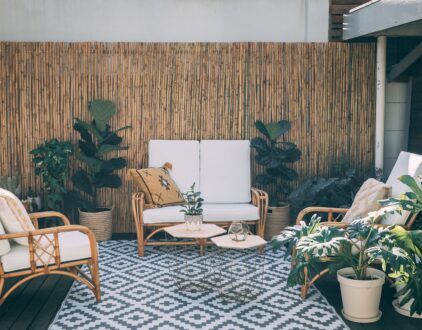 ---
Spaces
Whether it's luxury or ease, every area of your home should be as fabulous and unique as you.
FOLLOW ALONG ON INSTAGRAM
Find us on social for more home inspiration where culture, personal style, and sophisticated shopping intersect to help you create a home where you love to live.