It doesn't matter if you have a busy social calendar or venture out on the town once in a blue moon. When you go out, you might like to go all-out, with flawless hair and makeup and dressed to the nines. Getting ready for whatever it is you've got going on should feel like a self-care ritual, and a get-ready room is like a portal that helps you transport from comfy daytime you to corner-office professional you or vampy evening you. Think of it as your glam pre-game, and it's easy to turn any spare room, or even extra space into one.
Why You Need a "Get Ready" Room
Okay, it may not be a necessity, but if your home is your sanctuary, a get-ready room can do wonders for you in many ways.
Get Things Done at Your Pace
Ever rushed through your routine like you've just inhaled three cold brews? A "Get Ready" room makes your morning and evening routines smoother than a silk robe. With everything in its place in a room dedicated to getting ready, you have everything you need to slay the day with extra time to spare.
Confidence on Point
Whether it's a work presentation or a night out with your girls, your "Get Ready" room gives you the boost you need. It's like your personal confidence chamber, and you'll step out feeling like a star.
Bye-Bye Stress
A cluttered space can turn anyone into a stress monster. A well-organized "Get Ready" room brings zen to your daily routine. No more frantic searching – just good vibes and glam sessions!
You're the Productivity Queen
Starting your day in a fabulous space sets the tone for epic productivity. Your tasks will bow down to your newfound focus and energy. Work, life, anything—you've got this.
The Fabulous Features of a "Get Ready" Room
Let's spill the tea on what makes a "Get Ready" room a mini glittery escape in your home.
Layout that Slays
Think of it as your backstage pass to life, and getting ready for whatever it's going to throw at you. The layout is all about having everything within arm's reach. Mirrors, brushes, outfits – you name it, it's right there. An open layout is your ideal blank canvas, but if you've got limited space to work with, you'll at least want a vanity and seating.
Lights, Camera, Action!
You deserve to be the star of your show, and good lighting is your spotlight. Natural light is a big mood booster, but if you can't get enough of it, invest in lighting that makes you look like a million bucks.
Organize Like a Boss
No one wants to hunt for their favorite lipstick when they're running late. Smart storage solutions like shelves, drawers, and hooks are your BFFs. Keep it clutter-free, and you'll look forward to coming to this space every time.
Comfort Is Queen
You're not just getting ready; you're getting fierce and fabulous. Comfy seating and soft furnishings are essential. It's all about feeling like a diva as you prepare to conquer the world.
Top Items to Glam Up Your "Get Ready" Room
Now, let's talk about the essentials that will take your "Get Ready" room to royal heights.
Vanity Mirror with Lights
Not you feeling yourself with post-glam selfies! A vanity mirror with soft, flattering lights is a must. It makes sure you're perfectly illuminated for error-free makeup application and quick snaps.
Cosmetic Organizer
You deserve a clutter-free zone. A clear cosmetic organizer keeps your makeup collection in check, making it easy to find that perfect shade of lipstick. Plus, it keeps your makeup out of the bathroom, where moisture and humidity from the shower can shorten the shelf life of your products.
Comfy Seating
You're a queen, and queens don't stand while getting ready. A cozy chair or stool is your throne, where you can sit back and conquer your beauty routine.
Clothing Rack
Outfit planning should feel like shopping in your own closet. You can add a few go-to pieces or even hang up new items so they don't get lost and forgotten in your wardrobe. Plus, if you get the frantic "What are you wearing tonight?!" text from your bestie, you can quickly share some options for instant inspo. Look at you, saving the day and serving up looks.
Glamorous Decor
Ambiance is everything, and you want to feel your most glamorous while you're getting glamorous. Decorate with items that make you feel confident—think chic wall art, scented candles, and a little bit of sparkle. If you've ever taken professional photos or have some with you and your friends or partner that you love, hang them up and admire your bad self.
---
---
Spaces
Whether it's luxury or ease, every area of your home should be as fabulous and unique as you.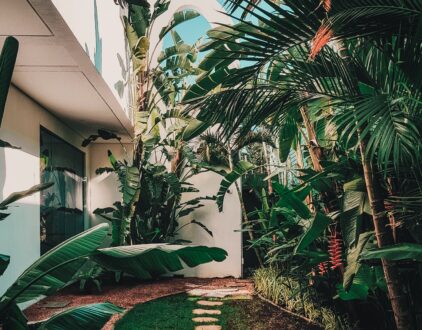 ---
Spaces
Whether it's luxury or ease, every area of your home should be as fabulous and unique as you.
FOLLOW ALONG ON INSTAGRAM
Find us on social for more home inspiration where culture, personal style, and sophisticated shopping intersect to help you create a home where you love to live.